Filed: Monday, 30th January 2023
Preview Percy has been enduring dry January. Or rather the people around him have been enduring his dry January. It's not made any difference to the quality of his writing, unfortunately, as you will see from his musings on Monday's visit to Derby...
Next we return to FA Cup action in our 4th round visit to Pride Park where we will be hosted by Derby County. Kick-off is at 7:45pm – TV coverage is on ITV4. No extra time etc – this is the last round in which replays are possible.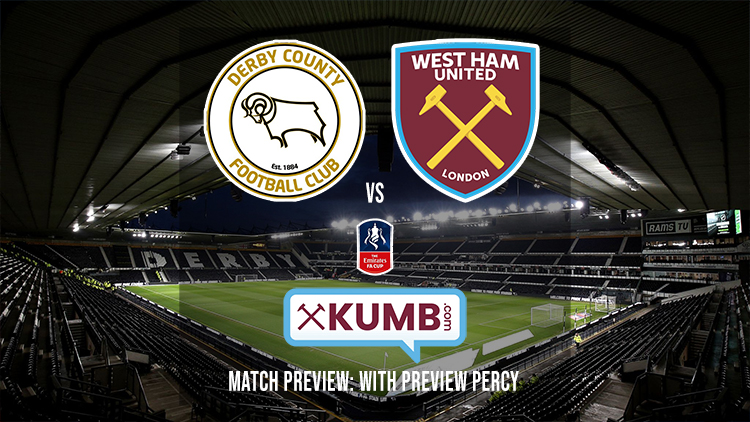 So Derby then. It's been a bit of a soap opera for them in recent years. They currently find themselves in League 1 or, in old money, Division 3. Their appearance at that level followed their relegation from the Championship. The 55 points they earned over the course of the season would have been enough to have seen them finish in 17th place. However, a clutch of points deductions put paid to all that.
The sanctions all came about as a result of then owner Mel Morris placing the club into administration, something that cost them 12 points. They were then relieved of a further nine points due to "accounting irregularities" arising principally from the methods used to write down the value of players in the books.
This all became too much for the spud-faced boss Wayne Rooney who had apparently been financing hotel bills for away trips out of his own pocket (well that was his explanation to Coleen for the credit card bills). He departed in June shortly before the administrators managed to unload the club to property developer David Clowes. Things appear to have settled down now – though the idea of property developers owning clubs does not have a great history.
After a spell with Liam "Son Of Leroy" Rosenior in caretaker charge, the Rams alighted at Rotherham where they relieved the Millers of Paul Warne, together with pretty much all of their coaching staff.
They are on a bit of a run in the league at the moment. After a mixed spell in September/October, partly during the Rosenior tenure and partly during the bedding-in period for Warne, they have gone on a 14-match unbeaten run, their last reverse coming at Ipswich back on 21 October. Six of those 14 games have ended in draws, including a run of three in a row back in November/December.
That plus their mixed form in the early part of the season sees them comfortably in the play-off zone rather than in the automatic places. They have 50 points from 27 games which sees them in 4th spot, eight points behind Sheffield Wednesday in second place and nine points clear of Peterborough, who are currently the team sitting just outside the play-offs.
Daisy tells me that they have been under a number of restrictions as regards transfers. The agreement with the authorities as part of their exiting administration precludes them brining in anyone for whom they would have to pay a fee – including loan fees.
There was a need to replace no fewer than 18 players whose contracts were at an end in the summer – including ex-Hammer Ravel Morrison who went west to DC United. Thus they entered into the free transfer market, picking up David McGoldrick from Sheffield Hypocrisy in the process. Now 35 he is their top scorer this season though we like to remember him for announcing his international retirement shortly after receiving Ireland's player of the year award a few years back. It's all about the timing.
Another vaguely familiar name to arrive was former Villa midfielder Conor Hourihane. Another Irish international he spent his last two seasons away from Villa Park at Swansea and latterly alongside McGoldrick up at Bramall Lane. He is a member of that club of players who have scored goals at all of the top four levels of the professional game.
Their first choice custodian was another free transfer arrival in the form of Joe Wildsmith. Unlike McGoldrick and Hourihane who were without clubs, Wildsmith had actually been offered a new deal at Sheffield Wednesday. However he was well down the pecking order at Hillsborough having made only three League starts last year, leading him to decline the Owls' offer in favour of first team football at Pride Park.
He's backed up by Scott Loach whose appearances this term have been limited to the EFL Trophy. Another option might have been Joseph Anang who joined on a season-long loan from us. However a broken arm early in the season limited his opportunities and we called him back from the loan last week so if he does make any sort of appearance on Monday it will be on our bench rather than theirs.
And on we move to the wild and wacky world of Association Football. The football gods were in playful mood in allowing Sunderland's 15 year old Chris Rigg to put the ball away for what would have been a late FA Cup winner against Fulham, getting the linesman to flag for the (admittedly obvious) offside in the build-up. 15 years old for Pete's sake. I have ailments older than that.
Meanwhile hats off to ITV for their coverage of the Brighton v Liverpool match. Unlike the BBC where any criticism of their beloved reds is a sackable offence ranked alongside not having a TV licence, ITV were quite happy to do an analysis of a number of quite disgusting challenges and actually ask the question as to why the red cards they deserved weren't issued. I guess Brighton were lucky that VAR was actually switched on this time around.
Meanwhile we await the publishing of a White Paper on the subject of football governance. Among the expected contents is the establishment of an Independent Football regulator whose remit will include powers to prevent club owners from acting in a manner detrimental to the interest of supporters. Which is fine but any powers must be backed up with suitably targeted penalties for non compliance. We wait and see.
On to us. Blimey I thought we had been poor of late until I saw Everton. Having said that you can only beat what's put in front of you I suppose and, whilst we sat back with our feet up for the second half we still had the better chances and were easily the better of the two sides on display.
Bowen's goals did him a power of good. He has had the appearance of a man lacking in confidence of late and it was good to see him try to take on players rather than holding things up and cutting back in across the pitch has been the case for much of this season.
Of course we shouldn't pass on any further without pausing to note that the result saw the sacking of Lampard Junior. He's now failed to impress at three different clubs now and it remains to be seen whether any other club chairman will repeat the mistakes of those at Derby, Chelsea and now Everton in assuming that he is in fact any good.
Still one doubts that he will be suffering. One suspects that he has made more money out of his pay-offs at Chelsea and Everton than he has actually made from management.
Since I last set pen to paper we have said farewell to Craig Dawson. "Ballon" as he became known didn't appear for ages after he first signed for us and indeed when he made his first appearance for us I'll admit that I'd forgotten he was there. However he instantly endeared himself by his accidental near decapitation of a Southampton player. He went on to be something of a cult figure based on his no-nonsense approach, never giving less than the proverbial 100%.
Back in the day when we used to score from set-pieces, he weighed in with numerous goals, becoming adept at putting the ball away off the top of his shoulder. On departure you will have seen his farewell message to supporters which was a class touch from a player who delayed his departure for half-a-season to help the team out despite the difficulties of playing for us with his family halfway up the other end of the country . We wish him well.
On the injury front we will be without Gianluca Scamacca, who has been having jabs on his injured knee. Danny Ings has succumbed to the curse of the new signing that has been part of our DNA ever since I can remember. He would have been ineligible anyway having played for Villa in the 3rd round. Kurt Zouma has a thigh muscle tear. He hasn't had much in the way of luck of late with injury – and he hasn't even got a cat to go home and kick these days.
Then there is Maxwel Cornet. He has been in France apparently and is due back at the club on Monday – just as everyone leaves for the Midlands. There seemed to be a further note of exasperation in Mr Moyes' comment that it would be nice to know whether he's going to be available for training. There's something rum about this whole thing – you'd hope that the lines of communication would be such that the manager would be the first to know about everything.
So to the prediction. Tough one. We are up against a team for whom winning has become a habit. Throw in a near sell-out in front of the lights and you have the recipe for an unmitigated disaster, particularly in a week of few Cup surprises.
On the other hand – on paper even without the three or four absentees we have a multi-million pound squad against a squad of freebies and loans. So we ought to win and my bet will be made on that basis.
Therefore the £2.50 that would have been donated to the Lampard unemployment fund (lets face it if he gets to the foodbank there'll be nothing left) will instead go on a 2-1 win to us, with the caveat that a home win upset would not be that much of a surprise, particularly if we put out a much-weakened side.
Enjoy the game!
When last we met at Pride Park: Lost 2-1 (Championship December 2011)
You know I remember driving up to this match. Iremeber parking at the place that proudly proclaimed itself to be the "Biggest Fireplace Store In The Midlands". I remember driving back in time for the New Year's Eve Celebrations at the Avram Grant Olympic Rest Home For The Bewildered. Hell I even remember the New Year's Eve Celebrations themselves. But I'll be damned if I can remember anything about the match itself. Bell and Green gave the home side an early 2-0 lead whilst Nouble pulled one back before the break. And that was pretty much it. Apparently.
Referee: Thomas Bramall
Bit of a newbie. We had him for the 2-2 League Cup draw/penalty defeat against Blackburn. Somehow he and VAR missed a stonewall penalty in the recent 2-2 draw between Leicester and Brighton.
Danger Man: David McGoldrick
Much-travelled (11 clubs and counting) veteran striker who has 11 in 24 across all competitions this season.
Percy & Daisy's Poser-Type Thing
Last time we had a wee mathematical problem for you:
If 10 men armed with a fully charged electric fork-lift truck couldn't carry Lampard, how many men and fork lift trucks would it take to not carry him if he were clutching a termination payment in a large but lightweight holdall, assuming it were paid in banknotes and the maximum amount of £30,000 were payable under s401 ITEPA 2003 with regard to the deduction of tax.
We had no answers from the usual group of women of a certain age with double-barrelled surnames from various parts of Essex. However, we did have an email from the lovely Rachel Riley off Countdown who likened the question to one of those that was probably gettable but if we could get back to her after the break.
This week we go back to a missing words type of thing. We look at the Derby Telegraph, one of those lovely newspapers that stretches a point to try and find a local angle on the most tenuous of stories – I recall a headline of "Derby Couple In Bomb Horror" or some such whereby the aforementioned couple were relating the story of a Basque-separatist device exploding on a beach "only an hour's drive from their hotel".
Anyway we look at more heartwarming matters as we ask you to consider the following headline from which some words have been removed:
Hero builder XXXXX XXX XXXXX XX XXft XXXX for three days
Good luck everyone!
* Like to share your thoughts on this article? Please visit the KUMB Forum to leave a comment.
* Disclaimer: The views and opinions expressed in this article are those of the highlighted author/s and do not necessarily represent or reflect the official policy or position of KUMB.com.
More Opinion
Wednesday, 22nd March 2023
Thursday, 16th March 2023
Wednesday, 15th March 2023