Filed: Friday, 24th February 2023
Preview Percy took a few moments out of his busy diary schedule – which seems to consist of laughing at Liverpool's defeat to Real Madrid on endless loop – to bring us his look at Saturday's visit of Nottingham Forest. Which is slightly less of a laughing matter...
Next up we play host to Nottingham Forest. It's a 3pm Saturday kick-off for which saints be praised. Trains? Nothing between Liverpool Street and Witham – you know the drill by now.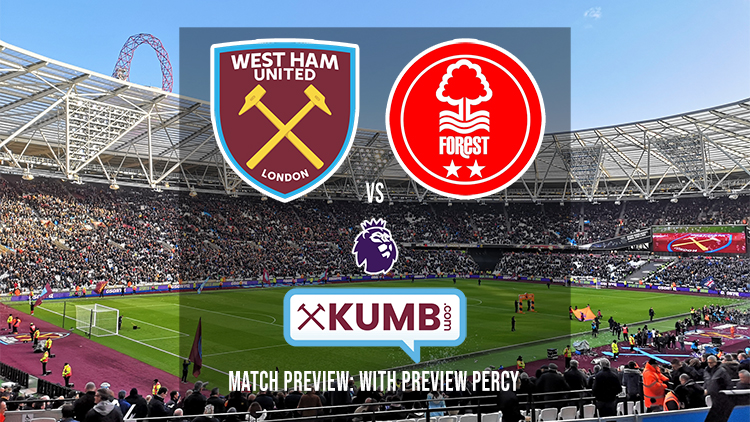 So Forest then. Their current position of 13th owes much to a post-World Cup fixture list that has seen them face a lot of out of form or mediocre opposition.
Apart from a Yuletide thrashing at Man Utd, the teams faced comprise Chelsea, Southampton, Leicester, Bournemouth and Leeds. The only teams in their recent run that could be said to be in decent nick are Fulham – to whom they lost 2-0 at the Cottage, and Man City who somehow failed to convert more than one of half a million efforts.
That's left them with 25 points from 13 games – five points ahead of us, so a win would be useful.
Daisy was a bit concerned that their summer transfer window – in which they signed over 20 players – might be replicated this January, causing her to take delivery of cases of her favourite blend of extra strong coffee in anticipation of a few nights slaving over the laptop in order to provide the information that goes into this bit of the preview.
In the end they only brought in four players on permanent deals plus a couple of loan signings, leaving the poor girl wondering as to how she is to bring her heart rate down to more normal levels.
First arrival was that of Brazilian Gustavo Scarpa. Scarpa arrived from Palmeiras having apparently signed a pre-contract last summer.
The transfer seems to have been a bit more straightforward than his previous move to Palmeiras from Fluminese. That came about when Scarpa took Fluminese to court as a result of them never quite getting round to paying the player for his services. With the court agreeing that this was a jolly unsporting state of affairs they cancelled his contract and the player, er, scarpered to Palmeiras.
Now 29 he holds one full cap for the Brazilian national side, though since that came some six years or so ago one might hesitate to call him a regular. Apparently his main hobbies include playing the guitar and Rubrik's Cubes, something that is only really impressive if undertaken simultaneously.
Scarpa was joined on his journey from Palmeiras by fellow midfielder who goes by the name of Danilo. The fee was said to be £16m or so, tying the player to Forest to the club for six years, conveniently avoiding the forthcoming restrictions on amortisation of contracts.
As far as Daisy can tell the player has not troubled those responsible for monitoring international appearances at any level to date, raising eyebrows over the player's work permit situation.
It seems that they went Brazil, er, nuts this January – picking up central defender Felipe from Atletico Madrid. Felipe who at 33 is at the veteran stage of his career cost Forest a fee of something like £1.7m.
He has a bit of a reputation as a bit of a bruiser picking up a straight red card for kicking out at Liverpool's Mane a while back and then, last season, sparking a melee in the Atletico v Man City match of the sort that commentators insist "nobody likes to see" but who everyone else seems to be able to find quite entertaining nevertheless.
The issue was caused by a nasty kick out at Phil Foden which earned Felipe a second yellow when, in all honesty a straight red would have been a better decision. Let's hope that Bowen gets more protection from the officials than he got last weekend.
The last couple of signings both had Hammers connections. Jonjo Shelvey was on the club's books as a kid for a while, and the Romford-born midfielder is said to have commanded a "nominal" fee for the move from Newcastle. The other permanent deal was the signing of former Hammer Andre Ayew who was a freebie having been unattached at the time of signing.
The loan signings came at either end of the pitch. Kiwi Chris Woods arrived on a deal until the end of the season though the deal contained an "obligation to buy" clause which would kick in after a certain number of matches - a number which, it is claimed, has already been met. Wood's arrival from Newcastle coincides with them beginning to flex their financial muscle, his original signing last winter seemingly being completed on the grounds that he was available, Burnley wanting to cash in on the player while they could.
Goalkeeping options were bolstered by the arrival of Costa Rican custodian Keylor Navas. Navas has come in on loan from Paris Saint Germain and has been pressed into immediate service as cover for Dean Henderson who has a thigh problem.
Let's move on to the wild and wacky world of Association Football. The long-awaited White Paper on the subject of football club regulation has finally been published. I have yet to read said document – though rest assured I will in order to impart my pearls of wisdom on the subject at a future date.
However, I note that Mr Sullivan of this parish was all up in arms over the proposals. From what I can gather, his objections stem from the fact that he considers the current government to be "not very good". Now this may be a valid point but if that's your sole point of objection you are a fair way down the dangerous road of not judging the paper on its merits, particularly so considering the all-party input to its preparation.
If you have objections to the content then say what they are rather than condemn the whole legislation on the grounds that you don't think that the people in charge are up to the job. It's a bit like objecting to murder being made illegal because the Met who would do all the investigating and arresting are a bunch of sexist morons. That they may be but that doesn't reduce the validity of the underlying proposal. More on this once I've actually read it.
We have this week had to bid a sad farewell to two broadcasting legends. Back in the day before a zillion dedicated sports channels, both BBC and ITV had competing programmes on Saturdays that would start at lunchtime and run all the way through to about six in the evening. The BBC had Grandstand whilst ITV's effort was World of Sport, which was presented by Dickie Davies who passed away this week.
Davies was the anchor man for a programme that featured live and recorded action before running a results sequence and bringing in live reporters from around the grounds down a phone line at the end. Both programmes are long gone – largely thanks to the spiralling costs of broadcast rights. However, back in the day keeping a six-hour live broadcast together was no mean feat and Davies – who I had the good fortune to meet on a number of occasions did so with a professionalism that many of today's broadcasters would struggle to emulate.
I would seek out a recording of Dickie trying to deal with peak-form Eric Morecambe on World of Sport. Whilst it's very much Morecambe's show, Dickie wisely allows things to run their course as his mate basically runs riot.
And then there was Motty. When you listened to a Motty commentary you always got the impression that he couldn't quite believe he was being paid to watch stuff that he would have probably paid to watch.
The fact that his genuine and obvious love of the game shone through in every word was something he shared with his contemporary Brian Moore (though if either paid to get in you suspect that Motty would have been on the terraces whilst Moore would have paid the extra to sit in the stands). That sort of genuine enthusiasm is not something you can teach at broadcasting college – you either have it or you don't.
Standout Motty moments were obviously the Ronnie Radford goal that gave his fledgling career such a boost, and of course that clip of him stood at Wycombe. The pitch was under a foot of snow and quite frankly a still photograph would have been enough to convince the public that Wycombe's match was off. However, Motty stood there in his sheepskin coat, snow blowing horizontally, to bring us a brief summary of the weather conditions.
The few moments or so before they went live saw him looking (understandably) cheesed off as that part of Buckinghamshire went all alpine. In a previous life Daisy used to work with Motson and has nothing but praise for him both as a professional and as a person. And that's good enough for me. Farewell Dickie and Farewell Motty.
Us? Oh dear. Let's get this straight. Tottenham are a very average team – and that's being kind to them. And, for about 40 minutes or so that's how we treated them. We pushed forward, and, whilst clear cut chances were at a premium, we showed sufficient intent to suggest that it wouldn't be long before something would transpire. Then we stopped.
You couldn't even blame half-time for interrupting momentum. It was almost as if someone had told them they were playing someone good. Michael Oliver didn't help of course, the booking received by Michail Antonio for taking the ball cleanly from Harry Kane being in stark contrast for the lack of action taken over the constant fouling of Jarrod Bowen, whose afternoon culminated in the receiving of two red-card challenges which produced one very reluctant yellow from Oliver who fully lived up to his notoriety within refereeing circles as a so-called big six patsy.
However, that was a defeat totally self-inflicted against a side whose supporters celebrated long into the night over a match they only remember when they win. And how embarrassing were those closing scenes? Tourists professing their love for Son via banner messages playing across their mobile phones. I suppose that's one thing to be grateful for – at least half our support won't be disappearing when our best player moves on to somewhere decent.
Injury news is Maxwel Cornet is in the country but almost certainly not in the squad. Kurt Zouma and Lucas Paquetta may be a week or so away whilst Luca Scamacca is now fit enough to be considered. Antonio has run his legs off in recent weeks with no other strikers available to share the burden but his touch is wildly inconsistent.
Too often he will kill the ball only for his second touch to roll away harmlessly to a defender. Other times his first touch shows that he can trap a ball further than I can kick it. If Scamacca is fit enough to start I would start him and give Antonio a rest.
Which brings us on to the subject of the prediction. Well we battered this lot in the reverse fixture, a combination of bizarre refereeing and poor finishing denying us the three points that we deserved let alone the one that we ought to have had.
Their form has improved in recent weeks but boy have they had a lot of luck in that period – the Man City match came with a late equaliser in a match where the goal represented pretty much the only time the ball left their penalty area. Here is a team who are owed one and if the side isn't going to be set up with attack in mind I'll be damned if I can think of a match in which it will be.
I'd like to think we may have learnt a lesson about giving teams too much respect last week. Yeah I know why should this week be any different but, I dunno I just think it will be.
So for that reason, the £2.50 I was going to send to the Premier League owners' club as compensation for their finally having to consider running things properly will instead be put on a 3-1 win to us – the third coming late on to release the pressure. If that's ok with you Mr Winstone.
Enjoy the game!
When last we met at the Boleyn: Won 2-1 (Championship 2012)
Not a vintage performance but a victory nonetheless, which was kick-started by the sort of penalty that they get every week at Anfield. Noble doubled his tally with a more regulation spot-kick to kill off the game despite a last minute consolation for the visitors who contained a chap called Harewood who was winding down his career at Forest
Referee/VAR Jarred Gillett/Tony Harrington
Well having presided over a bunch of English officials none of whom appear to have a clue, someone at PGMOL hit on the idea of importing an Australian. Who, it transpires, has even less of a clue than his English colleagues. His VAR decision in the away match at Chelsea should have seen him transported back whence he came but apparently that's no longer a punishment available to the authorities.
Danger Man: Chris Wood
Shipped out of Newcastle on loan on an odd deal which meant the deal went permanent almost as soon as he tried the kit on. Precisely the sort of player of limited talent who has a habit of scoring against us.
Percy & Daisy's Poser-Type Thing
Last week we looked at a bit of Spurs history and asked what competition they won as part of their tour of South America in (circa) 1909 - and what prize they brought home as a result home as a result.
Well done to Mrs Edna Fforbes-Psitticosis of Benfleet who correctly pointed out that they won the fancy dress contest on the boat returning home taking home the prize of a parrot. Thousands turned up for the victory parade, whilst the parrot is alleged to have died on the day Arsenal bribed their way into the top flight at their expense.
This week we have a bit of a teaser. Photographs of Forest's 1898 FA Cup win show the Forest players wearing their opponents' shirts. We ask you: Why?
Good luck everyone!
* Like to share your thoughts on this article? Please visit the KUMB Forum to leave a comment.
* Disclaimer: The views and opinions expressed in this article are those of the highlighted author/s and do not necessarily represent or reflect the official policy or position of KUMB.com.
More Opinion
Wednesday, 22nd March 2023
Thursday, 16th March 2023
Wednesday, 15th March 2023