Filed: Thursday, 16th March 2023
Preview Percy has, belatedly, agreed to carry on ignoring all our guidelines. So now that's all settled, here's his look at Thursday night's visit of AEK Larnaca. Warning – the answer to last week's poser is not for the squeamish...
Next up we return to Thursday Night Conference action where we will welcome AEK Larnaca in the second leg of the inelegantly-named 'Round of 16'. Kick-off is at 8pm and, with the old "away goals count double in the event of a draw" rule having joined The Watney Cup and Jamie Carragher's self-respect in the great football graveyard in the sky, should aggregate scores be level there will be extra time and, if required, penalties available to separate the sides.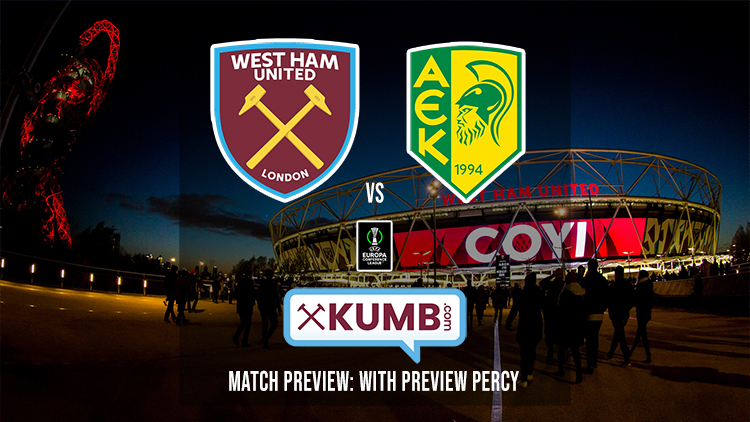 So AEK Larnaca then. They are a young club, being formed from a merger in 1994. To put that into perspective the average Spurs fan has stuff going mouldy in their fridge that is older than that.
Daisy informs me that they owe their place at this stage to the modern European practice of dropping teams through the competitions as they fail to qualify. Having been knocked out of the So-Called Champions League by Danes Midtjylland they got through a couple of playoffs to qualify for the Thursday Night League, knocking Ukrainian outfit SC Dnipro down into the Thursday Night Conference as a result.
Back in the Thursday Night League AEK ended up finishing in third place in the group which formed an escape pod into the knockout stages of the Thursday Night Conference where they were reunited with SC Dnipro who had managed to get through their group.
The Ukrainians must have been sick of the sight of AEK, running out of competitions to drop into as the Cypriots went through 1-0 on aggregate having won their home leg by that score following a goalless draw in Slovakia which was playing temporary host to Dnipro for obvious reasons.
In the league they are going well. The Cypriot league is one of those that has a split and at the time of the split they are in second place, two points behind the leaders APOEL Nicosia. The top six will play off for the title leaving them well placed for European qualification for next season.
As an interesting aside up to 1974 the winners of the Cyprus league were promoted to the Greek top division. As it happens pretty much every year the side got relegated. That whole malarkey came to en end in 1974 when the country was, to all intents and purposes, rent in twain splitting into Cyprus and Northern Cyprus, a state recognised only by Turkey.
Their squad has a cosmopolitan air about it. Daisy tells me that of the 27 players listed in their first team squad only eight are Cypriots. The Captain is North Macedonian Ivan Trickovski. He is well travelled in his career having played in Belgium, Poland and the UAE before alighting at his happy place in Cyprus. He's been with AEK for the last seven years and, at 35 is enjoying a final spell literally in the sun.
In recent years there has been a strong contingent of Spaniards amongst the ranks. There are around half a dozen within the playing ranks, all marshalled by their compatriot Jose Luis Oltra. He's been around a bit in Spain and has top flight experience in amongst the 13 clubs he has helmed in the past 22 years, though his arrival at AEK came at the conclusion of a spell with Fuenlabrado who are currently in the Spanish third tier.
Oddly seven of their last nine managers have been Spanish. This appears to have been sparked by the arrival of sporting director Xavi Roca back in 2014. Although he is no longer with the club the Iberian influence doesn't appear to be waning.
They have no injury worries that I can find and so will be able to select from the squad we faced last week.
And so to the Wild And Wacky World of Association Football. Match of the Day was so much better at the weekend without the inane prattle of the pundits. Ideally there would have been a bit of commentary to assist viewers with impaired vision but the fact that we were spared Danny Murphy was a major bonus.
An interesting experiment could be undertaken involving Murphy being shown an identical incident twice with CGI swapping the players' kit for a Liverpool kit for the showing. The resulting U-turn in Murphy's opinion would be a sight to behold.
Talking of Liverpool, the question on every BBC pundit's lips before they decided that, unlike say the matter of Qatari human rights, the martyrdom of Lineker would be a hill on which they would be happy to die, was whether Liverpool were even more brilliant than the BBC's usual hyperbole allowed for or was their result the other week simply the result of Manchester United being god-awful the other weekend. Liverpool's defeat at Bournemouth proved that it was a case of the latter.
On to us. Well we go into our league break in frustrated mood caused by our failure to convert the numerous good chances that came our way. And when I say "our" I'm mainly thinking of the double digit level of shots that fell the way of Benrhama against a team that will be dreading the day that they introduce the stopping of clocks for time-wasting.
In the absence of Antonio, Ings got the nod for the starting slot. It is a measure of how far Scamacca has dropped down the pecking order that when a change up front was finally made it was Cornet who came on despite having spent the last six months perfecting his Lord Lucan impersonation.
Cornet clearly lacks match fitness as evidenced by being caught offside on numerous occasions. There has been enough in the two cameo appearances from Cornet to suggest that he will be able to bring some much-needed guile to proceedings but he'll need to get up to pace sooner rather than later for him to be effective.
Meanwhile the noises coming out of the club about him not producing much in training do not bode well for the Italian who, like others before him, is discovering that when Mr Moyes takes against you it is exceedingly difficult to get back into his good books. It will be interesting to see whether Scamacca or Ings starts.
The injury list is comprised of Lukasz Fabianski, Vladimir Coufal and Michail Antonio, none of whom will be available until April at the earliest. To those absentees you can add Flynn Downes whose yellow card in the first leg earned him a one match ban.
So the prediction. Well I'd have liked us to have had one more in the bank last week. That would have effectively put the tie to bed a week early. Having said that an early goal for us will have the same effect.
Whilst they didn't roll over last week their attacking presence was more a function of our desire to win the game using the least effort, something that ultimately was accomplished with ease. So I reckon that the aforementioned early one will extinguish the last flickering embers for Larnaca and enable to complete our 10th consecutive European win.
The £2.50 that I was going to chip in towards Gary Lineker Media's tax bill will instead be going on a 3-0 home win to us.
Enjoy the game!
When last we met at the Olympic: N/A
I counted. Twice.
Referee: Georgei Kabakov (BUL)
Issues a lot of yellows but rarely converts them to red, having issued at least 5 cards in 18 of his last 20 matches (and he issued 4 in each of the other two. However, in the same period he's only shown the red three times.
Danger Man: Ivan Trickovski
Tricky by name and is their top scorer this season.
Percy & Daisy's Poser-Type Thing
Last week, we looked at the world of unusual injuries and asked "what happened next" when former Villa striker Darius Vassell woke up with a blood blister on his big toe. Well done to Mrs Doreen Mild-Thrombosis of, as she puts it, "Cyprus – the one on the DLR not the one with the nice weather and the air bases" who correctly informed us that:
Somewhat unwisely Vassell elected not to bother Villa's expensively assembled medical team and elected to deal with it himself. The next part of the thought process started with the words "now where did I leave that Black & Decker power drill?" The resulting – and entirely predictable – mess saw Vassell lose the toenail but thanking his lucky stars that the rest of the toe – or worse – weren't also lost
Well done Doreen!
This week we look at the island of Cyprus and ask: what part did the island play in the real life story of Antony and Cleopatra? (Clue: Whilst watching Carry On Cleo might be fun it won't help you with the answer!).
Good luck everyone!
* Like to share your thoughts on this article? Please visit the KUMB Forum to leave a comment.
* Disclaimer: The views and opinions expressed in this article are those of the highlighted author/s and do not necessarily represent or reflect the official policy or position of KUMB.com.
More Opinion
Wednesday, 22nd March 2023
Thursday, 16th March 2023
Wednesday, 15th March 2023