Filed: Sunday, 2nd April 2023
Preview Percy failed to pick up any injuries during the international break and we were unable to have him indicted by New York investigators. So here is his look at this weekend's visit of Southampton...
Next up we play host to Southampton. Kick-off is 2pm on Sunday with Engineering works out in the Ingatestone area if that's where you come in from.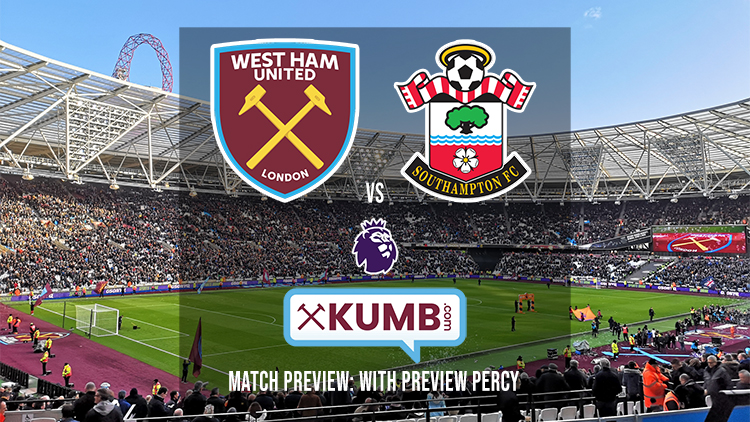 Southampton then. It's been a messy season for them so far. Ralf Hassenhutl was given the bullet in November, presumably heading back to his previous role in Baywatch. He was replaced by Luton Town's Nathan Jones who lasted a full three months and two days before the phrase "what on earth were we thinking" went across the owners' collective mind.
It was a pricey error for the board. In addition to having most of Jones' contract to pay up they also had to shell out £4m to wrest him from Luton in the first place.
Ruben Selles, who had taken charge of one match before Jones arrived, was re-appointed and now has charge until the end of the season. Jones, meanwhile has gone back to being sung about by the Supremes.
Selles cemented his place for the next few months by virtue of a surprise 1-0 win over Chelsea who were going through a bit of a spell at Stamford Bridge at the time. They also managed to get a surprising point against Man Utd and an hilarious – if unwanted in these parts – 3-3 draw against Tottenham which led to Conte's final meltdown and departure.
They are currently bottom sitting one point behind us though we do have two games in hand, which makes this a useful one to win on a number of different levels.
They had a busy transfer window whilst under the stewardship of Jones, with five new players arriving according to Daisy. First to arrive was Croatian midfielder/striker Mislav Orsic whose undisclosed fee is said to be in the region of £8m.
He arrived from Dinamo Zagreb, for whom he was the all time top scorer in European competition. He was part of the Croatian squad who finished third in last year's World Cup and has something like 30 caps for the tablecloth bedecked national side.
Argentina was the next port of call for the Southampton scouting team where they picked up midfielder Carlos Alcaraz from Racing Club for a reported £12m. He has scored two in 8 Premier league appearances since his arrival. He is uncapped at present so the work permit conversations must have been persuasive.
No such issues for their next signing which arrived in the form of Luton Town right back James Bree. The fee was miniscule by modern day standards, £750,000 being enough to secure the player's services.
However much involvement Jones may have had with the other four deals that took place this winter, Bree's arrival was definitely down to him as part of a raid on his old club. Must be a bit disconcerting for a player to arrive and see the bloke who signed him disappear before you've had the time to check in at reception.
The next arrival was Nigerian international striker Paul Onachu who commanded a fee of just under £16m arriving from Genk. We've encountered him before in last season's Thursday Night League. He is the holder of the Nigerian record for the fastest goal scored for the national side which came after 10 seconds of a friendly against Egypt. I expect that the VAR check still took ten minutes.
The final arrival was Kamaldeen Sulemana whose arrival cost a club record £22m. The Ghanaian winger arrived on a four-and-a-half year deal from French outfit Rennes and has amassed 17 international caps for Ghana.
His club career in his homeland commenced with a club rejoicing in the name of Right To Dream, a name which seems to have been picked straight off one of those "inspirational" posters that human resources teams used to love to stick on office walls before lockdown caused the boom in working from home, enabling employees to avoid having to stare at such posters.
The international break gave them two fresh injury concerns. Scottish striker Che Adams picked up a calf injury in Scotland's first international of the break, causing him to miss the surprise win over Spain. Mo Salisu also picked up an unspecified knock and both are rated as 50-50.
On to the wild and wacky world of Association Football, which has seen much activity on the financial disciplinary front.
Everton have been called up before the beak for apparently having breached the financial rules despite agreeing a secret plan with the Premier League to keep them out of trouble. That could be interesting come the end of the season.
Sheffield United, who themselves are under a transfer embargo for their "cheque is in the post" attitude to the payment of transfer fees, are understood to have put their legal team on alert lest they can find someone as stupid as Lord Griffiths once more.
Over in Haringay the gift that keeps on giving has kept on giving. The sacking (or departure by mutual consent) of Conte was hilarious enough on its own after his public resignation speech.
Then Tottenham discovered that Managing Director of Football (no, me neither) Fabio Paratici has been suspended from all football activities worldwide for 30 months after his involvement in the dodgy financial practices at Juventus.
Tottenham issued a statement saying that they would be seeking clarification. On the matter, proving that it's not just their supporters who are hard of thinking. Does make you wonder exactly what part of "suspended for 30 months" they are struggling with.
On to us. And the home leg against Larnaca was as comfortable as one might have hoped. Good to see Muamba get on the scoresheet with one that the desk-jockeys at UEFA HQ couldn't take away from him. The sending off looked harsh at first glance and I don't think anyone would have given it a second thought had the game continued after the original yellow. However, once it was replayed in slow motion the red was, I suppose, inevitable.
On the injury front Fabianski should be available after his fractured cheekbone, which will give Mr Moyes a selection conundrum. Antonio appears to have recovered from the knock he picked up in Cyprus which leaves us with three doubts arising from the international break.
Scamacca has a knee problem, meaning that Mr Moyes won't have to reach for his book of explanations for why he's not playing. Aguerd has something which has been described as a "grumbly hip". He should try working with Daisy on a bad day. Emerson has been suffering from an unspecified illness. Hopefully the extra day will have improved their chances.
Prediction time. Well the phrase "must win" is overused but with a tough run coming up we need to be picking up points where they are at their most, er, pick-upable. Conventional wisdom says that to keep matters in our own hands we need four or five wins between now and the end of the season. If that is to be the case I will take this to be the first of them.
With that in mind I will go for a home win and place the £2.50 that was going to be spent on a dictionary to enable the Tottenham board to look up the word "suspended" on a wager that we will prevail by way of a 3-1 victory. All yours Mr Winstone.
Enjoy the game!
When last we met at the Olympic: Lost 2-3
Bit of a shocker is what I wrote down here. We went 1-0 down fairly early on but Antonio equalised with a poacher's header after a corner was headed back into the mix by Dawson. Ballon turned villain shortly after giving away a penalty which Ward-Prowse converted. Benrhama equalised but the points were nicked at the death when a dubiously-awarded free-kick was pumped into the box and converted by Bednarek.
Referee: Paul Tierney VAR: Peter Bankes
Tierney incurred the wrath of the Geordies a couple of weeks back for ruling out a goal with an offside decision that even his fellow referees decided was "nonsense". Bit of a time server.
Danger Man: James Ward-Prowse
Excellent at dead ball situations which gives rise to the tactic of going to ground whenever they get 30 yards from goal. Playing the percentages they figure that the ref will give a free-kick eventually..
Percy & Daisy's Poser-Type Thing
Last time we asked what part the island of Cyprus played in real life story of Antony and Cleopatra. Well done to Mrs Penelope Luxury-Yacht of South (not North) Ockendon who informs us that Antony gave the island to Cyprus as a love gift, thus letting the side down for all of us males who make do with whatever bunch of flowers we can pick up from the 24 hour petrol station on the way back from the pub.
This week sees a return of the missing words round and Southampton's Daily Echo, which is at the forefront of investigative journalism with the following headline from which…. You know how it works…..
Eastleigh: I ate at a XXXX XXXXXX-XXXXX XXX. This is how it went.
Good luck, everyone!
* Like to share your thoughts on this article? Please visit the KUMB Forum to leave a comment.
* Disclaimer: The views and opinions expressed in this article are those of the highlighted author/s and do not necessarily represent or reflect the official policy or position of KUMB.com.
More Opinion