Filed: Wednesday, 17th May 2023
In his preview of Thursday's crunch tie, Preview Percy has an update on one of the unanswered questions from last week's Alkmaar preview, plus a new and revolutionary solution for referees' inability to use VAR properly. Neither of which make an awful lot of sense to be honest...
Next up we hop across the North Sea for the second leg of our Thursday Night Conference Semi-Final against AZ Alkmaar. Kick-off is at 8pm BST with coverage on BT Sport. This being the second leg extra-time and kicks from the penalty mark will be available to determine the outcome should the sides be level on aggregate after 90 minutes.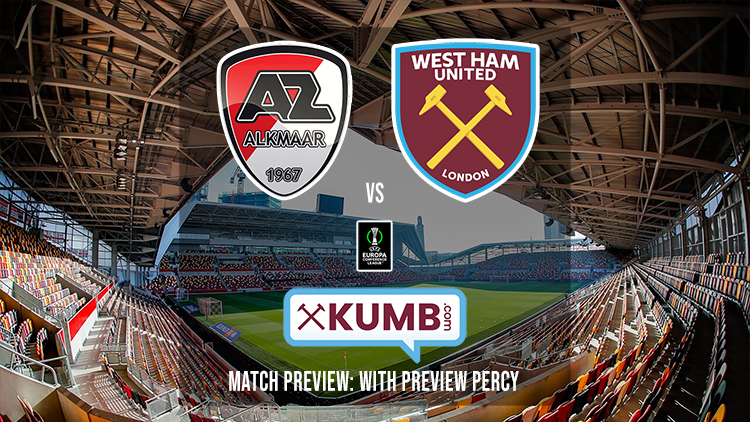 Since we last met they have had one further game in the Eredivisie, beating relegation-threatened FC Emmem 5-1. The win put them into third place. This was temporary as Ajax's visit to Groningen was abandoned after nine minutes due to the continued lobbing of pyrotechnics onto the pitch by fans of the already-relegated home side. That match – or the remaining 81 minutes of it – was played on Tuesday, Ajax's 3-2 win returning AZ to 4th.
I dealt with their background in more detail last week but I have news over the mid-'80s name change that saw them lose a part of the name that most of us knew them by. Last week we asked "whatever happened to the 67?" Well having watched them last week I can exclusively reveal that that was the number of minutes wasted by their 'keeper in the first leg. Ok maybe it wasn't
quite
that much but given that 'keeper Ryan got his first warning on 13 minutes and carried on the delaying tactics well after he received a belated yellow it sure felt like it.
On the absence front they are likely to welcome back highly rated 19 year-old left back Kerkez to the side that started at the Olympic . Midfielder De Wit may be another to come in. Apart from former Stoke defender Bruno Martins Indi they don't appear to have any further injury worries. Since neither Daisy nor I have much to add about them at this juncture I will move on.
And so on to the wild and wacky World of Association Football. And yet again the wisdom of allowing a group with room-temperature IQs to be the ones to operate VAR came into question as Andrew Madeley took a dozen looks at Palace's Joachim Anderson punching Bournemouth's Jefferson Lerma before coming to the conclusion that there was no violent conduct involved.
It was the sort of decision that could only have been arrived at by someone who had never seen a punch thrown in their life. Or someone whose grasp of reality is tiny even by PGMOL standards. Add that to the list of VAR errors in our league matches which is running at four in a row and you have to admit something has to be done. But what?
Well you won't be surprised to know that I have the answer. It's quite simple. Replace the VAR with somebody off the street. It would be helpful but not totally necessary for them to have a love and knowledge of football. All the recruit would have to do would be to wait until something needed reviewing and – here's the clever bit – simply toss a coin to decide whether a goal should be given or not.
The benefits of this scheme is, that on average, the correct decision would be given on 50% of the time even in matches involving Liverpool. This would represent an improvement of some 49% on the current situation. Or 50% for matches involving Liverpool. And so fed-up am I with the current state of play I will happily accept a reduced royalty for the use of the idea.
On the subject of Lerma, the FA seem to be sitting on their hands claiming there is nothing they can do as the matter was already viewed. This is, of course, nonsense.
The FA have the power to take retrospective action even when the referee has seen an incident if there are "extraordinary circumstances" – a power they have used in the past – google Ben Thatcher for the prime example. I'd say that a decision that no sane human being would give is extraordinary enough – though given the intelligence of the average PGMOL ref maybe not that extraordinary.
Bournemouth are fuming quite understandably. Of course, maybe a quick word with the local constabulary might pay dividends. After all it wouldn't be one of PGMOL's brain donors reviewing the evidence this time.
Elsewhere, Tottenham's media department, which has been working overtime in a desperate attempt to deflect from their current turmoil, were proud to announce that the club had won the title of the Premier League's "Greenest" club. All very laudable I'm sure you'll agree, though the open top bus parade will take some planning – the bus they used last time is unlikely to meet modern emissions standards.
And so to us. Sunday's was a game that nobody really seemed to care about. Certainly the team selection was not made with a view to picking up points. And those selected didn't seem too interested in furthering their cause for selection.
We saw enough from the first team when they came on to suggest that we might have gotten something out of the game all things being equal. Of course all things were not equal with Michael Oliver in charge.
Anyone who gave the handball decision he did after seeing a replay has no right to call himself – as he does – "best referee in the league". Indeed he arguably has no right to be in the job at all. However, as ever, no punishment will be meted out as he is one of the PGMOL untouchables who can do what he likes.
Still no harm done league-wise. And we move on to the sauteing of larger aquatic lifeforms. On the injury front Scamacca is reportedly back in the country – let's hope he manages to watch our match on the box. Although Coufal is progressing well he is probably not going to be available this time around. Antonio is going to be fit, his absence at the weekend being more precautionary than anything else.
And it is Antonio who will be key to this one. He terrified their defence last time out to the extent that he was fouled almost every time he was challenged. Unfortunately, Antonio has a tendency to exaggerate things when he is fouled which often persuades referees that no foul has taken place. He needs to be cuter in those situations. Mind you one got the impression that even a full-blown assault with nun chucks would have been ignored by that clown last week.
So the prediction then and, I'm even nervous about the prediction, never mind the match itself. They had a lot of possession but didn't really have the nous or ambition to get between the lines enough, getting so far before turning around and going back on several occasions lest they lose the ball and get caught on the break. This time of course they will need to be a bit more adventurous which, hopefully, will play into our hands a bit more.
Once we got going last week we could have scored a few – the sublime move that should have resulted in a Benrahma goal stuck in the mind but there were other opportunities. A good start will be more than useful of course but it won't be easy going into their back yard. A few of the older heads will need to channel their inner Boleyn to cope with the atmosphere I guess.
So, with a heavy intake of breath, I will be putting the first £2.50 I receive from the FA for the use of the Percy Assistant Referee system (PAR) will be going on us to win narrowly. Please make that a 2-1 to us please Mr Winstone.
Enjoy the game (if you can!)
When last we met in Alkmaar n/a
Our first visit to their gaff.
Referee/VAR: Ivan Kruzliak (SVK)
Either nobody has loaded up matches in the Slovakian League into our usual referee database or this chap has specialised in non-domestic football for the last couple of years, apart from a couple of guest appearances in the Greek Superleague. Averaging four yellows a match over the 10 games we have details of since the start of the season. Let's hope he's an improvement on the joker we had for the first leg.
Danger Man: Tijjani Reijnders
Our right side is more problematic when Coufal isn't about and his goal last week showed he can be a threat.
Percy & Daisy's Poser-Type Thing
Last time we asked what Adam Smith was going on about to prompt Dr Johnson to respond "but pray sir, have you seen Brentford?".
Well played to Mrs Florence Soda-Siphon of Braintree for knowing that the response was a riposte to Smith telling Johnson how great Glasgow was. Florence pointed out that had the conversation taken place today Johnson would probably have substituted Chernobyl for Brentford.
This week I bring you a headline from the Dutch News website from which we have a missing words headline that reads as follows:
How to teach children about XXXXXXXX (hint: carefully!)
Good luck everyone!
* Like to share your thoughts on this article? Please visit the KUMB Forum to leave a comment.
* Disclaimer: The views and opinions expressed in this article are those of the highlighted author/s and do not necessarily represent or reflect the official policy or position of KUMB.com.
More Opinion