Filed: Saturday, 20th May 2023
Semi-final day has arrived. It's an early start from Humberside airport, just half-an-hour from home, with a short hop across the Noordzee to Amsterdam and a flight time of just 45 minutes. The otherwise uneventful flight with Dutch national airline KLM has us touching down in Schiphol Airport at midday.
From here it's a simple case of navigating the Dutch national railway network, which takes us into the centre of Amsterdam before diverting towards Hoorn (where a necessary if not unwanted pitstop is made) before continuing the journey to Alkmaar).
Planes, trains and automobiles
I soon discover that travelling via taxi is not the most optimal solution for navigating the streets and boroughs of this northern Netherlands city. With most trips appearing to start at 20 euros, buses - or even bicycles - would appear to be the more sensible solution financially.
With the majority of the fanbase camping down in the capital or the centre of Alkmaar, I am a reasonably lone voice in the Alkmaar Hotel, which is situated literally across the road from tonight's venue. Unusually I have made it to my destination without seeing more than a handful of fellow fans, which I consider quite some feat given that several thousand have been making the trip - either with or without ticket.
Having checked in, I decide to make my first of two trips to the AFAS Stadion in order to take some shots of tonight's venue which is almost entirely devoid of life despite the game being just a matter of hours away. A brief sojourn into the Alkmaar stadium store results in the purchase of one of the oft-derided half-and-half scarves for the office wall. The premium prices continue as I'm asked to hand over a whopping 15 euros - not even the various scarf salesmen at the London Olympic Stadium would dare ask for more than a tenner!
Still, I guess these are the consequences of supporting a team playing at the business end of European competition. I read earlier of Man City fans being asked to fork out in excess of a grand for flights to Turkey - and that's without a ticket or any guarantee of getting one. I wonder what the cost of a final appearance in Prague will be as I make my way back to the hotel, while satisfying myself with the knowledge that whatever the cost it would be worth every penny to see West Ham feature in a showcase final for the first time since 2006 and, with regards to European competition, since 1976.
I remember that game pretty well, considering I was still in short trousers and it was almost half-a-century ago. I watched the 4-2 defeat to Anderlecht with my grandmother, whose husband - my granddad - was part of the travelling party who made their way to the Heysel Stadium for that game which ended with inglorious defeat.
A thousand into four doesn't go
The rest of the day passes slowly. I watch as the traffic begins to build as kick-off draws ever closer. At about 8pm local time I meander towards the stadium along with the locals, fitting in seamlessly - although I secretly hope none of them ask me for the time.
Now I finally find my fellow supporters, who are arriving in their droves via the free transport which has been laid on by the club. It appears that UEFA have learned nothing from Paris last year as all 975 (or so) of us are shunted towards one tiny entrance, which numbers four gates but through which few if any fans appear to be passing. Unsurprisingly this leads to a good deal of frustration from those eager to gain access to the stadium.
A kerfuffle to my right piques my attention as a security gate is breached from the inside and charged by a group of supporters, most of an age where they should know better. A good number manage to get into the ground before the in-house security get their act together and manage to force the remaining ticketless group back before slamming the door. It is not the last time this evening that the stadium staff will be shown to be lacking.
I finally squeeze through the gate and into the ground. It's a tight, compact arena and the area designated for away fans is similarly small. From hereon I begin to pick out familiar faces, the same ones you see at every away game. I'm delighted to discover that I am seated next to brothers Liam and Sean, the former of whom I have conversed with via various WHUFC-related platforms for more than 25 years without ever putting a face to the name.
I spot the West Ham Fan TV boys in the row behind me and former Internet Hammers Tino and Don to my left. Somewhere behind me is fellow KUMB staff member The Pink Palermo, although it is not until the game ends that our paths happen to cross, while I never get to shake the hands of other KUMBers present such as Doc H Ball, Wanstead and Upton Girlie plus other ever-presents away from home.

A familiar face...
The team warm up in front of us, just as ex-Hammer Andy Carroll enters the away end to a rousing reception (and rendition of that old Boleyn classic, "Andy Carroll's having a party" - which he is). Tonys Cottee and Gale are spotted elsewhere, too. The talk is largely of surviving what we expect to be an AZ onslaught for the opening 15 minutes or so as West Ham attempt to maintain - or even extend - the slender lead earned in the home leg a week prior. The 20,000-capacity AFAS Stadium is almost full, but the noise generated simply not comparable to that which greeted us in Frankfurt at the Waldstadion a year or so earlier.
The game finally kicks off and, as expected, Alkmaar - driven on by their (not particularly noisy) fans look to take the initiative. Yet Alphonse Areola, who erred last week is barely troubled. One pass from wide flashes across goal but nobody is on hand to convert, much to our relief. Another effort whizzes high and wide and as was the case in the first leg, AZ are struggling to break through West Ham's compact and well-drilled defensive banks.
Lucas Paqueta offers us some welcome respite at the other end as a shot fizzes across goal. We find out some moments later that the Brazilian grazed the post. Is it going to be another one of those nights? Half time soon arrives with neither net bothered. It's been rather too comfortable so far - we expect more from AZ in the second half.
And so it is that they come out of the blocks firing, backed by a slightly-noisier support. But both are extinguished after just a few minutes and West Ham regain their composure while continuing to frustrate our hosts, even though Areola is on hand to divert one effort that is heading for the top corner and another that collides with his midriff. So far so good and the Dutch storm appears to have been weathered.
The 70 minute mark passes, our one-goal lead remains intact. Changes ensue. Alkmaar introduce De Wit, who was impressive at the LOS seven days afore. As the minutes continue to tick away, Lahdo replaces van Brederode as AZ boss Jansen desperately attempts to boost his attacking options. De Wit's game lasts just 15 minutes as he is forced to retire, less than fully recovered from the injury sustained at the weekend. The dangerous Karlsson, who AZ would dearly have liked to play from the start arrives with five minutes of normal time remaining. It's surely too late to have any kind of meaningful impact, but these are desperate times for Alkmaar.
Amongst this flurry of activity - which includes a penalty shout for the hosts, that has us worried momentarily at the other end of the stadium - from the bench come two changes for West Ham. Pablo Fornals replaced a tiring Said Benrahma, who looked lively but is beginning to leave Aaron Cresswell exposed. Danny Ings comes on for Michail Antonio, who has endured one of those nights - yet still managed to keep AZ's defence fully occupied. We are close now. Very, very close. Added-on time approaches and the remaining fingernails left on the digits of those in the away end are chewed to the bone.
Prague, here we come
Although I'd gladly take the draw tonight, I pause briefly to wonder if I'll ever see West Ham win away in Europe again. It's been nigh on 13 years since the last occasion, a pre-season friendly in July 2010 when Avram Grant's side managed a narrow win against Panathanaikos in Kitzbuhel. More recently, having been fortunate enough to take in Europa League trips to Seville and Frankfurt plus the Conference League quarter final first leg tie in Gent last month, I'd witnessed two defeats and a draw - so another was long overdue.
Who's this on the ball, I ask myself, as I return to my senses? It looks like Pablo Fornals, taking advantage of acres of space while leaving the last defender trailing in his wake. He surges towards goal, unopposed. Danny Ings can be seen 20 yards behind him raising his hands as if to celebrate a goal that hasn't been scored - he knew. And the rest is history - and one of the greatest moments I can recall from a lifetime of supporting West Ham United Football Club.
Fornals shoots, goalkeeper Ryan is wrongfooted and the ball trickles into the back of the net. The away end erupts. It's a tangible, visceral explosion of joy, relief and celebration, borne from many years of failure and under-achievement. Complete strangers are hugged like lifelong friends as the players celebrate just as wildly in front of us. They know we're on our way to Prague. And seconds later, the final whistle blows to confirm it - and the celebrations being again, in earnest.
The festivities appear to take something of a turn in the stand to our right, where there is clearly a major disturbance occurring behind the dugouts. It's where the players' family and friends are situated and there is clearly a good deal of unrest there.
We watch players, staff and others become embroiled in the brouhaha. In the end it dies down, only to become front page news the following morning due to the heroic actions of a handful of Hammers who stand strong against a mass of AZ 'ultras' - West Ham's 'Rorke's Drift', if you will. Spineless cowards, one and all, who chose to attack the vulnerable - yet our hoodie-clad chums were nowhere to be seen thereafter, having disappeared into the night with their tails wedged firmly between their legs.
Our celebrations continue long into the night, even though local plod do their best to pour cold water on them by holding us back for more than an hour. I finally manage to slip away solo after persuading a Politieman that my destination is just five minutes away and can only be reached on foot - and so it is that I make my way back to the Hotel Alkmaar along with hundreds of AZ fans, more of whom travelled to the game on bike than by foot.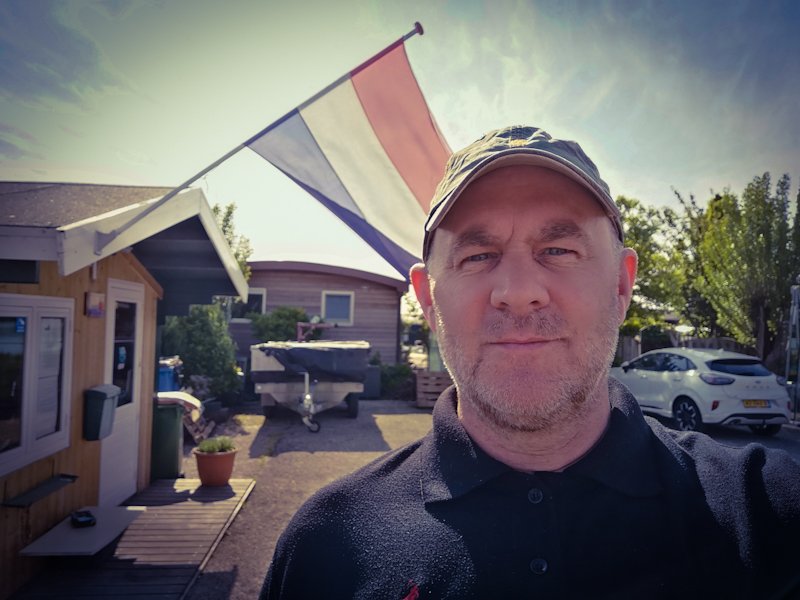 The morning after the night before, somewhere in Aalsmeer
"I'm dreaming dreams, I'm scheming schemes,
I'm building castles high.
They're born anew, their days are few,
Just like a sweet butterfly.
And as the daylight is dawning,
They come again in the morning..."
- I'm Forever Blowing Bubbles (Brockman, Kendis, Vincent)
Absolutely shattered both physically and emotionally, I make my excuses and retire for the night. I fall to sleep dreaming dreams and scheming schemes and wondering just how the bally hell I'm going to book travel to and a hotel in Prague before they're all snapped up or become just too bloody expensive. The following morning I awake from my slumber, gain my bearings and realise it wasn't a dream after all - West Ham really have just won a European semi final.
I trundle off to breakfast but find I can't eat, despite having barely consumed a thing since leaving Blighty little more than 24 hours earlier. I've never experienced that before and wonder briefly if there is some correlation between following a successful football team and losing weight. Having decided that's highly unlikely - I mean there are chubby Manchester City fans, right? - I'm back on the road. Not homeward bound, yet, but to Aalsmere, via Amsterdam, where I'll be spending the next 24 hours - purely because it worked out considerably cheaper than flying directly home after the game.
After forking out another 35 euros for a cab from Schiphol Airport (a 15 minute journey - Dutch inflation meant it had risen to 45 euros for the return journey the following morning!) I arrive in Aalsmeer, whose name is derived from the Dutch for eel (aal) and lake (meer). They don't appear to have borrowed that particular East End penchant for smothering their anguilliformes with jelly however, not that I'm about to undertake a taste test anytime soon.
It's a beautiful day and the complete antithesis to last night. My day is spent mooching around, getting in people's way in a Dutch Aldi and frequently failing to remember that everyone drives on the right. Which could've been dangerous. I begin to write this report but don't really have the necessary energy, concentration or will - it'll have to wait until I get back to KUMB Towers. I'm still emotionally spent from the excesses of Thursday night and the realisation that David Moyes and his team have achieved something no other West Ham team has done since 1976; something I never thought I'd see again in my lifetime.
Now wouldn't it be great if we went on to win the bloody thing!? Which reminds me - I have a hotel and flights to book...
* Like to share your thoughts on this article? Please visit the KUMB Forum to leave a comment.
* Disclaimer: The views and opinions expressed in this article are those of the highlighted author/s and do not necessarily represent or reflect the official policy or position of KUMB.com.
More Opinion