Filed: Saturday, 27th May 2023
Leicester away and it's the last league Preview Percy of the season. You won't be surprised that he still has a bee in his bonnet about crisps being sold in the wrong-coloured packets….
Next up we venture north to the East Midlands for the last
League
game of the season where we will be hosted by Leicester City. Kick-off at the King Power Stadium is, as is the case with all Premier League matches this Sunday, at 4:30 pm and Sky have decided to pick this one up for broadcast in the manner of vultures hovering over what is soon to become carrion.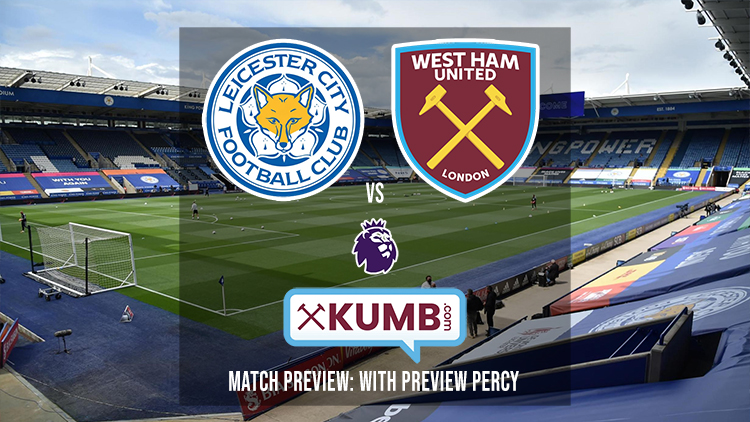 So if you are watching this on the box, be prepared for numerous updates from Goodison Park and Elland Road to pop up in the bottom left hand corner of your screen.
So Leicester then. "Oh dear", are the two words that leap to mind. They will look back on the winter World Cup with same sort of affection as the migrant workers used to build the stadia did, such momentum as they had been able to build up coming crashing to a halt in the manner of one of those motor journalists who writes off a £1m supercar by getting confused by the prototype vehicle's revolutionary gear change system and accidently selecting "reverse" whilst doing 180mph on the manufacturer's test track.
Having had a wretched start to the season that saw them follow an opening day draw with six consecutive defeats, their following eight matches saw them win five, draw one and lose two, their last win before the break being a 2-0 win against us at the Olympic in which they barely had to turn up to claim the three points, such was our form at the time.
That saw them reach the dizzy heights of 13th as the world's attention was focused on the Middle East. However, their return following the break was slightly less than impressive, losing 14 of the last 21 played with only three wins and four draws adding to their total.
Clearly such form was not sustainable and Brendan Rodgers was handed the football equivalent of the pearl-handed revolver at the start of April, being replaced by what many considered to be the uninspiring choice of Dean Smith, whose efforts have been assisted by Craig Shakespeare and the obnoxious John Terry. To nobody's surprise things have barely improved since, with just the one win against a disinterested Wolves side and a couple of no use to anyone draws against Leeds and Everton adding to the credit side of the equation.
Under normal circumstances Monday's 0-0 draw against the Geordies might have been regarded as "useful", despite the one-sided nature of the match that was so dominated by the home side I thought my TV had been placed on a slope. However, it was widely regarded by the faithful as a postponement of the inevitable, with one tweet likening the situation to that of a family pet that had been clipped by a car awaiting the arrival of someone with a garden spade to put the poor creature out of its misery.
All is, of course not actually lost. There are two less than coveted places up for grabs in next season's Championship with Leeds in 19th spot on 31 points and -27 goal difference, the Foxes in 18th with 31 and – 18 and Everton in 17th place with 33 points and – 24.
So the equation is fairly clear. Leicester need to win and hope that Everton lose at home to Bournemouth. That should be good enough, although there is a scenario whereby Leeds could still stay up. However, that would require them to win their last game by nine more goals than Leicester manage, which clearly is most unlikely. There again they
are
playing Spurs...
Daisy informs me that, whilst they brought in three permanent players plus a loan signing back in January, one of the permanent deals Nathan Opoku's arrival from American outfit Ventura County Fusion and/or Syracuse University (blame the football scholarship system for that one) for a nominal fee was followed by the player's immediate departure for Leveren.
Leicester stated that they wanted the player to get more of a feel for European football before getting him into the first team, though, with the player yet to gain his first full cap for his native Ghana it appears more likely that Belgium's more lenient work permit rules may have resulted in Leveren being used as a dumping ground while the player builds up enough points to qualify for the relevant documentation.
Back in defence they brought in young left back Victor Kristiansen from Copenhagen, the £17m fee being a club and indeed a league record for the Danes. He's been capped at pretty much every level by the Danes except full. He was a regular on the left hand side until recently. However since the Everton game Luke Thomas has been preferred.
Another possible incumbent for the left-back slot, the primarily right-sided James Justin has now returned to full fitness after a lousy couple of years. However he was left out of the Premier League squad pending the repair to his achilles and so isn't an option.
The third arrival came in the form of Harry Soutter. The central defender arrived from Stoke for an "undisclosed" fee of £15m with a further possible £5m to come in add-ons. Scottish born and bred he elected to represent Australia, the country of his mother's birth. He was part of their squad in Qatar, thus providing an alternative response to the old joke/riddle "what do you call a Scotsman at the World Cup?"
Interestingly, his elder brother John, who plays for Rangers, elected to stick with Scotland. Soutter junior is the subject of this week's pointless stat of the week as Daisy informs me that he is the
second
tallest player to play for Australia. Daisy couldn't be bothered to look up who the tallest is. And frankly, I can't say I blame her.
The new arrivals list was completed by the arrival of Tete . Although nominally on the books at Shaktar Donetsk, the Brazilian has been on loan with Lyon due to the situation in Ukraine. He's on loan until the end of the season though, although he scored on debut against Villa, few expect him to stay beyond this summer.
On we move to the Wild and Wacky World Of Association Football. And the Tottenham soap opera continues to delight as anyone they think about appointing as manager goes public about their desire to give the place a wide berth.
Latest to join the "not with a barge pole" brigade was Feyenoord boss Arne Slot who announced that he wasn't going anywhere and, even if he were, Tottenham would rank well below FC Chernobyl and an appointment for anaesthetic-free root canal surgery on his list of priorities. Still I expect Allardyce will be free at about 6:30 on Sunday evening.
Talking of whom, the portly one took time out from explaining to anyone who would listen how he was personally responsible for us being in a European Final and how his influence led to Man City's third title in a row to have a joke at the expense of the fourth official at the weekend. Finding a fiver on the floor the world's most visionary coach pretended to bribe the official, providing much mirth. What wasn't noted was the fact that Allardyce trousered the fiver. Obviously.
And so to us. Well it took a few minutes for us to get going but in the end the only mystery about the 3-1 win over Leeds was how the hell we didn't actually score three or four more. There were a number of occasions where we seemed to go all "unselfish" trying to set up a teammate lest they feel left out of proceedings rather than simply burying the flipping thing. Still it was nice to see the old West Ham back wasn't it.
Paqueta was simply outstanding – his work for Lanzini's goal has already been replayed a few million times in these parts I can tell you. It's taken him a while but he seems to have come to terms with the pace of the game which has enabled him to make better decisions as to when and when not to display those eye-catching turns.
We have three on the injury list. Scamacca has resumed light training but is still out. Aguerd has a knock and whether he plays will depend on Mr Moyes' appetite for risking players in advance of the final. Meanwhile, Flynn Downes is suffering from a good old-fashioned no-nonsense common cold. None of your fancy "oh it's a viral infection" here. Ok it is but you know what I mean.
Another who may be missing is Jarrod Bowen. He may well be in need of a good night's kip with the other half having given birth to twin girls the other day. A lifetime of being ganged up on awaits and whilst the prospect of being kicked up in the air by an opposition full-back might appeal as some form of relief from the 3am feeds and nappy changes at the moment, Mr Moyes may think Bowen will need all the recovery time possible between now and 7 June.
That general theme will be repeated throughout the squad as the manager tries to juggle the need to keep the momentum of recent weeks with the need to keep players fresh and injury-free ahead of the final. There is, of course, also the little matter of the need to be seen to be doing the right thing by Everton and Leeds, though frankly of the three sides involved Leicester are by far and away the one I'd prefer to stay up.
The problem with that is that that would require a lot more backbone from Leicester than they have shown of late. Yes getting a draw up at Newcastle wasn't bad but that owed as much to the Geordies being slightly off-colour in the final third and a set of goalposts that were hit so often they are probably going on strike, and the overall impression one got from the evening's events is that they were resigned to the inevitable and jolly well surprised when it didn't happen.
For that reason I will be placing the £2.50 that I managed to spot on the floor and beat Allardyce to picking up on an away win. Off I shall traipse to Winstone's the Turf Accountant and stick the whole bally lot on a score of 2-1 to us.
Enjoy the game!
When last we met at their place: Drew 2-2 (Premier League February 2022)
Bowen opened the scoring before Cresswell went to head a corner clear but got his head and elbow mixed up, Tielemans putting the resulting penalty away in first half stoppage time. Pereira gave the home side the lead 12 minutes into the second half. We had to wait until stoppage time for the equaliser, the ball coming off Dawson's shoulder from a corner.
Referee/VAR: Simon Hooper/Chris Kavanagh
Remember Percy's first law of referees: Bald referees are rubbish. Just bear that in mind this weekend.
Danger Man: James Maddison
This may be his last game for the Foxes….
Percy & Daisy's Poser-Type Thing
Last Week we brought you a headline from the Leeds Live website:
Leeds hit by XXXXXXXX XXXXX as awful XXXXXXX XXXXXX engulfs city
Well done to Mrs Harriet Johnstones-Paintbox who knew that the missing words were "horrific smell" and "mystery stench". Nice
This week we look at Leicester which has many claims to fame. When they are not burying Kings under car-parks or looking up into the skies at the National Space Centre they are , er, well, making crisps I suppose. Walkers are of course the company responsible for mucking about with the world order by changing all the colours of the crisp packets, but just how many bags do you think they produce a day?
Good luck everyone!
* Like to share your thoughts on this article? Please visit the KUMB Forum to leave a comment.
* Disclaimer: The views and opinions expressed in this article are those of the highlighted author/s and do not necessarily represent or reflect the official policy or position of KUMB.com.
More Opinion
Sunday, 24th September 2023
Thursday, 21st September 2023
Thursday, 21st September 2023
Tuesday, 19th September 2023
Friday, 15th September 2023
Tuesday, 12th September 2023