Filed: Saturday, 12th August 2023
Some things in life are inevitable, death, taxation and the fact that Preview Percy still does our match previews. Here's his look at the season-opening visit to Bournemouth which should, at least, put your tax bill into perspective...
Happy new season. Did you miss me? Thought so.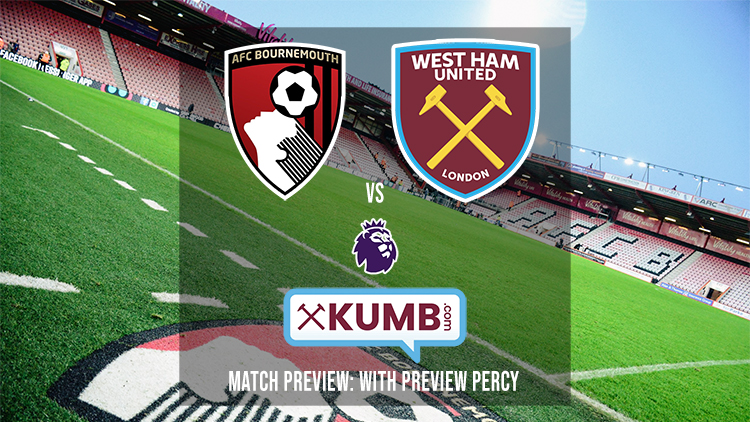 We open our account for 2023/24 with a visit to what may, for once, prove to be a sunny south coast where we will be hosted by AFC Bournemouth. Kick-off is at 3pm and you'll probably want to leave nice and early what with there being an overtime ban on the trains and everything. Check, as ever, before you go.
So Bournemouth then. They finished one place and a point behind us last season, largely as a result of a friendly fixture list in April that saw them beat Leicester, Spurs, Southampton and Leeds with only their 4-0 home defeat to us blotting the monthly copybook. Those 12 points came in very handy as they lost all four played in May, escaping the drop by five points.
Clearly the owners wanted a bit more this season and manager Gary O'Neil was thanked and sent out through the back door as Andoni Iraola arrived through the front.
Iraloa came in from Rayo Vallecano following spells with Larnaca and Spanish second division outfit Mirandes, who he took to the semi-finals of the Spanish Cup. Despite that the only silverware on his managerial CV was the 2018 Cypriot Supercup from his time at Larnaca. Still he has been in demand with Leeds sniffing around last season, Iraola being denied permission to leave Rayo Vallecano.
Daisy, my personal assistant and, for tax reasons, now also my fiancée, informs me that they have brought in four permanent players and just the one loan signing at the time of writing.
First cab off the rank came in the form of Justin Kiuivert, son of former Dutch international Patrick. Kluivert junior arrived for £9.5m from Roma to whom he had been contracted since 2018. However, his last three seasons had been spent on loan with spells at Fizzy Drink Leipzig, Nice and Valencia under his belt.
His loan to Valencia came about as a deal to take him to Fulham collapsed following his failure to obtain a work permit. Presumably he now has sufficient games under his belt for that not to be a problem, although the last of his two Dutch caps came back in 2018.
We will gloss over Ivorian Hamed Traore, whose permanent signing merely crossed the Ts and dotted the Is on the January loan deal that brought him to Dean Court. Similarly we will bypass the €15m signing of French Under 21 midfielder Romain Faivre, who came in from Lyon but was immediately shipped out to L'orient where he spent last season on loan. He's out there for the whole season.
The final permanent deal brought in Hungarian youngster Milos Kerkez whose signing from AZ is said to have cost £15m. The 19-year-old left-back has eight full international caps to his name. He missed the first leg of the semi-final against us through suspension last season but he did return for the second leg, though he had been hooked before Fornals' glorious late winner.
The loan signing came in the form of Goalkeeper Ionut or sometimes Andrei Radu. He arrived in July from Inter. Although he has been on the books in Milan since 2019, he has only made three first XI appearances for them, having spent time on loan at Genoa, Parma, Cremonese and Auxerre. Even then he's made fewer than 50 league appearances for those sides in his four years on the road. So it remains to be seen how much of an impact he will make between the sticks at Dean Court.
Let us move on shall we to the wild and wacky world of Association Football. We are told to look forward to much lengthier matches due to a stricter interpretation of the amount of time to be accounted for at the end of each half for stoppages. Be prepared to take photos of the stadium clock as evidence of the reason for your late arrival home – particularly on those European nights.
Other changes include a stronger response to dissent and to kicking the ball away. I predict that these initiatives will go as follows: There will be bookings a-plenty for five or six weeks then PGMOL will go back to interpreting the law in whatever manner they can be bothered with. After all, that's what has happened to every other new-season initiative.
Of course refereeing standards will improve infinitely this season. That's not to say they won't still be lousy – that's a long-term project. However, the retirement of Mike Dean will result single-handedly in a measurable upgrade to standards. Look out for him doing the refereeing backup on Sky displaying a full knowledge of the laws of the game that he so often ignored for his own purposes.
Me? My finger will be on the mute button whenever his self-serving hypocritical grin defiles my TV. It's cheaper than lobbing a brick at the screen.
Down under, the distaff side have been playing in the World Cup which has been using the interesting experiment of having referees having to explain VAR decisions to the crowd. It's something that I would like to see in the wider game but I suspect there would be some resistance from PGMOL who would view such a move as an erosion of the protection they have at present.
It's easy at the moment for someone in a bunker to silently confirm a duff decision to back up his mate. It would be quite another thing for an official to have to come out and say why a decision is being made that contradicts all the available visual evidence. Great if it happens but I wouldn't be holding my breath.
As for the tournament itself, it is admirable that the England squad is looking at emulating the efforts of male squads that went before them and, notwithstanding the poor performance against Nigeria, there is every prospect of further progress, especially since the premature departure of the USA. However, as I am sure James is aware, not EVERY aspect of David Beckham is worthy of mimicking and the petulant little stamp that earned the Lioness a red card is something that, in these days of VAR and multiple cameras, will always be punished.
And so to us. With a European Trophy in the bag you'd have thought we'd have had a nice summer basking in the glory of doing something that certain other clubs can only dream about. However, in typical style our ownership proved their worth once more.
Asked about Declan Rice in the immediate aftermath of the win in Prague, Mr Sullivan confirmed that the player was for sale and would be off. Now, yes this was not news as such. However, the correct answer to that question for anyone with an ounce of sense would have been: "That's all for the future. At the moment I just want to congratulate the players and staff on winning a European Trophy. We'll talk about other stuff in the weeks to come."
But no - Mr Sullivan couldn't even give us 24 hours to celebrate in, could he.
Since then it's been a typical West Ham summer. In comes a director of football whose views on how the game should be played seem to be the complete antithesis of those of the incumbent manager.
The club dithered over transfers to the extent that Carlos Borges ended up going to Ajax. There was a certain gallows humour to be obtained over the Borges affair. This was derived from the ever-amusing reactions from certain sources that the club likes to use in moments where a bit of spin is required. So, as the Borges deal went very silent for quite some time, myriad stories started to appear stating something like: "All is well. It really is. The player is on holiday and will be back to sign on the dotted line next week. Honest".
Within a few days the player was being paraded around Amsterdam. Even then there were hints of what the Troggs used to refer to as "fairy dust" about the reporting of the hijack which can be summarised as saying: "Ok, he's not coming, but Mr Moyes wasn't THAT keen anyway".
Having spent half the summer laughing at Arsenal's attempts to prise Rice away with lowball bids (£5m down now and a further £100m if the player becomes the first professional footballer to walk on Mars), we then go and offer Southampton £5m and an extra £20m in the event that James Ward-Prowse becomes the first professional footballer to walk on Pluto – which is still a planet no matter what they say).
Now, at the time of writing a more sensible bid has been tabled and the player has passed his medical. It'll be nice to have a decent dead-ball specialist in the team. I've not felt confident with free-kicks since Payet went.
Aaron Cresswell seems to be on the naughty step. Wolves channelled their inner Sullivan with a bid for the player of £0 up front and £2.5m payable should Cresswell become the first professional footballer to bridge interstellar space and make contact with intelligent life while he's out there. That deal having been rejected Cresswell has disappeared, apparently on strike.
Then there is Harry Maguire – who my lovely Leicester supporting work colleague refers to as "our training ground". Initial comments suggested that the player was far from happy with the idea of joining us. However the realisation that we may be the only game in town may have been the cause of a more pragmatic response to the proposed move as the penny drops that Gareth Southgate has not been known to spend an awful lot of time watching Manchester United's Development XI.
It was thought that wages might be an issue but the pay cut, assisted by rumoured financial assistance from the Theatre of Tacky Marketing Slogans appears to have smoothed that particular wrinkle in proceedings at the time of writing.
We also appear to have brought in a midfielder in the form of Mexican Edison Alvarez. If rumours are to be true, Alvarez is due to arrive from Ajax any minute now. The much-capped midfielder was part of the Mexican team that won the CONCACACACACAF Gold Cup This year. The word on the street is that he is more defensively-minded than Rice was in his later year or two.
This may prove to be something of a bonus as playing alongside someone who is more of a sheet anchor could possibly release Soucek to take up a more advanced role akin to that he occupied in the early part of his spell at the club. Alvarez hasn't had a pre-season yet so don't expect to see him this weekend even if the signing is completed in time.
In the meantime, only a cynic would suggest that there was any link between our non-signing of Borges and the arrival of Alvarez. Not even our owners could do that surely?
We are still short of a striker with Luca Scamacca being the latest in a long list of talented and decent strikers to find themselves unsuited to the team's style of play. It's almost as if we did no due diligence on these signings, or, if we did, we ignored it.
To be fair to Scamacca, he did have injury issues but even so the fact that he had more success in European matches with us suggests a failure to adapt to the English game. This leaves us with Antonio, Ings and Mubama. You may think that we need another striker. I'd agree with you.
The sole injury doubt at the moment seems to be Lucas Paqueta whose minor knock brought his participation in the friendly against Leverkusen last weekend to a premature end. It will be interesting to see how that knock plays out over the next couple of weeks or so now that Manchester City have expressed an interest.
So to the prediction. Ok it's not been a great summer so far though there is at last some form of activity on the transfer front. However, I think there are far worse places to go on the opening day of the season.
Yes, it's a new season, but we have had the hex over them over the past few meetings. I see no major improvement in them from last season and the new signings are not overly inspiring.
I'm not thinking that this will be as easy a trip as last season but I still think that we will have more than enough to bring home three points on this occasion. So I will open up the Winstone Turf Accountancy app and place the £2.50 that I am told should be going on an engagement ring for Daisy on a 2-1 away win.
Enjoy the game!
When last we met at Dean Court: Won 4-0 (Premier League, April 2023)
A very welcome three points to alleviate the league concerns as Antonio, Paqueta, Rice and a "not sure how he did that" finish from Fornals overwhelmed the home side for whom the half-time Government Emergency Mobile Phone alert came about 45 minutes too late.
Referee/VAR: Peter Bankes/Michael Salisbury
We've won the last two matches Bankes has taken charge of for us, those being the 1-0 defeat of Man Utd and the 3-1 defeat of Leeds both at home last season. Before you get too excited, he failed to give what most observers identified as a penalty to us in the Man Utd game. One of those blatant errors that VAR was designed to correct not cover up.
Danger Man: Kiefer Moore
Difficult one in a squad short on major quality. Solanke is injured so their main striking option gets the vote.
Percy & Daisy's Poser-Type Thing
Oh we have a corker of a missing words headline for you this week! Try this from the Bournemouth Daily Echo:
Parking Ticket given to police car actually contained a XXX-XXX XXXXXXX
Good luck everyone!
* Like to share your thoughts on this article? Please visit the KUMB Forum to leave a comment.
* Disclaimer: The views and opinions expressed in this article are those of the highlighted author/s and do not necessarily represent or reflect the official policy or position of KUMB.com.
More Opinion
Sunday, 24th September 2023
Thursday, 21st September 2023
Thursday, 21st September 2023
Tuesday, 19th September 2023
Friday, 15th September 2023
Tuesday, 12th September 2023