Filed: Friday, 25th August 2023
Preview Percy is looking forward to his trip to the seaside, though he has left the "Kiss Me Quick" hat behind in case he gets mistaken for a FIFA vice-president. Here's his look at the trip to Brighton and Hove Albion...
Next up it's Brighton & Hove Albion away. Kick-off is a supporter unfriendly 5:30pm, with rail strikes meaning that the last train back to London leaving at 9:40pm really make sure you check before you leave lest you get stuck down there on Bank Holiday weekend with Hotel Rooms at a premium.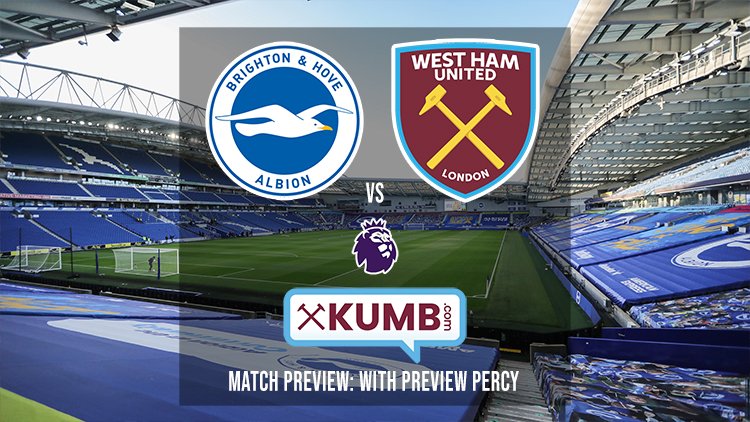 So Brighton then. For what it's worth they are top of the league at the moment. Their six points have come from a brace of 4-1 wins, though it's fair to say that they could have started with an infinitely worse fixture list than one that saw them open at home to Luton and away at Wolves. Still as they say you can only beat what's in front of you.
Now back in the more depressing moments of last season I recall that, amongst the discussions over a possible replacement manager, the name of Graham Potter came up – this was before his ill-fated spell at Chelsea.
Now our board's usual mouthpieces floated it out there that Potter wasn't up to much really and that his success at Brighton was only down to their successful transfer policy which was based on a rigorous application of scientific analysis of each player under consideration, As if having a proper and successful policy was somehow not desirable. Which is why we have signed something like 50 strikers under the current ownership without much in the way of success.
Much has been made of the profit-taking Brighton have done this summer with big money deals involving the sale of McAlister to the scousers and Caicedo to Chelsea, neither of whom had the best of weekends last week. They haven't exactly been accruing a lot of interest from the proceeds though with no fewer than five new first team squad arrivals for Daisy to get her teeth into.
The first arrival was Watford striker Joao Pedro. The 21-year-old Brazilian's 'undisclosed' fee was said to be a Brighton club record £30m. He was on target in the opening weekend win against Luton but had dropped to the bench for last week's visit to Molineux, boss De Zerbi claiming that Pedro needed to be more ruthless in front of goal and to work harder out of possession. All that after one game.
Syrian-born German midfielder the pleasantly rhyming Mahmoud Dahoud came in on a free from Borussia Dortmund. He and his parents left Syria before his first birthday and the player came up through the German youth system, gaining the first of his two full caps to date in 2020. He's played in both their matches so far this season.
Another freebie arrived in the form of James Milner who, like many before him, has elected to spend his twilight years down on the South coast. I guess I'm not the only one who feels old at the memory of him making his debut for Leeds at the age of 16 – that's 20 years ago for pity's sake. I asked Daisy what she was doing 20 years ago but she merely mumbled something about "primary school", bless her.
Goalkeeping resources were boosted by the arrival of Netherlands Under 21 'keeper Bart Verbruggen (he said carefully). The fee commanded for the custodian, who has four Dutch Caps at Under 21 level, was £16.3m. He's been second choice behind Jason Steele, whose name sounds like one of those 1970s playboy detective shows so can look out to a runout in the League Cup if not the Thursday Night Conference.
Brazilian central defender Igor Julio came in from Fiorentina for a fee of £15m. Igor as he is generally known will be familiar face as we last faced him three games ago in Prague where he came on as sub just in time to see the back of Bowen as he slotted home the winner.
You have to feel a little sorry for him. Anyone born in a place called 'Born Succeso' has a lot to live up to and his 'honours list', which comprises of one Copa Italia runners-up medal and one Thursday Night Conference runners-up medal s more reminiscent of Born Spursio than Born Succeso.
Now an announcement. I hereby declare the "Great Name of the Season" competition well and truly open. Strictly speaking this signing isn't a first teamer but come on, a player called Noel Atom is not one to be missed. He'll probably end up in a series with Jason Steele back in the 1970's.
And so to the Wild & Wacky World Of Association Football. The distaff side found Spain one match too many in last weekend's World Cup. We saw another example of the VAR decision being explained to the spectators which worked well – albeit with the ref very much milking her moment in the spotlight.
During the presentations Spanish FA boss Rubiales took time out from grabbing his crotch in front of the Spanish royal family to plant a smacker on the lips of Jenni Hermoso. He's still in charge at the time of writing but FIFA are sharpening the knives as we speak – the internal backstabbing within FIFA is not going to miss an opportunity to get rid of an enemy this good.
And in a revelation that is about as surprising as seeing a Liverpool player dive, the obnoxious Mike Dean has admitted that during his spell in Stockley Park he used to ignore blatant on field errors to protect his mates on the pitch. Anthony Taylor in particular being the beneficiary of Dean's dishonesty.
Dean of course is now cashing in on his years of self-promotion at the expense of the paying customer by taking the Sky shilling. It would be nice to think that PGMOL might want to take some form of legal action against Dean for obtaining money by deception or something but since Dean would need to have 2,000 other offences taken into account it's not likely to happen. Still it's nice to have our suspicions confirmed after all these years.
And so to us. odd game last week. Having taken the lead – and isn't it nice to have someone who can take a decent corner by the way – we went all "last 20 minutes against Bournemouth" and sat back far too deep. Now defending and countering on the break is all well and good but it does rather depend on you doing both parts of that equation well.
In the first half we didn't and the way we lined up invited players to run at and take on defenders. So they did. The equaliser had been coming and it was precisely this formation that led to the penalty being given away. Good job Areola chose Sunday to make his first Premier League penalty save from what, admittedly, wasn't a good spot kick. Clearly at half time Chelsea were strolling off thinking that all that was required for them to win the game was to turn up for the second half.
Thankfully, the message on how to defend got through to the players and, helped by a Chelsea side who displayed a lot more naivety than one might expect for a billion quid, playing right into our hands. We kept things narrow meaning that the ball spent an awful lot of that 76% of the time it was in their possession going back and forth across the goal like a bar football game.
The second part of that game involves making the most of the ball when you have it. Ward-Prowse's pass to Antonio was sublime for two reasons. Firstly, well it was just a fine pass anyway. However, this was doubly so on this occasion finding as it did Antonio with half a yard of space to turn and run at his defender, rather than, as is all too often the case, with his back to goal and a defender close enough to swap DNA.
There was still a lot to do of course – and, be honest, when he got into that shooting position, how many of you were genuinely convinced he was going to score. It was a blinding finish.
Aguerd's (daft but correct) sending off scarcely made a difference – Chelsea giving a masterclass in how not to play against opponents with 10 men. On the refereeing I couldn't help but notice that instruction on issuing a yellow card for kicking the ball away has lasted all of one week. Then given all the fuss and bother about Paqueta last week - which broke too late in the week for me to comment on properly - I guess it was inevitable that he would get on the score sheet.
The penalty – and again it was naïve defending - was well dispatched, even if we have to get used to that damned stuttering run up if he is to take more. On the betting stuff - if guilty ban him. If not, don't. We'll find out in the fullness of time. I would say that his caution against Chelsea was daft – but only because it resulted from the incompetence of ref Brooks who failed to punish any of the three fouls committed on him before shooting the messenger.
We have one, nearly two additions to the squad by the time you read this. Konstantinos Mavropanos is a done deal coming in for €25m, some of which went to Arsenal who had a sell-on clause in the deal which rescued him from having to do charity work in Islington sending him to Stuttgart. Although primarily a central defender he can also play at right back.
His arrival into the squad is well-timed given that Aguerd is the only absentee this weekend, serving his one-match suspension for his two yellows on Sunday. I think I will refer to him as Kon – my earlier suggestion of Stavros being vetoed by Daisy on the grounds of taste. The other arrival is likely to be Mohammed Kudus. At the time of writing a fee has been agreed with Ajax but the deal is not quite "over the line" as the pundits say. More about him, we hope, in the next preview.
So the prediction then. They've been a bogey side in recent years and last season's trip down there was one of the most spineless displays I can remember.
However, ever the optimist, I have a sneaking suspicion that this trip may be different. Ward-Prowse impressed on debut as did Alvarez and I'd like to think that we will be a little more vertebrate this time around. I'm therefore going to place the £2.50 that I was going to spend on a stick of rock for Daisy on a draw. So Mr Winstone if you please could I suggest a wager on 2-2 draw?
Enjoy the game!
When last we met at Falmer: Lost 4-0 (Premier League March 2023
The Sky commentator described us as woeful. He was wrong. We weren't nearly that good. McAlister opened the scoring with a spot-kick. Veltman, Mitoma and Welbeck were on target in a second half where we showed all the resilience of wet tissue paper.
Referee/VAR Anthony Taylor/David Coote
Now that it's official and we know that VAR officials cover up for their mates it will be interesting to see how Taylor fares without the safety net of a pal ready to lie for him.
Danger Man: Evan Ferguson
Promising youngster – he will make a change from selecting Danny Welbeck who always scores against us.
Percy & Daisy's Poser-Type Thing
Last week we asked you how Partick Thistle were once valued as being 100,000 times more valuable than Chelsea. Well the missing link is quite simple really. One in a long line of owners best described as "dodgy", Ken Bates paid £100,000 to buy Partick Thistle. And £1 to buy Chelsea.
This week we go mack to a missing words round. This one came from the Brighton Argus:
Why the long face? XXX-XXXXXXXX XXXXX spotted visiting city centre boozers
Good luck everyone!
* Like to share your thoughts on this article? Please visit the KUMB Forum to leave a comment.
* Disclaimer: The views and opinions expressed in this article are those of the highlighted author/s and do not necessarily represent or reflect the official policy or position of KUMB.com.
More Opinion
Sunday, 24th September 2023
Thursday, 21st September 2023
Thursday, 21st September 2023
Tuesday, 19th September 2023
Friday, 15th September 2023
Tuesday, 12th September 2023