Filed: Friday, 1st September 2023
It's been so long since Luton were in the top flight Preview Percy wasn't our preview writer. He was still old thugh. Here's his first look at the Hatters – we think...
Next up Luton Town. Kick-off is at 8pm and good luck with your trave if that includes trains as there's another strike on. And let's face it getting stuck in Luton is not something that one would wish on anyone. Except Mike Dean. Obviously.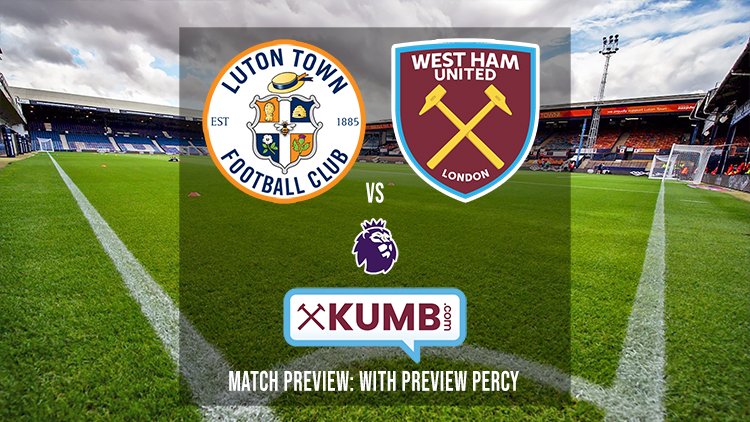 So Luton. Or "plucky Luton, bless" as every tv pundit seems to be calling them at the moment. They have been an unwitting part in the media conspiracy to convince everyone that football didn't happen before 1992, apart from 1966 obviously. You can't move for references to the fact that this is their first season in the Premier League. Ok it is, but they have been in the top division before.
Back then, though, they were a bit of a pariah amongst clubs due to their adoption of a plastic pitch the technology of which had been nicked off a greengrocer's stall, plus the fact that they had a ban on away support. This was the result of an oft-repeated clip of Millwall supporters ripping up a few seats back in the day, something that had the same effect as a major refurbishment scheme on Kenilworth Road.
Of course, the ban didn't stop away fans from going – they just had to pay for Luton membership which, the more cynical amongst us, suspected, might have been their Chairman David Evans' (think Ken Bates-light) motive. Evans it was who was the main proponent of the "ID cards for all football supporters" scheme that thankfully died a deserved death after protests from both supporters – who rightly lamented the civil liberties implications of the proposal - and the Police, who saw through the headlines and pointed out the impracticalities of a scheme which would be disastrous to implement.
Enough of the history stuff. This will, of course be their first home league match of the season due to the extra time required to get the stadium up to top level standards. So they have played just the twice, going down 4-1 down at Brighton and 3-0 at Stamford Bridge. The goal at Brighton is currently keeping them off the bottom – they have an identical goal difference with hapless Everton, though the Hatters do have a game in hand for what little that is worth at this early part of the season. They did beat Gillingham in the League Cup the other night winning 3-2 at home in a match that served the dual purpose of acting as a test event to enable them to open up on Friday for the league season.
Resources coming from a ground that has now usurped Bournemouth's as the smallest in the top flight are always going to be scarce so there was a good sprinkling of free transfers amongst the new arrivals – suggesting that the Norwich option of not spending too much and seeing what happens when the parachute payments start to come in once the inevitable happens may be in play here. Although they brought in no fewer than 9 new signings, the fees paid, where one was paid at all, suggests an attitude of "survival would be good but we're not going to lose any sleep about it".
Daisy has been working overtime this week. Nigerian born Corkman Chiedozie Ogbene arrived on a free from Rotherham. Although the source suggests bargain basement shopping it should be pointed out that the winger has 15 full caps for the Irish, netting four times in the process.
The cash situation is reflected by the fact that the £3m paid to Barnsley for Mads Andersen is quoted by some sources as being a club record. The central defender made over 150 league and cup appearances for Barnsley but never quite made the leap to full international recognition, with a couple of Under 21 caps for his native Denmark being the sum total of his national team experience.
If the rumoured but undisclosed fee of £4m is correct, the signing of winger Tahith Chong from Birmingham probably usurped the signing of Andersen as a club record. After a while in the Feyenoord youth system, Chong pitched up in the Man Utd age group teams before signing a pro deal in 2019. He made five league appearances for the Salford lot but most of his time was spent on loan, at Cercle Brugge and Werder Bremen before pitching up at Birmingham City, for whom he eventually signed a permanent deal.
He has Dutch caps at every age level from Under 15 upwards, though full recognition has eluded him to date. He was included in a full Curacao squad, for whom the player qualifies by birth. This was for a CONCACACACACACAF Gold Cup qualifier. However Covid got involved and Curacao pulled out of the tournament leaving the player uncapped at full level to date.
Marvelous Nakamba came in for around £2.5m from Aston Villa. The midfielder actually made 17 league appearances for the Hatters on loan so the deal is merely ratifying the position.
Left back Ryan Giles arrived for another possible club record fee of £4.5m, ostensibly from Wolves. However,during his five years at Molineux he made just the one cup appearance, spending most of his time on a succession of loans before pitching up in Bedfordshire this summer.
They brought in no fewer than two 'keepers, presumably in the forlorn hope that they might be allowed to play both at once. First choice is former Electric Light Orchestra Violinist Thomas Kaminski. The Belgian has featured in both their matches so far but has got to be the holder of some kind of record, having been called up to the full Belgian squad on no fewer than seven occasions without actually getting on the pitch. He cost £2.5m from Blackburn, for whom he made 115 appearances.
He's been joined in the glove room by former Newcastle and Norwich custodian Tim Krul, who, unlike Kaminski, has played at full international level, gaining 15 full Dutch Caps over the years. Krul's fee was described as "nominal" with Norwich presumably being happy for any fee in the last year of his contract.
If you were wondering whatever happened to Ross Barkley wonder no longer. The next best thing since sliced bread a few years ago spent last season in France with Nice, making 28 appearances for the biscuit-themed side. Amazing to consider that the free-transfer actually possesses no fewer than 33 England caps, though the last of these was over four years ago now.
He last signing came in the form of Scottish-capped striker Jacob Brown. The transfer was said to have "baffled" Potters fans, though frankly the instructions on "how to tie shoelaces has much the same effect up there.
We should give a mention To Pelly Ruddock-Mpenzu as an ex-Hammer. However we're not going to as everyone and his Mum must surely be aware of how he has played in the top five divisions with just the one club.
And so, whilst Daisy goes for a well-earned lie down we shall move on to the wild and wacky world of association football. Kissgate continues to rumble on with suspensions and the Spanish legal system and even Rubiales' Mum getting involved, touchingy if misguidedly going on hunger strike over her son's treatment in the press. Meanwhile rumours that Mason Greenwood has applied for the presidency of the Spanish FA should the position become vacant are probably wide of the mark but you never know.
At home this week was League Cup week and we had the amusing spectacle of Spurs getting knocked out before we had even entered the competition. We have drawn Lincoln City in the third round of said cup. Lincoln dispatched Sheffield Hypocrisy on penalties thanks in no small way to the efforts of Imps 'keeper Lukas Jensen.
Jensen, like many custodians of the onion bag, keeps details of likely opposition penalty-takers written on the side of his drinks bottle. However, on going to consult the drinks container he discovered that it had mysteriously disappeared, missing presumed nicked by someone in the Bramall Lane camp, whilst they took time out from whinging about "fairness in football". Justice was served and the so-called Blades will have to look forward to next season's competition which, hopefully, they will have to join in Round One.
And so to us. Last week was a nice if somewhat tiring trip for yours truly. Much of Saturday was spent in the company of Author and Proper Writer Brian Williams, whose two books on the subject of our beloved club are a splendid read and would make an ideal Christmas present. After several pints of cider Brian expounded on his theory of why we were certain to win the match.
It was all due to the number six you see, which apparently recurs a lot in the recent history of the two clubs. The only one I could remember was us scoring six last time we won. There were others but the theory got a bit convoluted – as did Brian towards the end of the session. Me – I went with the "got a feeling we might win but don't know why" theory. Either way we were both right on the day (yes my prediction in these pages was a draw but I didn't have the gut feeling when I wrote that ok?)
KUMB's "Opposition View" column
was refreshingly sensible in tone this week. Or if, like me you like the sound of opposition supporters whining their eyes out, depressingly sensible. This reflected the tone of the conversations one overheard on the way back to the Avram Grant Olympic Rest Home for The Bewildered's Happy Bus which had been pressed into service due to the unreliability of the train service.
For Friday we have new boy Mo Kudus available for selection, his arrival having been too late for selection last week. He looks an exciting prospect and it wasn't so long ago that Brighton – whose recruitment team are rightly lauded – came close to a deal. He will bring with him a number of options.
He could play as an out-and-out striker for example, providing competition for Antonio should his hot streak not last that long. On the other hand there has been talk of playing Bowen as a striker. With that in mind Kudus would slot nicely into the right wing slot thus vacated. His appearance for Ajax in the qualifying rounds of European competition will not cup-tie him and a hattrick in his last match for them was a nice leaving present as well as hopefully a precursor of stuff to come.
One player who won't be available will be Stan Mavropanos who, in traditional style, is this season's new signing to arrive with a knock. In this case we are looking at a lower back problem that may delay his debut until after the international break. Definitely out is Soucek who got completely wiped out by the Brighton 'keeper last week. His substitution was not treated as a concussion swap at the time but they are taking no chances and rightly so.
Aguerd, who has now served his one match ban for getting two yellows against Chelsea should be back. All in all I wouldn't expect to see too many changes from last week.
So onto the prediction. Well on paper this should be a banker away win. However, there are a few intangibles to be thrown into the mix. It's their first home match of the season and their first back in the top flight since Adam was a lad, so there will be a bit of an atmosphere which will add some spice to all the logic.
We experienced something similar last season when we played Forest off the park only to suffer from the combined effects of a dubious referee and some wayward finishing to lose 1-0. Also, based on our league form last season they will have this one down as one of their more winnable fixtures, though that optimism might be tempered with a look at the current form table.
However, after much deliberation, I have decided to go with logic. I will therefore be popping over to Winstone the Turf Accountants to place the £2.50 that I was going to spend on some flowers for the back garden that one has to walk through at Kenilworth Road on an away win to the tune of 3-1 to us.
Enjoy the game!
When last we met at Kenilworth Road: Lost 3-2 FA Cup QF Replay March 1994
After a 0-0 draw at the Boleyn we took the lead through Martin Allen. A brace either side of the interval from Scott "Son Of Showaddywaddy" Oakes gave them the advantage until Ian Bishop levelled the scores. Unfortunately the normally reliable Steve Potts chose that week to have one of his rare as hens' teeth mishaps, treading on the ball to allow Oakes a clear run on goal to complete his hat-trick. |I couldn't stand Showaddywaddy before and I hated them even more afterwards.
Referee/VAR Paul Tierney/John Brooks
Tierney famously got on the wrong side of the obnoxious Klopp last term who ended up yet again with a slap on the wrist and his 100th warning about his future conduct (if we have to warn you again we'll issue you with another warning). Fond of the occasional nonsense offside decision.
Danger Man: Pelly Ruddock-Mpanzu
I think the law of the ex will apply here.
Percy & Daisy's Poser-Type Thing
Last week the missing word from the Brighton Argus were as follows.
Why the long face? XXX-XXXXXXXX XXXXX spotted visiting city centre boozers
Congrats to Mrs B Williams of Hove who spotted that the missing words were Pub-crawling horse. Obviously.
This week the splendidly-named Luton Herald and Post issued the following invitation:
Discover Luton's XXXX XXXXXXXX and XXXXXXX during September Open Days
Good luck everyone!
* Like to share your thoughts on this article? Please visit the KUMB Forum to leave a comment.
* Disclaimer: The views and opinions expressed in this article are those of the highlighted author/s and do not necessarily represent or reflect the official policy or position of KUMB.com.
More Opinion
Sunday, 24th September 2023
Thursday, 21st September 2023
Thursday, 21st September 2023
Tuesday, 19th September 2023
Friday, 15th September 2023
Tuesday, 12th September 2023