Filed: Sunday, 24th September 2023
Preview Percy has had a lie down after his midweek struggles with the Serbian language, and has declared himself fresh and raring to go on his return to domestic action. Somebody really should have warned him about Hungarian lad Liverpool just signed...
Hello everyone. Next up we trek up to the North West where we will face Liverpool at Anfield. Kick-off on Sunday is at 2pm and beware of the dreaded engineering works which will limit the number of trains out of Euston on Sunday morning. Check before you leave and all that stuff.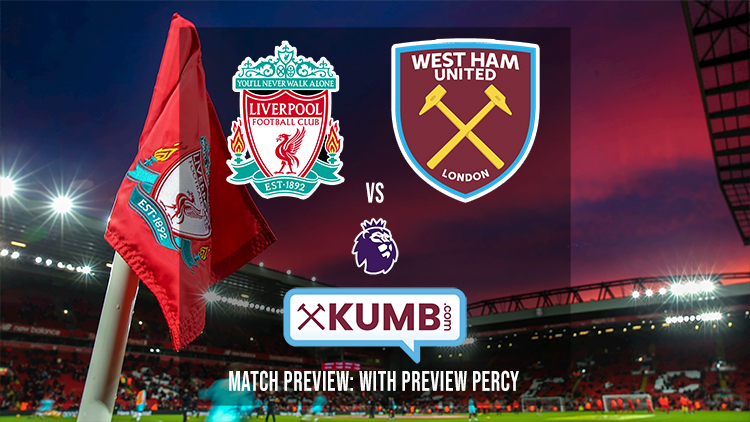 So Liverpool then. The club is fast becoming one of the country's most disliked among football supporters up and down the country for a number of reasons.
Cast your mind back a year or so when we had to play on the night that the Queen had died where the minute's silence was broken by a spontaneous rendering of the National Anthem – something acknowledged as touching by even the most ardent of republicans amongst my acquaintances.
Then compare that to the actions of their rather boorish support who boo the National Anthem at every possible opportunity on the grounds that the decline of their city was somehow a deliberate act by others to spite them.
Add to that a team that is particularly well-versed in the so-called "dark arts", the classic diversionary tactics of their management whenever refereeing is mentioned and a manager who plays the press like a second-hand violin and you can see why they are on few people's Christmas Card lists outside their apologists in the media.
They are currently sitting in third place in the league having won four and drawn one of their five played so far. They've had a few disciplinary issues of late which suggests that maybe, just maybe, referees are beginning to treat them with the same sort of respect/contempt as pretty much every other club in the country.
Macalister's sending off was rightly rescinded, but the uproar over Van Dyke's sending off against the Geordies - which was a clear foul and satisfied every possible criterion to qualify as a denial of goalscoring opportunity - would have had you believe that it had been the biggest miscarriage of justice since a few postmasters noticed that turning their computers off and back on again only made things worse.
It wasn't, and Van Dyk's failure to leave the field of play when ordered so to do rightly got him an extended ban – though others have received sterner punishments for lesser offences. Still it's a start.
In midweek they went 1-0 down to Austrian side LASK but the almost statutory dubious penalty came to their rescue got them back into a game they were beginning to look a little worried about. Even by their standards the penalty award was embarrassing – summed up by their own cheerleaders the BBC as "soft – but they won't care about that", a phrase for which the BBC's website writers presumably have a keyboard shortcut.
Daisy tells me that when not winding up Chelsea by putting in bids on their targets for a laugh they finally brought in four players
First arrival was Alexis Mac Alister, the Argentinian who featured heavily in the squad that won last year's World Cup. Daisy tells me that he arrived from Brighton for one of those complex transfer fees that are becoming so commonplace these days, an initial £33m rising to £55m depending on certain targets being met being the most commonplace arrangement being quoted at the moment.
The decidedly un-South American surname can be traced back to European settlement on the continent, often by our Celtic brethren – hence the speaking of Welsh in parts of Argentina and the reverence held for the name 'O'Higgins' in Chile. Despite all that, Mac Alister somehow managed to resist the obvious charms of delving through his family tree and trying to get a place in the Irish or Scottish sides in favour of getting a World Cup Winner's medal.
You can bet that at the very least the Irish got excited at seeing a half-decent player with his surname to emerge down at Falmer - only to see their hopes dashed when they discovered he was an Argentinian.
The next arrival came in the form of Dominik Szoboslai. The Hungarian arrived for £60m from Fizzy Drinks Salzburg and was described in some quarters as "an ideal Liverpool player". This he went on to prove conclusively in the win over Bournemouth when he won a penalty for an embarrassing dive that was pure Anfield, gaining the fans' MOTM award as a consequence. He's an established part of the Hungarian squad with 34 caps to his name.
The replica shirt sales figures took a boost with the signing of Japanese midfielder Wataru Endo from Stuttgart. Endo made his debut as a sub in the Bournemouth game. He has been much-capped by the Squad from The Rising Sun having recently crossed the 50-cap threshold for the full squad. He also represented his country in the Olympics a couple of years ago.
The final arrival was midfielder Ryan Gravenberch for one of those "undisclosed" fees that everyone knows was around €40m. Whilst he does have full international honours for the Netherlands (11 Dutch caps so far) he has caused a stir in the Dutch national squad by turning down a call-up for the Under 21s earlier this month, saying that he would prefer to concentrate on his new club.
With both Ronald Koeman, who currently manages the senior Dutch squad, and the Under 21s coach Michael Reizinger going into print to express their annoyance at the decision it may be some time before he gets another phonecall from KNVB HQ. The decision will of course please Liverpool who have a long history of keeping their players out of international squads when it suits them.
Gravenbach has been used sparingly in the league with one sub appearance to his name, though he did start in the midweek match against LASK.
One of the bigger talking points of the transfer window was the interest shown by the Saudi Sportwashing Organisation in their players. Jordan Henderson left both his club and himself crying all the way to the bank with his fee of £12m being a hellofa lot more than any payer of his age is usually worth, nevermind one as limited as Henderson.
Henderson's apparent upset at being criticised for taking the money and running was one of the most hilariously pathetic attempts at self-justification heard in years. Almost Partridge-esque in its construction it amounted to "I don't know why everyone is being so beastly to me – I did a charity thing for gay people once you know".
Of course that was eclipsed by the increasingly mad bids submitted by Al Ittihad for Mo Salah. I know players stay fitter for longer these days with more scientific training methods, better diets and much improved medical procedures, but £200m and more for a 31 year-old is still eye-watering by any standards.
Still,from the Saudi perspective the bids achieved their objective. I for one have completely forgotten about the state-arranged murder of a critical journalist and the human rights abuses out there...
Let's move on to the wild and wacky world of association football shall we? And Former Spurs' chairman Alan Sugar has been bellyaching to anyone who would listen over a tax ruling that cost him £186m. It seems that he went through all sorts of hoops to declare himself as non-UK resident only to discover that membership of the House of Lords comes automatically with UK residence status.
This is an example of the Gods Of Football Karma going to work. It was Sugar who leaked the details of the competing bids for the initial Premier League TV rights to Sky 30 odd years ago, enabling the satellite broadcaster to nip in and blow the others out of the water. And of course making the manufacturers of satellite dishes a very lucrative business indeed – eh Amstrad?
The clubs are due to vote on the number of games to be shown as part of the next auctions of TV rights and the indications are that an increase in televised matches will give rise to an increase in games played on Friday and Saturday nights.
So when next you are faced with a hefty hotel bill because you are stranded in some northern outpost because the tv schedulers have scheduled kick-off at a time which means that the last train will leave 20 minutes before the final whistle goes, just remember the person responsible for where we are in the first place – and consider this £186m of tax at the additional rate equates to income of around £413m in the first place.
And so to us. Well Thursday night was alright on the night in the end, though our failure to break down an obdurate defence in the first half and a moment of madness from Ogbonna in the second could have added FK TSC to the long list of banana skins we have encountered over the years. Thankfully sanity was restored late on, giving credence to my earlier thought that if we scored one more would follow.
Kudus gained some plaudits for his performance, though in the earlier parts of the game he seemed reluctant to take anyone on. Ings disappointed – he didn't look like scoring against what is one of the weaker sides we will face this season. Dinos looked ok but sterner tests await. Suffice to say that, had the nine changes not been made I think things would have been a lot less wobbly.
Bowen missed the match, we presumed that this was a resting but it seems that the poor lad has an unspecified virus and is a big doubt. Alvarez should be ok but Cresswell may miss out on a spot on the bench having missed the second half on Thursday with a hamstring issue.
To the prediction then. Well we are up against the gullibility of PGMOL in the face of their unsteadiness around the box and Bowen, should he not have recovered will be a big miss – though expect Kudus to slot in in his stead.
So with heavy heart I will therefore predict a loss. The £2.50 I was going to spend on chipping in towards poor old Lord Sugar's tax bill will instead be going on a home win – make it 2-1 to them with us scoring the only legitimate goal. Stick it on the account Mr Winstone.
Enjoy the game!
When last we met at Anfield: Lost 1-0 (Premier League October 2022)
Poor first half but we improved in the second half. The match officials forgot themselves and awarded us a penalty, though it took a million looks on VAR before they reluctantly conceded that they would have to award it.
Whilst that was going on Van Dyk was all but digging up the penalty spot with a spade right in front of the ref who felt unable to do anything about it. Predictably, given the way an injury-hit side's luck was going, Bowen missed. A late rally saw the home side hanging on for dear life at the end and a point was deserved but not gained.
Referee Chris Kavanagh
In the reverse fixture last year Kavanagh denied us a clear penalty for handball. This was not one of those "nobody knows what the laws are anymore" situation, Thiago controlled the ball with his arm. Klopp predictably denied everything, as is his wont. With David Coote on VAR someone really wants a Liverpool win for this match.
Danger Man: Darwen Nunez
The form horse at the moment.
Percy & Daisy's Poser
Last time out we asked you what Manchester publican Albert Pierrepoint's record was for pre-lunch executions was.
Well done to Mrs Kimberley Jackson-Five of Thundersley who knew that the record stands at 13 – and commented that Pierrepoint "wasn't one to hang around". Quite
This week's poser is an easy one. We ask you of which Liverpool captain was it claimed that he once had a discussion with opponents regarding the possibility of them throwing a match for £50 a man?
Good luck everyone!
* Like to share your thoughts on this article? Please visit the KUMB Forum to leave a comment.
* Disclaimer: The views and opinions expressed in this article are those of the highlighted author/s and do not necessarily represent or reflect the official policy or position of KUMB.com.
More Opinion
Thursday, 7th December 2023
Sunday, 3rd December 2023
Thursday, 30th November 2023
Wednesday, 29th November 2023
Tuesday, 28th November 2023
Saturday, 25th November 2023