Filed: Thursday, 26th October 2023
Preview Percy takes a look at Thursday's trip to Piraeus. Once again we apologise for the unspeakable atrocities he commits towards our hosts' language...
Next up it's geia se olous as we venture over to Greece where we will be hosted by Olympiacos whose home games are played in Piraeus. Kick-off is at 5:45pm UK time with TNT having the tv rights. So get home/to the pub early.
Our hosts qualified for the Thursday night League by virtue of finishing in third place in the Greek Super League last season. This happened after they had finished third in the regular season, the Greek League being one of those that has a playoff at the end of the season to determine the destination of the silverware and European places.
This got them through to the third qualifying round of the Thursday Night League where they faced Genk. They took a 1-0 lead courtesy of a winner 10 minutes into stoppage time into the away leg in Belgium. Extra time loomed in the second leg as they went behind to a spot-kick on the half hour. However, it was another case of the late-late show as they pinched a winner in the 6th minute of stoppage time to go through.
They had an easier time of things in the play-off round, coming up against Serbia's Cukaricki, who were dispatched 6-1 on aggregate. They haven't had the greatest of starts to the Group stage, going down 3-2 at home to Freiburg and dropping points away at TSC where they threw away a 2-0 lead in a 2-2 draw. This has left them in third place in the group on one point, that's five behind us and two behind Frieburg.
It's been a different story in the league where they have won six and drawn one of the seven completed matches they have played thus far. This has given them a two point lead over PAOK and AEK and a three point lead over big rivals Panathinaikos.
The more observant of you may have noticed my use of the word "completed" just then. This is because their recent "derby of the eternal enemies" last weekend ended up being abandoned early in the second half when a visiting player was struck by a firework. Perhaps understandably the Panathinaikos players walked off and refused to return. The scores were level at 1-1 at the time but, at the time of writing there's been no announcement as to what will happen next.
I guess the one thing we can take out of all that is the need to take care, if you're making the trip to Piraeus.
Daisy tells me that, despite their bringing in no fewer than 18 players in in a combination of loan and permanent deals, their spend was actually less than €13m, with the vast majority of the new arrival intake costing no fee at all.
For some reason they did a lot of shopping at Nottingham Forest – I'm guessing that they needed to offload some of the hundred odd players they signed last season. Gustavo Scarpa arrived at Trent Bridge last January, but the Brazilian midfielder made only six appearances in the league last term, allegedly because he had lost over £1million in some sort of cryptocurrency scam, necessitating his return to Brazil to sort things out. He lists his favourite authors as Dostoyevsky and Kafka - so that's something he has in common with Harry Kane then.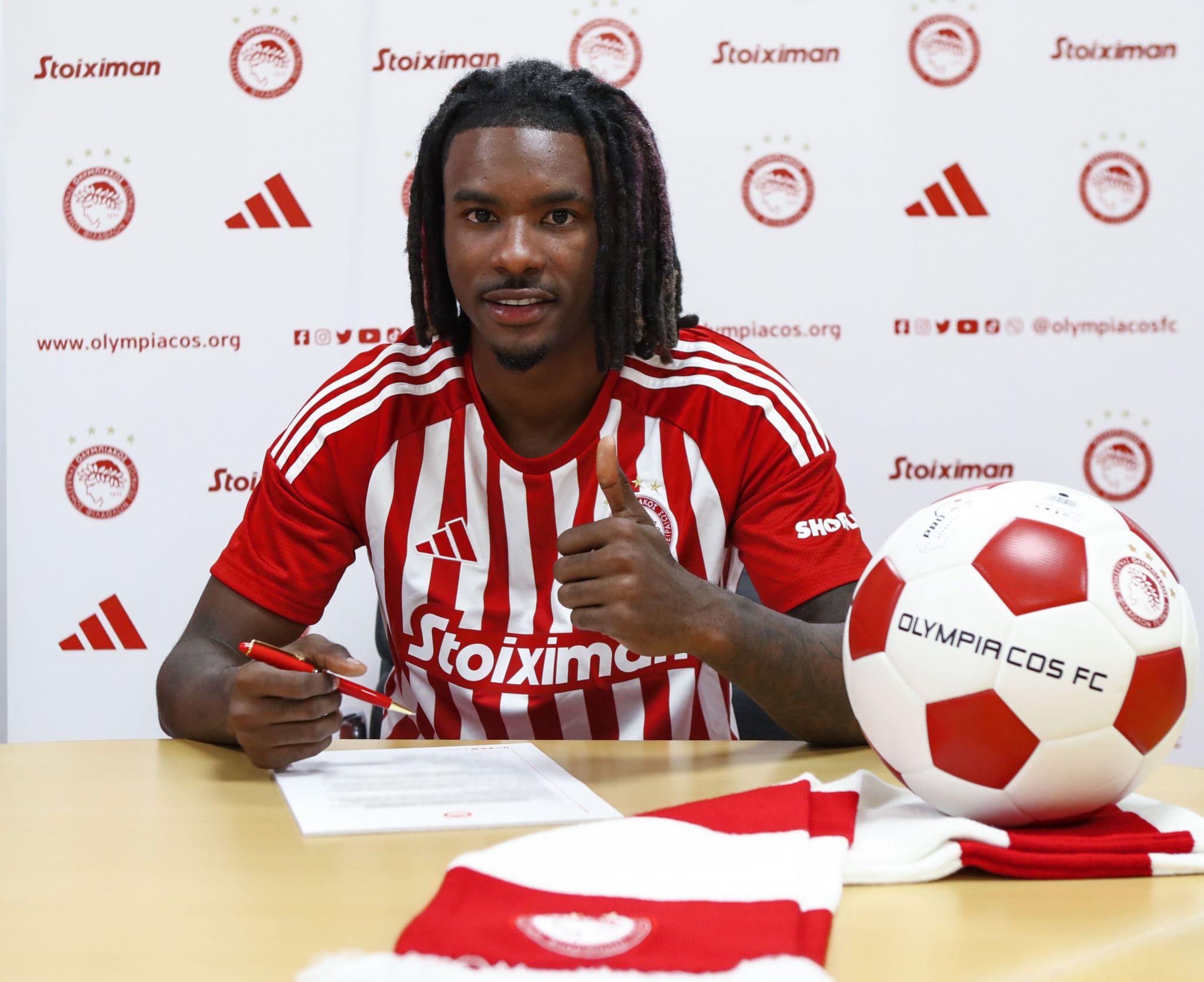 Scarpa's erstwhile team-mate Omar Richards has an interesting CV. Starting out with Reading, after a spell on Fulham's youth books, he was snapped up by Bayern Munich, for whom he made 12 league appearances in 2021-22. Forest picked him up for €8million last season but he failed to make a league appearance last season. He's arrived in Piraeus on a season's loan though Daisy's latest stats suggest that he has failed to play this season to date, an unspecified leg injury being the supposed culprit.
The third arrival from Forest was Giulian Biancone. He had fetched a £5million fee coming in from Troyes last summer but never found his way through the crowded arrivals hall at Trent Bridge, making only two appearances all season. He's another loan signing.
It wasn't just the East Midlands the Olympiacos scouts found themselves visiting. They paid Wolves €1.5million to take on Daniel Podence in on loan, the deal coming with an option for them to spend another €5million to make the deal permanent. His arrival coincided with an immediate falling out with Wolves' boss Gary O'Neil who made the player go and train with the youth team before shipping him out to Greece.
Perhaps the biggest impact from a new arrival has come in the form of Ayou El Kabbi who arrived on a free from Qatari outfit Al Sadd this summer. He has nine goals in all matches this season and was voted the Greek Super League's player of the month for September.
His move to Qatar came as a result of some what unfortunate circumstances. He had been on the books of Turkish outfit Hatayspor but he found himself without a club after the club's ground was destroyed in the Turkish-Syrian earthquake, forcing them to withdraw from the league.
On that slightly sombre note let's move on to the wild and wacky world of Association Football. And, to the surprise of absolutely nobody, normal service was resumed at Anfield where, in time-honoured fashion, the refereeing handed Liverpool all three points.
"It happens but you get over it" lied Klopp, conveniently ignoring all the whining he had been indulging in over the past few months. The number of Scouse apologists demanding action on social media over the last few weeks has been breathtaking – not one acknowledging the fact that they are now in their 50th year of not getting through a home match without getting a dubious decision in their favour.
Meanwhile we said farewell to Sir Bobby Charlton who passed away at the weekend. When you get to what is euphemistically referred to as "a certain age" and players who were prominent in your childhood pass away, it is sometimes easy to look back on their career with some kind of rose-tinted spectacles. However, it's fair to say that even back then there was a respect for Charlton R. amongst opposition supporters.
Although he famously didn't get on with his fellow World Cup-winning brother in later life – family issues unconnected with football causing a rift that was never quite totally healed – his football career was beyond reproach. As a kid I was taken to Wembley for my first England International in April 1970. It was England's final home match before the Mexico World Cup and it coincided with Charlton's 100th England cap.
Charlton captained the side ahead of Bobby Moore for the occasion and, with Peters and Hurst, was on target netting the third in a 3-1 win, the goal being the 48th of the 49 he got in England colours. Incidentally, George Best was on target for the Irish. Moore, Hurst, Peters, Charlton and Best all on the same pitch. I may be old but I was lucky to have seen some incredible players in my time. RIP, Sir Bobby.
On to us. Well if you have eleven players having a collective off-day might I venture to suggest that winning matches is going to be difficult? Having said that I thought 4-1 was a tad harsh given that at 2-1 we were looking the better side. Villa rode their luck capitalising on two lucky breaks and a penalty of the less than hard type. None of which should cover the fact that we pretty much stank the place out, probably for the first time this season. The trick is to make sure that's the exception rather than the rule.
On the injury front, Aaron Cresswell and Ben Johnson are likely to make a return to the squad. Cresswell's return will be particularly timely given Emerson's forthcoming suspension next weekend thanks to his yellow card at Villa Park.
So on we move to the prediction. This is one of those games where a forecast needs to factor in more than the pure relative strengths of the sides involved.
All the signs are that this will be played in one of the more hostile atmospheres we are likely to encounter on our travels. This will fire up the home players who, recent history suggests can have a tendency towards indiscipline. Their second leg against Genk for example saw them pick up seven yellows and a red. So it will be a night for cool heads.
If we can retain our composure, there's no reason why another three points shouldn't be banked so I will pop over to Winstone The Turf Accountants and place the £2.50 that I might have invested had British Bloody Airways ever refunded the grand that they owe me for cancelled flights this summer on an away win. I will say 2-1 to us.
Enjoy the game and stay safe out there!
When last we met in Piraeus: Drew 2-2 (European Cup-Winners Cup December 1965)
This was the second round of our defence of the Cup-Winners Cup and having won the first leg at the Boleyn 4-0 we could afford to throw away the 2-0 lead that a Martin Peters brace gave us – an Eddie Bovington OG and a late penalty not hindering our progress. Incidentally the referee that night was Tofiq Abrahmov, the Azerbaijani official who later became better, if erroneously-known as the "Russian" Linesman from the 1966 World Cup Final. Small world innit.
Referee: Andris Treimanis (LAT)
Not afraid of showing the yellow, which is a trait that might be useful if the home side revert to type.
Danger Man: Ayoub El Cabbi
Top scorer with nine across all competitions this season. Not, apparently, named after a Spanish Taxi Driver.
Percy & Daisy's International Fact Type Thing
Athens was the first European Capital Of Culture. The fact that the UK's representatives were Glasgow and Liverpool, with Milton Keynes being amongst the pre-Brexit candidates for 2023, suggests that we may not have been taking it as seriously as other nations.
* Like to share your thoughts on this article? Please visit the KUMB Forum to leave a comment.
* Disclaimer: The views and opinions expressed in this article are those of the highlighted author/s and do not necessarily represent or reflect the official policy or position of KUMB.com.
More Opinion
Friday, 8th December 2023
Thursday, 7th December 2023
Sunday, 3rd December 2023
Thursday, 30th November 2023
Wednesday, 29th November 2023
Tuesday, 28th November 2023