Filed: Thursday, 9th November 2023
Preview Percy has arthritic knees, arthritic ankles and, as for his brain... well judge for yourself as he has a look at Thursday night's visit of Olympiacos...
Next up we play host to Olympiacos in the Thursday Night League. Kick-off is at 8pm with TNT being the tv chappies as is usually the case.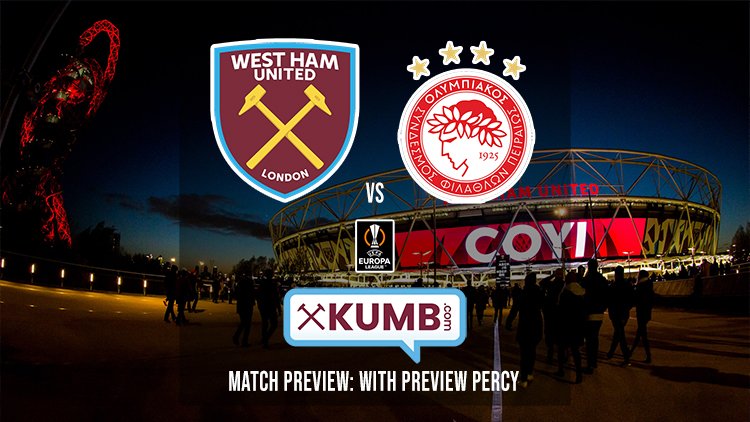 So when we last played them they had won six, drawn one and had had one abandoned. Top of the league and all looking rosy then. Well things haven't been quite so rosy for them in the intervening few weeks since then.
Firstly there was the fallout from the abandoned game against Panathinaikos. You will recall that with the scores level the Olympiacos supporters elected to start lobbing pyrotechnics onto the pitch causing an initial suspension of the game and then, when the (literal) smoke had cleared from the pitch abandonment as the Panathinaikos players somewhat understandably decided that their plans for the rest of their weekend did not include acting as moving targets for assorted gunpowder-based ballistics.
The Greek authorities acted with speed. Firstly they awarded the match to Panathinaikos with a 3-0 scoreline. Then they docked Olympiacos a point. And to round things off they were made to play their next two home games behind closed doors.
When the (metaphorical) smoke had cleared from all that lot they took a routine three points on the road at OFI before the wheels fell off big time at the first of the closed-door home games, where they went down 4-2 to PAOK, in a match that wasn't nearly as close as it sounds. And it doesn't sound close. Two very late goals lent the scoreline an air of, well whatever it is that is one step below respectability I guess. This has left them sitting in second place, 4 points behind Panathinaikos, level on points with AEK and a point above the aforementioned PAOK. Hellofa difference from a few weeks back.
I won't harp on about their squad again – we had a look the other week and Daisy threatened me with all sorts of sanctions if I made her do it all again. They will see a return to the European squad for Andreas Ntoi. The Athens-born central defender has been capped at age-level by both Albania and Greece. First Albania U17, then Greece U17 & U19 then Albania U21. Make your mind up is the phrase that leaps to mind. He missed out in the return fixture a couple of weeks back having picked up a red against TSP.
Let's move swiftly on to the Wild and Wacky World Of Association Football. The big talking point has been the frankly bonkers match at the toilet bowl between Spurs and Chelsea. Five goals, five disallowed, a few injuries and the somewhat baffling sound of Spurs fans applauding their side off.
Now yes, Spurs were in the game a lot longer than you might have thought for a team down to nine men. However, that situation owed less to anything Spurs did and just about everything to the fact that it took Chelsea longer to work out how to beat the suicidally high defensive line employed by their opponents than the average VAR Check lasts these days.
Eventually the penny dropped that a ball over or through the defensive line onto a runner from deep would mean that players would not get caught offside. If that had happened earlier Spurs would have conceded even more than the four they did. Still it's an ill wind. Their marketing department will be able to get their end of season blu-rays and DVDs into the club shop intime for Christmas.
Talking of self-inflicted foot wounds brings us on to us last weekend. I mean having conceded to Maupay as the result of a mis-hit shot that Areola would have saved had it been hit in the manner originally intended, we pulled ourselves back into the game with a goal from Kudus of such quality one was looking forward to seeing it over and over again on MotD on Saturday night. Only the BBC, in its infinite wisdom, preferred to show Maupay's nod in from a mishit. A bizarre spot of editing that beggared belief.
We then had the second goal which, disgracefully, VAR took longer than it did for Chelsea to figure out how to break a halfway line offside trap to decide that try as they might they couldn't find anything wrong with. 2-1 up and in control when a superb piece of counter-attacking football saw Antonio and Benhrama make a complete Horlicks of what for either one of them should have been a tap in at the far post. I've looked at it several times and I'm damned if I can work out what happened, only that it shouldn't have.
That was the turning point really. Had we gone 3-1 up I have little doubt we would have won. We didn't. And we didn't. In the second half Brentford worked out that Zouma hadn't started and with neither of our two central defenders on duty noted for their aerial prowess they peppered the box with crosses - with predictable results.
I would add that, although he had no effect on the eventual result, referee Thomas Bramall turned in a depressingly familiar awful performance. I would say substandard but frankly such poor efforts are becoming increasingly par for the course.
Particular highlights last weekend were Emerson getting fouled in the build-up to the first goal – something else conveniently edited out of the mix on MotD – then getting booked for showing the ref the stud marks. Souceck was also booked for being stamped on and even the boss got yellowed because the fourth official seemed determined on getting in his way.
You can add to that an apparent ignorance of what the word "advantage" means in football. I know players and managers always moan at referees during a game, but years of watching football give you a sense of when a player has a point. And we saw that in abundance last weekend.
It's performances like these that are the big problem in football, not the headline-grabbing, self-entitled displays of utter hypocrisy from the likes of Liverpool and Arsenal on the rare occasion a dubious decision actually goes against them.
I appreciate that Howard Webb has effectively been handed a hospital pass by PGMOL with Riley spending years prioritising the protection of the incompetent over the improving of standards hanging Webb out to dry as he tries to make something out of the disaster zone he's inherited. However, we really can't go on like this.
Time perhaps to experiment with one of those chimpanzees that can tell you what they fancy for tea by pressing an appropriate button, The PGMOL Chimps rather than the PG Tips Chimps perhaps. Though on current form, I think they may have started already.
And so to this week. Zouma has only trained lightly following the knee problem that kept him out of the mix at the weekend. 50-50 with a late fitness test is the vibe there. Paqueta and Alvarez will both return to the squad having used an out-of-date copy of the Kevin Nolan Guide to Getting Christmas Off in preparing their calculations for a yuletide suspension and, Zouma apart, it will be a full squad to select from.
In the previous match I believe that Mr Moyes selected what was effectively a second XI in an act of underestimation that failed to account for a side that raises their game in front of a noisy crowd. This time I believe that we will field what will be the strongest XI available on this occasion – Fabianski in for Areola being the only concession to rotation.
With that in mind, the players seem to be up for this one big time – umbrage being taken at the tone of the home side's celebrations amongst other things. I saw nothing in the first match to persuade me that a full-strength Irons wouldn't prevail all things being equal, so the £2.50 I was going to spend on a bag of nuts for the PGMOL Chimps will instead be going on a home win. Make it 3-1 to us please Mr Winstone.
Enjoy the game!
When last we met at home – Won 4-0 (European Cup-Winners Cup November 1965)
A first half brace from Hurst with second-half efforts from Johnny Byrne and Peter Brabrook effectively sealed the tie meaning that a 2-2 draw in Piraeus was largely academic.
Referee: Matej Jug
Slovenian official who is one of those who popped over to Saudi Arabia last season to help them out of the goodness of his heart purely to assist with the development of the game out there, bringing his influence to bear on a few things. He took charge of Adalah's 3-0 home defeat to Raed on March 11 and presumably had left the country by the time the Saudi government executed 81 people the following day.
Danger Man: Daniel Podence
The ex-Wolves man will have more experience than most of the English game.
Percy & Daisy's European Fact Of The Week Type Thing
The Greek islands make a lovely holiday destination – indeed Daisy and I had a lovely couple of weeks in Rhodes a couple of years ago. However, despite there being over 6,000 islands not one of them is actually called Domestos.
* Like to share your thoughts on this article? Please visit the KUMB Forum to leave a comment.
* Disclaimer: The views and opinions expressed in this article are those of the highlighted author/s and do not necessarily represent or reflect the official policy or position of KUMB.com.
More Opinion
Friday, 8th December 2023
Thursday, 7th December 2023
Sunday, 3rd December 2023
Thursday, 30th November 2023
Wednesday, 29th November 2023
Tuesday, 28th November 2023