Filed: Sunday, 12th November 2023
Preview Percy's latest effort contains more nostalgia than usual, with references to the football pools (again), and 1970's sitcom actresses and dodgy Eastern European referees. Hopefully there will be something about 21st Century Nottingham Forest to consider – it is their preview after all...
Next up we play host to Nottingham Forest. It's back to a post-European Sunday for us with kick-off at 2pm. C2C trains between Barking and Liverpool Street won't be running until after midday due to engineering works so factor that in to your lunchtime pint calculations.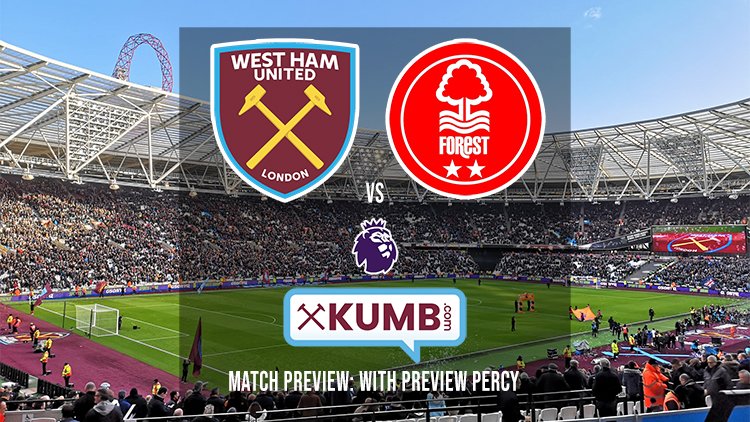 So Forest then. Well they're having a much better time of things this season than they did last time around, though like last week's opponents, they would have featured in my Dad's selections on the Littlewoods Treble Chance – perm any 8 from 10, 22 ½p and your photo with Yootha Joyce as you pick up your oversized cardboard cheque for half a million. Those were the days. Not that we ever won of course.
Er, I digress. So far this season they have won 3, drawn 4 and lost 4 of their 11 played so far. This has given them 13 points leaving them in what for them is the nosebleed territory of 13th place, a point and a place behind us. A cursory look at last week's somewhat surprising win over Villa showed that the victory owed much to manager Cooper's decision to replace the hitherto first choice 'keeper Turner with summer signing Vlachodomos who turned in a MOTM performance as Villa wasted chance after chance.
Vlachodomos was, Daisy informs me, one of ten summer permanent signings this season. Fewer than last season perhaps but still quite a lot when you factor in an additional 4 loan signings as well. On the other side of the ledger, 24 players left either permanently or on loan, some, as we have seen, ending up at Thursday's opponents Olympiacos with whom they share an owner. Who will therefore have saved on some air miles over the course of this week.
The first signing was simply a conversion into a permanent deal of the loan of Chris Wood from Newcastle. He was always an odd signing for the Magpies, being as it was one of the first signings made with the petrodollars supplied by their new owners. Imagine that, you have the whole resources of one of the richest countries in the world behind you and your first thought is "I must sign a journeyman Kiwi of limited ability". Of course West Ham United acts as some form of catnip to such players, who always seem to score against us and nobody else. See Maupay last week. Wood is a doubt this weekend however, and whilst it is this column's policy never to wish injury on any player no matter how annoying they are, might we respectfully suggest that one more week of recovery would be most beneficial for Wood?
Nigerian international full-back Ola Aina came in on a free having been released by Torino. He did spend last season on loan at Fulham having made over 100 appearances for the Italians and the deal that took him to Craven Cottage did contain an option to buy. However, the option wasn't exercised and Aina pitched up to sign for Forest on a one year deal. Southwark-born he started his career at Chelsea becoming part of their loan stock. He was capped at all England levels up to U20 before switching allegiance to Nigeria for whom he has over 30 caps.
They spent £15m bringing in Anthony Elanga from Man Utd. Swedish born to Cameroonian parents – his Dad played for Malmo – he was eligible for either of those countries plus, through residence, Engand. He elected to play for the Swedes, who I will never ever forgive for bloody ABBA.
We were supposed to have expressed an interest in Brazilian central-defender Murillo. In the end Forest shelled out €12m, rising with add-ons to €15m for the uncapped defender who arrived on these shores with only 13 senior league matches to his name.
A few seasons ago Calum Hudson-Odoi was being pursued by Bayern Munich. Not sure what has happened in the interim period but he spent last season on loan at Bayer Leverkusen where he made 21 appearances. With no further interest from the Germans and with first team football a must if he wanted to add to his 3 England caps he elected to join Forest for a fee of £3m plus £2m in add-ons. I'm of an age where I can remember Forest were often mentioned in the same sentence as Bayern Munich. Less so these days. Unless that sentence commences with the words "I can remember when….." Daisy reminds me that his Dad has a entry into the Preview Percy Book Of Quite Splendid Names in Association Football, his given mane being Bismark.
Most notable of the loan signings is probably former Liverpool striker Divock Origi. Another not particularly great player who memory suggests always scores against us, though neither Daisy nor I can be bothered to dive into the records to verify that this is the case.
They do have a number of doubts: Hudson-Odoi is definitely out. Felipe, Origi, Montial and Wood are all looking at late fitness tests with the latter three all looking slightly more likely to feature at some stage.
Enough of them and let's move on to the Wild And Wacky World Of Association Football. It was difficult to know where most laughs were to be found in Europe this week. Manchester United's implosion from 2-0 up was being blamed on Rashford's sending off which, in somewhat typical media style was being debated as if the decision were somehow dubious. It wasn't – nobody wanted to ask the question whether the pundits would have wanted a red card had Rashford been on the receiving end.
Then there was Klopp who was moaning that his press conference had to take place within earshot of celebrating Toulouse supporters. Well Jurgen it was like this. They couldn't find any celebrating scousers.
I haven't seen a press conference from the U17 World Cup. However, I'd be willing to be that the New Caledonian U17 head coach handled the press with infinitely more dignity than Klopp, despite his team's 10-0 defeat to England, which will give New Caledonians a bit of an uphill task to get out of the group in Indonesia.
And so to us. Before I move on to Thursday, a few more words concerning Brentford, sort of. The match being the home side's last home match before Remembrance Sunday they had a short ceremony of remembrance. Now I appreciate that for many of these occasions it has become a modern thing to mark occasions with applause in the continental manner and this happened at Brentford. However, my personal feeling is that if ever a ceremony were worthy of silence it's the November Remembrance. Personally, I find that the silence gives me time to reflect on the past sacrifices made and the whole thing is quite moving in a way that applause simply can't emulate. So that's what I will be doing and hopefully the powers that be will have arranged things in that manner.
And so to Thursday. Now one of the things about being an award-winning (it was an admin error – ed) purveyor of previews is that one occasionally dips one's toes into the murky waters of social media. Now if you hadn't seen the match and based your impression of the match purely on what people were saying on the internet you'd have been forgiven for thinking that it had been a snoozefest that we were lucky to get away with winning. Now I'll admit it wasn't exactly thrill a minute but it was an absorbing clash between a team that needed the win for multiple reasons and a team that would have been quite happy with a draw. Patience was always going to be a virtue with a team whose attacking intentions were largely an afterthought confined to the closing minutes. I thought we were the better team throughout and, post being hit notwithstanding, we created the better chances and, ultimately, we were the better side who deserved the win, no matter how much we had to grind it out. So take that internet.
We also had to contend with Mr Jug, an official who put one in mind of 1970's referee Rudi Glockner who acted as a template for the likes of Thomas and Dean. It was as if Mr Jug wanted to set up his own tribute act to the late and definitely not missed East German official.
On the injury front we were missing Zouma and his troublesome knee still makes him a doubt for Sunday – though the extra day may be of help. Otherwise the squad survived the travails of Thursday night.
So to the prediction. We seem to have gotten into a habit of shedding points after a Thursday night. Perhaps we should ask the authorities in charge (i.e. Sky) if we can play all our matches on a Thursday. However, I am more optimistic about this one. They still don't travel well – the one win on the road coming at Chelsea which doesn't really count these days. So the £2.50 I was going to put on New Caledonia getting out of the group will instead be placed with Mr Winstone on a wager for us to win the match 2-1.
Enjoy the game!
When last we met at home – Won 4-0 (Premier League February 2023)
A bit like the Olympiakos match in a way. We dominated against a team who were awful away from home last season. However with 70 minutes played it was 0-0. With 78 played it was 3-0 with Ings grabbing a brace – no, really, and Rice adding a top corner beauty. Antonio added a 4th on 85 minutes. The score did not flatter us in the slightest.
Referee: Michael Salisbury
Is there a single match official who hasn't been dropped down a league at some stage due to some mad error or other? If there is it isn't Salisbury who suffered that fate last season. Usually confined to the Stockley Park bunker so will probably require sunglasses.
Danger Man: Taiwo Awoniyi
Joint top scorer with Wood who I would have chosen had he been more likely to play.
Percy & Daisy's Poser
Last week My London provided us with the following headline
Londoners speechless as Texan tourist describes Hounslow as XXXXXXX and XXXXXXXXX
Well done to Mrs Thomasina Wilberforce-Woodscrew of Woodford who, somehow, correctly identified the missing words as "Idyllic" and "beautiful". Those Texans eh?
This week the Nottingham Post gives us this PG-rated effort:
Nottingham's XXXXXXXXXX XXXXXXXXXX doubles in size after taking over restaurant
Good luck everyone!
* Like to share your thoughts on this article? Please visit the KUMB Forum to leave a comment.
* Disclaimer: The views and opinions expressed in this article are those of the highlighted author/s and do not necessarily represent or reflect the official policy or position of KUMB.com.
More Opinion
Friday, 8th December 2023
Thursday, 7th December 2023
Sunday, 3rd December 2023
Thursday, 30th November 2023
Wednesday, 29th November 2023
Tuesday, 28th November 2023