Dear John...
KUMB.com were saddened to learn of the passing of reknowned Hammers historian John Northcutt.
Northcutt, who followed West Ham United since his first visit to the Boleyn Ground in 1959 wrote numerous books on the club, his first being 'West Ham United: A Complete Record', compiled in 1987 (and revised six years later).
Further works included 'The Definitive West Ham United FC' (2003), 'Hammers Trivia, History, Facts & Stats' (2007) and most recently, 'West Ham United in the League Cup' (2011) which is still available in club shops now.
One of a select few who can legitimately claim to have seen every game, both home and away, of the successful 1963/64 FA Cup and the 1964/65 Cup Winners Cup campaigns - both of which culminated in legendary triumphs under Wembley's twin towers - Northcutt's knowledge of the club was second-to-none.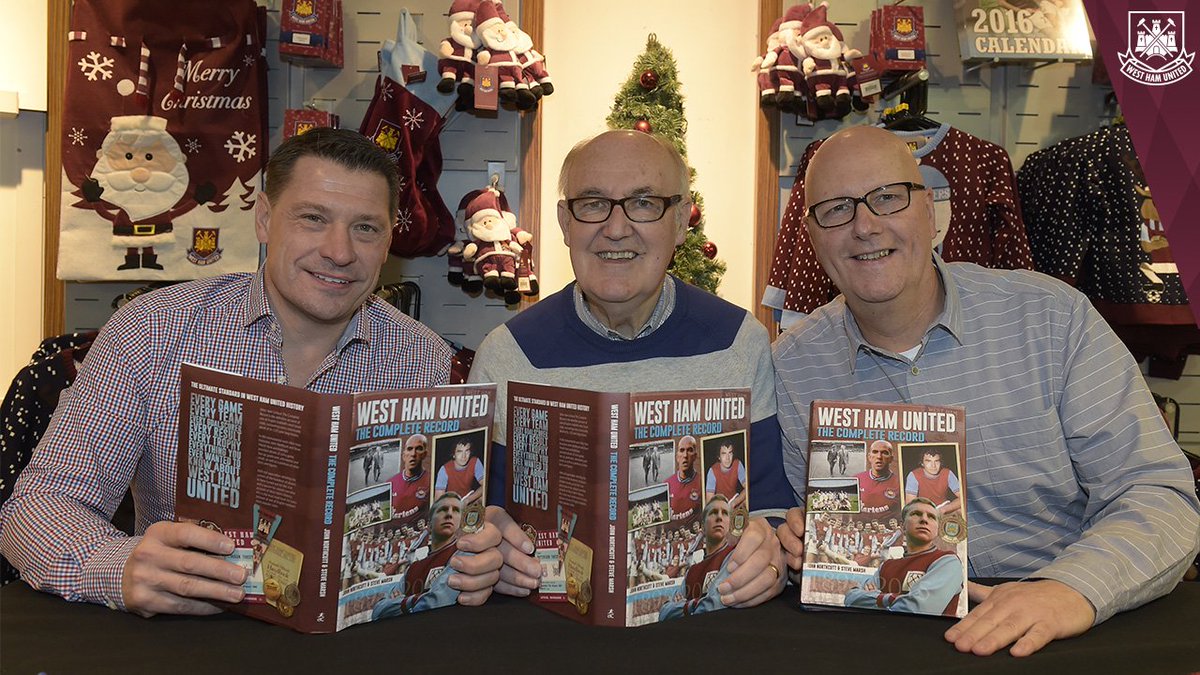 Following the announcement of John's passing, close friend Steve Marsh wrote: "It is with deep regret and profound sadness that we learned of John's passing, aged 73.
"John Northcutt's love for West Ham United went way beyond that of a typical terrace fan on a Saturday afternoon. John grew up in south London but his desire to watch top-flight football took him across the River Thames to Upton Park to watch Ted Fenton's newly promoted side.
"John saw his first West Ham United match as a schoolboy when the Hammers beat West Bromwich Albion 4-1. Since that day he had followed the team all around country from Southampton to Sunderland and right across Europe in 1965, which culminated in winning the European Cup Winners Cup at Wembley Stadium.
"Like most fanatical Hammers, he supported the club through the good times as well as the bad, but his knowledge and dedication to statistical analysis on the Hammers puts him on par with the club's official historians. "Those of you who have read the books written by John will know only too well that he does his research meticulously. John Northcutt had made an enormous contribution to every fan's understanding and appreciation of West Ham United through the gathering of facts and figures."
Several years ago KUMB invited John to join our team so that he may answer readers' questions relating to the club's history. In tribute to John's decidated work to club statistics, the many answers he gave over the years will remain below as our own tribute to a much-liked and respected West Ham supporter.
Want to know the club's best sequence of wins? Ask John. Details of specific line-ups from any time in the last 100 years? Ask John. Want to know who's been sent off more times than any other player? You get the hint...
A list featuring the best of the questions put to and answered by John may be viewed below.
by
Robert Green
09:04PM 3rd Dec 2013
Q:
John. In 1960 West Ham Boys played Northampton. It was a home game. West Ham won 5-0. I have been searching for records of this game, newspaper articles or anything similar. However, I do not know what date the game was. Could you help with the date and any articles you may know of?
A:
Hi Robert. All I can tell you is that the game was played at Upton Park on 21st December 1959. It was a fourth round game in the English Trophy and as you already know, West Ham won 5-0 (and I believe they went on to reach the semi-final).
by
Peter Morris
11:52AM 5th Nov 2013
Q:
John. Was Ravel Morrison's goal in the League Cup against Cardiff a) the fastest goal ever scored at Upton Park and/or b) the fastest goal ever scored by a Hammer?
A:
There is of course some question over the actual timing of these goals but the fastest by a West Ham player is nine seconds (Ken Bainbridge on 27th August 1949 against Barnsley). The fastest from an opponent was also timed at nine seconds and that was Jim Melrose of Charlton In the game on 25th October 1986. We will never know but I believe that the Melrose goal was probably the fastest as I have read reports on the Bainbridge goal that have timed it as 11 seconds.
by
Sean Carroll
11:26PM 24th Sep 2013
Q:
Did a Barry Gaines play for the youths around the Sixties?
A:
Although I do not have extensive records of the youth team I do have a fair amount of line-ups and match programmes to refer to. Unfortunately I have not been able to see a mention of him, though it was a difficult task as you gave me a 10+year span without a particular season to check on!
by
mike simonds
12:03PM 19th Sep 2013
Q:
John - Please can you settle a minor dispute between myself and my 44-year-old son-in-law, a WHUFC supporter for life! It concerns a friendly between Fulham, my team, that I attended on 18th Feb. 1961 at Craven Cottage. I believe the attendance was around 44,000, but he says not for a friendly. Do you know?
A:
You were way out on the attendance as there were only 7,510 at the match! The following Saturday, Fulham were home to Burnley and the attendance was 13,006. The biggest attendance at Fulham that season was 38,000 for the visit of Tottenham.
by
thomas andrew
10:56AM 24th Aug 2013
Q:
My father is an ex-player of West Ham, unfortunately he passed away many years ago. I am desperate to find out some more information about his playing days. I have tried everywhere to find video footage of him playing but had no luck. his name was George Andrew and played a couple games in 1967, PLEASE HELP!
A:
Hello Thomas. Your father played twice for the first team at centre half in the 1966-67 season: 11th February 1967 Home v Sunderland 2-2 25th February 1967 Away v Everton 0-4 I have managed to sort out some items for you which I've sent via email - those are: 1.Copy of line up in the Sunderland match programme 2 Copy of line up in the Everton match programme 3 His obituary in the match programme v Arsenal in November 1993 4 A debut match card of him You might like to know that Bobby Moore was injured for those two game and it was your Dad that took his place. I have been pleased to have been able to help you.
by
Ben
07:03PM 9th Jul 2013
Q:
I have been collecting WHU programmes for my years and now want to record them season by season. Are you aware of any books etc that detail the club's fixtures per season league, cup and postponed matches? I could then use this to discover the missing programmes from my collection. Regards, Ben
A:
I suggest you look at the following web site: http://www.whu-programmes.co.uk as a friend of mine, Steve Marsh, is gradually adding images of every match programme since 1900.
by
brian lyall
10:10PM 4th Jan 2013
Q:
One of my favourite players was Ray Stewart. How many penalties did he score in his West Ham days and did he ever miss any?
A:
Hi Brian. Ray Stewart took 86 and of those 10 were missed. Out of the 10 missed, Ray scored twice from the rebound and Paul Goddard also scored from a rebound.
by
Jo
05:58PM 30th Dec 2012
Q:
Hi, just trying to track a player from c.1900-1920 called Owen Edward Debney who we believe played for West Ham. Would appreciate any photos or articles you may have also containing this player. Best regards, Jo Hinton.
A:
Hello Jo. I can confirm that Owen Debney did not play for the West Ham first team. He may have played for the reserves or a youth side but for the period you mention I do not have reserve records. I also looked at other clubs league player records but cannot find any mention of him.
by
Roy Sprague
03:00PM 26th Dec 2012
Q:
Where is Brian Dear now?
A:
For a few years now he has been with Southend United, first as catering manager and is now working in their commercial department. He often turns up at player functions and once he gets behind the mike gives some interesting talks on his life as a footballer. He loves to tell all about the five goals he scored against West Brom!
by
scott swallow
10:52PM 19th Dec 2012
Q:
Hi John. Can you tell me how many and which players have played for West Ham, Everton and Tottenham?
A:
There has been around 850 players who have played for West Ham and probably the same for Everton and Spurs. Are you asking me to name them all or have I read your question wrong and you are asking me if there have been any players who have played for all three clubs?
by
Graeme Cheshire
10:22PM 11th Dec 2012
Q:
Hi John. My Grandad took me to my first ever game in the late '60s/early '70s which was the Hammers v Leeds. I am certain that Clyde Best ended up in goal after Bobby Feeguson was injured. Am I right? Have you got more info on this game please? Cheers, G.
A:
Hello Graeme. It was on the 19th April 1973 and finished 1-1 after Pat Holland equalised a minute from the end. You were right about Clyde Best, he went in goal on 66 minutes after Bobby Ferguson got injured following a collision with John McDowell. The Hammers team that day was Ferguson, McDowell, Lampard, Bonds, Lock, Moore, Best Holland, MacDougall, Brooking, Robson.
by
Rod Pyke
10:52PM 4th Dec 2012
Q:
West Ham v Clapton Orient 11th April 1942. My Grandfather John Porter died of a heart attack while watching this match. Is there any mention of this anywhere in West Ham records? Also, are you able to tell me both team's players, the result and the attendance as I would like to put the info in my family historical records. Thanks for any info you can give.
A:
Hi Roy. It was a London cup tie against Clapton Orient with the Hammers winning 5-3 before an attendance of 7,000. Scorers for West Ham were Corbett, Wood (2), Foreman (2) with the Orient scorers being Armstrong (2) and Dryden. I do not know the Orient team but West Ham lined up as follows: Gregory, Bicknell, Walker, Corbett, fenton, Attwell, Small, Wood, Foreman, Goulden, Mahon.
by
Jax Raymond
08:21PM 20th Nov 2012
Q:
Hi John. Was there ever a player for West Ham, called Briggs? Probably around the 1965-70 period, maybe just even a reserve?
A:
Hello Jax. I have searched through my records for a player named Briggs and for the period you mention I cannot locate anyone. Sorry.
by
Michael Kneller
08:50AM 19th Nov 2012
Q:
The first time I saw the Hammers live was a 0-0 draw with Man City at Upton Park. Can you please tell me the line ups for the teams thst day?
A:
It was on 21st September 2002. The teams that day were (WHU) James, Schemmel, Minto, Lomas, Repka, Breen, Sinclair, Cole, Kanoute, Di Canio Cisse and (Man City) Schmeichel, Phillips, Jensen Jihai, Howie, Distin, Benarbia, Berkovic, Anelka, Horlock Foe. Looking at the two sides James, Lomas and Sinclair at one time played for Man City and Berkovic, Horlock and Foe all played for the Hammers!
by
Ross Ahlfeld
01:17PM 12th Nov 2012
Q:
Hi John. As a kid in the '80s my dad (whose name is Ronnie Ahlfeld) used to take me on the train to West Ham games. He was friends with Neil Orr because my dad had been a coach at our local team, Greenock Morton, which was the team West Ham signed Neil Orr from. My dad was very pleased that Neil Orr should move to the Hammers because he himself and spent a short period at West Ham himself as a player on Schoolboy terms in the '60s. Unfortunately, he got injured and returned home to Scotland but remained a West Ham fan. He has a few programmes, newspaper cuttings and team photos but not much else. I'm wondering if there is anywhere I can find more information about reserve/youth team players and appearances in the 1960s?
A:
Hi Ross. I have looked through my records to see if I can see your dad mentioned but cannot trace him. Being as he was only a schoolboy at the time I did not think I would find anything; I regret I cannot suggest where else you can search. Sorry!
by
robertbarker
08:28PM 25th Oct 2012
Q:
Why did Billy Bonds go as manager of West Ham and Harry Redknapp take over?
A:
Hello Robert. Both of them have different views on the affair which sadly caused a rift between them which still stands to this day. As I heard it, Billy was asked to be made a Board member and to take on a more Director of Football role which he declined to do and then resigned. Harry then took full control with the blessing of the chairman and managing director Peter Storrie.
by
Terry
08:49PM 23rd Oct 2012
Q:
Hi John, Can you tell me what the final score was for the first Billy Bonds testimonial game? I believe it was against Tottenham in the 1976-77 season. I recall the game being high scoring but perhaps I have confused this with the league fixture from that same season? Would appreciate if you could also provide the line-ups from the testimonial?
A:
Hi Terry. The score was 4-2 with goals from Cross (2), Bonds and Robson; teams as follows. WHU: Day, Lampard, Brush, Holland, T Taylor, Bonds, Curbishley, Devonshire, Cross, A Taylor, Robson; Spurs: Kendall, Gorman, McAlister, Holmes, Lacy, Perryman, Pratt, Villa, Lee, Hoddle, Taylor.
by
Paul Caulfield
11:40AM 18th Oct 2012
Q:
Hello John. I am trying to track down West Ham reserve programmes from games I was taken to in 1969-70. Would you have a list of results from that season? It might jog my memory sufficiently, so I know which programmes to go for. Many thanks.
A:
The 1969-70 season home reserve games you were asking about: Crystal Palace 2-0; Walsall 6-1; Norwich 2-0; Birmingham 1-1; Gillingham 6-0; Oxford 2-2; Ipswich 2-1; Chelsea 6-1; Swindon 1-3; Bournemouth 6-1; QPR 2-1; Luton 2-0. Finally, the game with Cardiff was not played.
by
John Rolls
05:28PM 12th Oct 2012
Q:
Hi there. Can you tell me what happened to John Ayris? I saw him play at Palace. Also, where did Sammassi Abou go when he left us?
A:
Hello John. John Ayris is currently the manager of a leisure centre in South Woodham Ferrers in Essex. As for Samassi Abou, after leaving West Ham he had a few games with Ipswich, Walsall and Kilmarnock before returning to France to play for Ajaccio and later Lorient.
by
Steve Kain
12:36PM 8th Oct 2012
Q:
Lots of talk about penalty taking records around lately - wondering how many penalties Julian Dicks and Ray Stewart missed for West Ham in their careers?
A:
Hi Steve. Ray Stewart scored 76 penalties, missing 10 and Julian Dicks scored 35, missing four.
by
David Hodson
05:07AM 6th Oct 2012
Q:
Hi John, As a young lad and West Ham follower I remember both cup runs very well. My question is in your opinion, who was the better defender - John Bond or Ken Brown? A difficult question, but I value your opinion. Many thanks.
A:
Hi David. That was a difficult question. I saw both players on many occasions and Bondy was very cool under pressure. If I had to choose I would say that Ken was a better defender although I may be a bit biased as he was my favourite player at the time!
by
Andy Baker
09:28PM 29th Sep 2012
Q:
Hello John, can you let me know what home friendly games we played v foreign clubs in the '60s and early '70s as well as any home testimonials we played during this period?
A:
I give below the details you wanted re home testimonials and friendlies in the 60s and 70s. Friendlies v Foreign clubs: October 1961 vs Malmo 4-0; February 1970 vs Slovan Bratislava 1-1. Testimonials: October 1960 vs LDA Costa Rica 3-2 (Ernie Gregory); April 1964 vs All Star X1 5-0 (John Lyall); May 1966 vs Ex Hammers 7-4 (John Bond); May 1967 vs Select X1 5-9 (Ken Brown); November 1970 vs Celtic 3-3 (Bobby Moore); November 1971 vs European X1 4-4 (Geoff Hurst); November 1972 vs Man Utd 5-2 (Ronnie Boyce); November 1976 vs Fulham 3-1 (Frank Lampard); October 1977 vs England X1 6-2 (Trevor Brooking); December 1978 vs Tottenham 4-2 (Billy Bonds).
by
Graham Stratford
03:32PM 26th Sep 2012
Q:
Hi John. Late '60s, when I was at junior school I have a vague recollection of my mum (God bless her) taking me to a midweek match that I had always presumed was a testimonial for Sir Geoff Hurst. It was against Southampton/Sunderland (red and white stripes) and Sir Geoff scored six! According to the internet Sir G's testimonial was against a European X1 in 1971. What match am I referring to, or am I now officially senile with a mind playing tricks?
A:
Hi Graham. Although it was played on a Saturday, the game where Geoff Hurst scored six was against Sunderland on 19th October 1968. Bobby Moore and Trevor Brooking also scored in an 8-0 win.
by
steve love (the oldham stripper)
01:14PM 24th Sep 2012
Q:
Hi John. An old boy in my local has asked me to find out about someone related to us, Walter Wiseman. I have tried all the usual suspects with no success and was hoping you could come up with something. Thanks mate.
A:
Hi Steve. I regret that I do not know of any player or official with the surname of Wiseman. Sorry.
by
Trev Paul
04:06PM 23rd Sep 2012
Q:
Hello John. Can you please tell me the results and dates of our games against Wolves since 1998? Thank you.
A:
Hi Trev. These are as follows. 2003-04: 3-1 (A, FA Cup); 2004-05: 1-0 (H), 2-4 (A); 2009-10: 1-3 (H), 2-0 (A); 2110-11: 2-0 (H), 1-1 (A)
by
Steve Street
08:22PM 18th Sep 2012
Q:
Good evening. I am trying to find out the dates the following matches were played on and the final results from the 1901-1902 season. London League: West Ham v Millwall (home and away fixtures), West Ham v QPR (home and away fixtures). Southern Professional Charity Cup: 1st round and any other fixtures in this competition during this season. Look forward to hearing from you.
A:
Hi Steve. Re the 1901-02 season, I know of only one Southern Professional Charity Cup game that season - a 1st Round home game with Millwall on 7th April 1902. The Hammers won 2-1. London League Results (I don't know the dates) as follows: Millwall (h) 4-0 (a) 5-1, QPR (h) 2-1 (a) 1-2.
by
Chris
09:10PM 16th Sep 2012
Q:
Hi John, wonder if you can help. I'm doing some family history for a friend and she has given me information that her great granddad died at a West Ham vs Leyton Orient match during the war in about 1942. Can you tell me if they did actually play each other during that period and what date they would have played - or even if there was anything ever mentioned about the man? Thanks.
A:
Hi Chris. I recently answered a question from somebody who said that his grandfather, John Porter, had died during the game with Clapton Orient on 11th April 1942. I therefore assume that your friend is related to my correspondent. I can confirm the match took place on the date I have given with West Ham winning 5-3.
by
June
09:02AM 22nd Aug 2012
Q:
Hi are you able to tell me the name of a Scottish side West Ham played against in 1964 as a friendly - I think the name of the side started 'Saint ....' Any ideas? Thanks.
A:
Hello June. I can confirm that West Ham played St Johnstone on 16th December 1964, winning 4-3.
by
Simon Cheetham
05:18PM 19th Aug 2012
Q:
I remember Clyde Best having to go in goal after an injury to Bobby Ferguson(?). I believe it was against Leeds United at Upton Park. What do you remember of that incident and game?
A:
Hello Simon. Clyde Best went in goal against Leeds in April 1973 after Bobby Ferguson had collided with John McDowell. Allan Clarke headed past Best to give Leeds the lead, but Pat Holland equalised in the last minute.
by
George Boyle
08:09AM 10th Aug 2012
Q:
Hi John. I sat at your table for the John Lyall Rememberance lunch at West Ham and I asked you if you remembered a player who had a trial with us in Geoff Hurst's testimonial. His name was George Luke and I am sure he played some part of the game. Can you confirm this? Best Regards.
A:
Hi George. I remember you asking me about Luke; it was not the Geoff Hurst testimonial though. Luke came on as a sub in November 1972 v Man Utd for Ronnie Boyce's Testimonial.
by
Andy Lawrence
03:14PM 20th Jun 2012
Q:
Dear John, I wonder if you can help me please. I'm trying to remember when my first West Ham game was and I have a memory of watching them get beaten in a pre-season friendly against Brighton (at the Goldstone) 3-1. I think Frank Lampard was sent off and seem to remember that it was in 1982. I wonder if you could tell me if my memory is playing tricks on me or if I remember the game correctly?
A:
Hello Andy. You are right about Frank Lampard being sent off in a 3-1 defeat at Brighton. It wasn't a pre season friendly though, it was a league game played on 23rd October 1982.
by
james howlett
09:11AM 23rd May 2012
Q:
How many penalties has Mark Noble scored throughout his career and how many has he missed? Much love, Billy, James and Dufrais.
A:
Hello James. Mark has scored 20 penalties and missed just two, these being against Chelsea and Hull back in 2009.
by
Pete Wright
10:32AM 27th Apr 2012
Q:
John I have been a West Ham supporter for over 60 years and this question has stumped me, but I am sure you will know the answer. It's just a bit of fun and a question my nephew set me. The question is: West Ham played a domestic fixture at Upton Park wearing their away kit. When was it, why did they wear their away strip and who were the opposition that day?
A:
Hi Pete. The only game I know about was in March 1968 when they lost 2-1 to Sheffield United in the FA Cup. I do not know the reason as to why they played in their away shirts but as a guess, in earlier rounds they had been successful in those shirts winning at Burnley and Stoke and perhaps they thought it would bring them good luck. Let me know if you hear of another game.
by
Nick Claydon
08:24AM 16th Apr 2012
Q:
Hi John. Can you settle a discussion between two 60+ West Ham fans? We both think John Bond and Noel Cantwell played together as a strike partnership on at least one occasion. Can you confirm?
A:
Hi Nick. I have found only one pairing as forwards which was away to Nottingham Forest on the 27th February, 1960. The full backs on that day were Kirkup and Lyall.
by
Steve
11:48AM 26th Mar 2012
Q:
Hi John. Did we play a pre-season game against Spurs around 1989/90 and include a player called Matsu Yama? I've tried Googling it etc but no joy. I was still at school, but memory tells me this happened. I think we lost 3-1?
A:
Hi Steve. The game was played on August 17th 1990 in respect of the Ray Clemence Testimonial. The Hammers lost 4-1; Matsuyama came on as a substitute to replace Julian Dicks. I assume he was a Japanese trialist.
by
david garrod
10:59AM 7th Mar 2012
Q:
Hello john. Can you remember the West Ham v Newcastle fixture when Peter Beardsley was in an offside position, stepped off the pitch so as not to interfere with play and Newcastle scored? Newcastle fans ran onto the pitch to celebrate and half the Chicken Run ran on to challenge them! This must have been about 20 years ago, but I would love to know the date. Also, the match when Bobby Moore knocked out the ref then blew the whistle to stop the game?
A:
Hi David. Bobby Moore knocked out the ref in the home game with Wolves on the 14th November 1970 but I cannot remember the Beardsley incident. He had two spells with Newcastle, it may have been on the 2nd Feb 1985 when Waddle scored or later in 1993 to 1995. I would have seen those games but cannot recall a pitch invasion.
by
David Allman
04:53PM 20th Feb 2012
Q:
Hi John. In season 1969/70 West Ham beat Newcastle Utd 1-0. Which player scored the West Ham goal?
A:
Hello David. The scorer against Newcastle in 1969 was Geoff Hurst.
by
peter morris
10:59AM 16th Feb 2012
Q:
John - re:Geoff Hurst's testimonial. I was at the game and I remember that, at the final whistle (quite why I do not know) the referee (who I think might have been Jack Taylor) took a penalty at the North Bank end and scored - past John Jackson. This is what Keith Baxter is referring to.
A:
Hi Peter. Thank you for letting me know about the ref taking a penalty at the end of the game. I expect it was all pre-arranged! I will let Keith Baxter know about that.
by
Greg Penn
10:34PM 15th Feb 2012
Q:
Hi John. I'm trying to remember my first game watching the Irons, I think it was the 81-82 season against the Gooners at Highbury. All I can remember was the players being withdrawn from the pitch, I think due to crowd trouble. Can you confirm my hazy memory?
A:
Hi Greg. The Arsenal game was on 1st May 1982 where the Hammers lost 2-0. As you say, the players were taken off the pitch and a 10 minute delay followed. This was due to smoke bombs and a crowd disturbance. For your interest, the Hammers team was Parkes Stewart, La Ronde, Allen Orr, Devonshire, Van Der Elst, Cowie (Houghton), Cross, Brooking, Pike.
by
john
08:59PM 4th Feb 2012
Q:
I am a football fan living in a small village in North Devon and wish to make enquires about a Raymond MacTaggart who has claimed that he was on the playing staff of WHU before his career was cut short through injury. This is a genuine enquiry(!) and I would be grateful if you could share any information you have on him ? Many thanks in anticipation.
A:
Hello John, I can confirm that he never played for the first team. He may have played for the reserves or youth team but before I can make further enquiries I would need to have an indication as to what years he was at the club.
by
charles brownless
09:12PM 30th Jan 2012
Q:
Do you know what happened to Tommy Taylor and of his whereabouts?
A:
Hi Charles, Tommy certainly gets about as he has been manager of about 10 clubs now! The last I heard was that he had left Belper Town in September 2011, but at present I do not know of his whereabouts or whether he is working.
by
Keith Baxter
10:05PM 26th Jan 2012
Q:
Hi John, I was at the Geoff Hurst testomonial but who were the World 11 team? All I can remember was Eusabio. And did the referee convert a penalty? Many thanks.
A:
Hello Keith, The European X1 (with subs was): Jackson, Docherty, Gemmell, Eusebio, Greaves, Schultz, Mackay, Johnstone, McDougall, Spiegler, Seeler, Marsh and Simoes. The referee did not convert a penalty, it was a 4-4 draw; goalscorers (for WHU) were Hurst, Robson (2), Best and (for the Eoru XI) McDougall, Marsh (2) and Greaves.
by
ashley deans
12:28AM 23rd Jan 2012
Q:
I attended the historic game in 1958 at Upton Park the week before we beat Middlesborough away 3-1. I was only nine years old but will never forget the cheer when John Bond(?) scored a penalty and we beat Liverpool(?). Any other things you could tell me about that game?
A:
Hello Ashley, The game with Liverpool ended 1-1 with Bond getting a penalty. The Hammers team was Gregory, Bond, Cantwell, Malcolm, Brown, Pyke, Grice, Lewis, Keeble, Dick and Musgrove. A great side with sadly six of them no longer alive.
by
Sutts07
03:21PM 22nd Jan 2012
Q:
Hi John, How far away is Mark Noble from being our all-time top goalscorer from the penalty spot? I am assuming Stewart and Dicks are still above him? Do you know the top ten of all time and what their percentage rate of success is?
A:
Hi Tony, Mark Noble has scored a total of 22 goals and I believe 14 of those were penalties. He still has a long way to go to catch Ray Stewart and Julian Dicks! Top penalty scorers: Stewart 76; Dicks 35; Hurst 18; Bond 18; Byrne 16.
by
Paul Caulfield
05:57PM 6th Jan 2012
Q:
Dear John, Please could you tell me if John Dear, who scored for Bishop's Stortford v Ilford in the 1974 Amateur Cup Final is related to West Ham stalwart, Brian Dear?
A:
Hi Paul, I do not know if Brian is related to John Dear of Bishops Stortford. I have not heard it mentioned. I often see Brian going into games at West Ham so perhaps I might get a chance to ask him.
by
Michael Symons
11:56PM 3rd Jan 2012
Q:
Hi John, I've noticed it has been mentioned in more than one place that Mark Noble had never captained West Ham before, prior to wearing the armband against Derby County recently. I've tried to verify this but have had no success thus far. He definitely captained the club in a preseason fixture against Dagenham & Redbridge but I can't find any competitive fixture in which he was captain. Is this the case?
A:
Hello Michael, As far as I am aware, when Mark captained the side at Derby this was his first competitive game as captain.
by
jim collins
08:49PM 21st Dec 2011
Q:
Hello John. Wondering if you can help me out with any details and infomation you can give me about a game played against Preston North End on Saturday 19 January 1980. It was the last game I went to with my dad and I found the ticket stub the other day but have no recollection of the match facts or the line-up etc. We had a seat near the front of the Upper West Stand and it cost the princely sum of £2.70 Those were the days! Thanks for any help you can give me, John. All the best.
A:
Hello Jim, The game with Preston in 1980 ended 2-0 to the Hammers with goals from Allen and Stewart. The line up was Parkes, Lampard, Brush, Bonds, (Banton ) Martin, Devonshire, Allen, Pearson, Pike, Stewart and Neighbour.
by
chris radford
04:57PM 2nd Dec 2011
Q:
Do you know where I can get the records of all West Ham goalscorers for every season? I started saving all the fixtures a few years back, including pre-season friendlies, and I even went on Soccerbase to download all West Ham's fixtures since 1905 (although there seems to be massive gaps in their records). So far I have not been able to find any of the info I am looking for; can you help?
A:
Hi Chris, I have written three books detailing full appearance and goalscoring records. 'A Complete Record', published by Breedon Books of Derby in 1987 and updated in 1993. You will see these on eBay and other book shops that deal in old football books. My other book which was published in 2003 was 'The Definitive West Ham'. It is still available from Soccer Data publications. Their web site is www.soccer.mistral.co.uk.
by
mick heyburn
01:55PM 2nd Dec 2011
Q:
Hello John, Can you tell me the opposition for Johnny Byrne's last game for us? And am I right in thinking he scored a goal?
A:
Hello Mick, Johnny Byrne's last game was on 11th February 1967, a 2-2 draw against Sunderland at home. As you say Johnny scored in that game with the other goal coming from Geoff Hurst.
by
Peter Williams aka The Old Man of Storr
08:59PM 1st Dec 2011
Q:
Hi John, I became a West Ham fan when I was eight years old and I saw them win the FA Cup in 1964. I'm originally from Anglesey and my first ever game I saw was away to Man Utd in 1971; we lost 4-2 with Hurst scoring both our goals. My memory from that game was the sight of Clyde Best shoving Ian Ure aside then crossing for Hurst to score (that is if my memory serves me right!) Ure was a hard case in those days, but Clyde was nobody's push over! My question is - and maybe nobody apart from Terry Brown and Harry Redknapp will know the answer to it - why was Harry Redknapp sacked as manager of West Ham when we seemed to be doing ok? I realise this might be a tricky question, but I can't think of another one off the top of my head!
A:
Hi Peter, Re: the Man Utd game, it was on the 18th September 1971. Best and Brooking were the scorers, not Hurst. Also, Ian Ure did not play in that game as he had been transferred to St Mirren a few months before. The only bust up concerning Ure that I can remember was in 1964, when playing for Arsenal he bundled Johnny Byrne over a barrier. Re: Redknapp's sacking, as you say we may never know the real reason. It was rumoured that Terry Brown was not happy with the amount that Harry had spent on players after the sale of Rio Ferdinand. The chairman was also none too pleased with the quality of those bought and the wages that they cost the club. Bassila cost some £700,000 and played only 86 minutes whereas Gary Charles cost the club £4.4million in salary and transfer fees and only made two starts in two years.