Sydney FC 3 West Ham United 1
Saturday, 26th July 2014
by
Staff Writer
The tour of New Zealand may have been a huge PR success but on every other front it has proved to be little short of a disaster.
Two defeats to so-called inferior opposition plus injuries to first team squad members Andy Carroll, James Tomkins, Cheikhou Kouyate and Guy Demel have heaped added pressure on Sam Allardyce and his team with less than a month to go until the start of the 2014/15 Premier League campaign.
Hopes were high for a much improved effort from West Ham following the 2-1 reversal against Wellington Phoenix in Auckland last week. Yet if anything, this was a performance that only served to reinforce concerns expressed following that particular defeat against the A-League minnows.
This morning, Sydney managed to score from their first meaningful foray into West Ham territory with just under seven minutes of the match played. Joey O'Brien was hopelessly out of tune with the rest of his defenders, allowing the lively Corey Gameiro to slip through and finish smartly under Adrian.
Sydney doubled their lead on 26 minutes when Mo Diame lost possession inside his own half, allowing Bernie Ibini to pick out Alex Brosque. The Sky Blues?EUR(TM) all-time leading goalscorer delighted Sydney fans by firing across Adrian to make it two-nil, which is how it remained until the half time interval.
West Ham did at least give their sizeable contingent of supporters, a mongrel bunch of claret and blue-clad fanatics cast from both hemispheres something to cheer about when Matt Jarvis' centre was deflected into the net by the hand of Nikola Petkovic.
But Sydney were to regain a two-goal advantage in the most dubious of circumstances when Terry Antonis punched the ball, volleyball style over Aaron Cresswell into the path of Gameiro who rounded Adrian to seal the Hammers' fate.
West Ham, naturally incensed by the decision to allow play to continue had their appeals brushed off by the New Zealand referee, who was then suitably embarrassed by the stadium's big screen controllers who decided to replay the incident.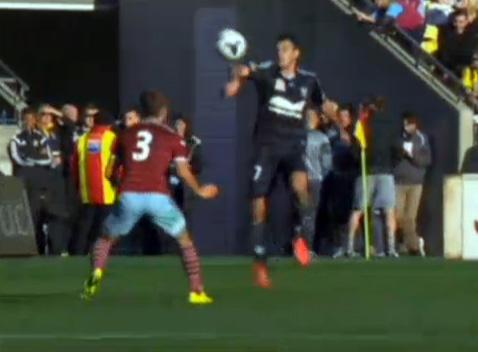 Antonis punches the ball over Cresswell's head in the build-up to Sydney's third goal
Not that it mattered much in the grand scheme of things, for West Ham were showing few signs of matching Graham Arnold's side, let along staging a comeback. The defeat, like that against Wellington was fully deserved and whilst it is only a pre-season friendly, there was little for West Ham fans to be excited about with the new season looming on the horizon.
In tactical terms, Allardyce has persevered with his favoured 4-3-3 formation although there are signs that he and his staff have begun to tinker with their tactical approach. Fewer long, diagonal balls have been utilised during the trip and the team are playing with more freedom in the centre of the field. Aaron Cresswell's mobility from full back could also prove to be of major benefit.
Still, fans taking to social media after the game were - predictably - mostly scathing of Allardyce (and to a lesser degree, his players). It's a worrying sign for the club, with few of the manager's detractors from last season having proved willing to bury the hatchet. Allardyce, it could be said, is now working under almost impossible conditions.
Having been railroaded by his employers, influenced by fan pressure, into changing a system that has allowed him to work at the very highest level of domestic club management for some 15 years, Allardyce is now being given no time in which to implement those changes. That few - if any - improvements have been evident during this past fortnight has only served to exacerbate the situation.
Without a morale-boosting victory since returning from the summer break (two draws, two defeats), West Ham are going to find their first win of pre-season even more difficult to come by with Schalke and Malaga waiting in the wings when the squad fly to Germany next week.
Allardyce, bereft of Andy Carroll until November will be hoping that Enner Valencia will finally be able to pull on a West Ham shirt to give both the team and its supporters a much-needed boost - and maybe, even a goal or two.
Sydney FC 3-1 West Ham Utd
Sydney:
Janjetovic, Ryall, Jurman, Petkovic, Gameiro, Ibin-Isei, Ognenovski, Antonis, Dimitrijevic, Abbas, Brosque.
Subs:
Necevski, Bojic, Trantis, Carle, Gligor, Timotheu, Naumoff, Muata-Marlow, Gersbach, Burgess.
West Ham Utd:
Adrian, Demel, O'Brien, Reid, Collins, Noble, Diame, Nolan, Downing, Jarvis, Cole.
Subs:
Jaaskelainen, Howes, Cresswell, Fanimo, Potts, Poyet, Whitehead, Vaz Te, Zarate.
Want to submit your match reports to KUMB.com? More details here ...


Click to view all West Ham United vs Sydney FC match reports


Click to view all match reports by Staff Writer


Like to share your thoughts on this article? Please visit the KUMB Forum to leave a comment.
---
Player Ratings
Adrian
Guy Demel
George McCartney
James Collins
James Tomkins
Mark Noble
Mo Diame
Matt Jarvis
Stewart Downing
Kevin Nolan
Andy Carroll
Did not play.
Did not play.
Match Facts
West Ham United:
Adrian, Guy Demel, George McCartney, James Collins, James Tomkins, Mark Noble, Mo Diame, Matt Jarvis, Stewart Downing, Kevin Nolan, Andy Carroll.
Goals:
None .
Booked:
Winston Reid 81 James Collins 90 .
Sent Off:
None sent off. .
Sydney FC:
.
Subs not used:
.
Goals:
.
Booked:
None booked..
Sent off:
None.
Referee:
.
Attendance:
0.
Man of the Match:
Stewart Downing.