AEK Larnaca 0 West Ham United 2
Thursday, 9th March 2023
by
Chris Wilkerson
It's nine wins from nine in the Europa Conference League this season for West Ham, a 2-0 win enough to give The Hammers real control of this tie against AEK Larnaca going into the second leg.
Two first-half goals from Michail Antonio were enough to see West Ham to victory, in another European game where they were far from their best, but without really needing to find an extra gear.
The Cypriots worked hard and put pressure on in the second half to find a goal, yet lacked the real quality to make openings into true opportunities.
The manager rang the changes from the horrid defeat at Brighton, although with the schedule and the strength of the opponents, changes were always likely. In came Cresswell, Zouma, Kehrer, Downes, Lanzini, Fornals and Antonio to freshen up the team.
It was a massive game for the hosts, their first last-16 tie in a European competition in their 28-year history.
The first five minutes were completely controlled by Moyes's side, strong in possession, keeping the ball moving and theirs to use, without really offering a threat.
It continued for most of the opening 15, but this was a win based on keeping it tight, taking very few risks and hoping their quality in attacking areas would decide the game with efficiency.
That didn't really make for an entertaining watch, but in an away first leg, it was probably the smart way to manage things.
Larnaca are second in their league, a win at the weekend coming after two defeats beforehand, and whilst they are a team the Irons should expect to beat, they were also bound to have their moments. Throughout the game, those moments were there to pounce on, but they lacked the edge to turn a bit of space into something more worthwhile.
Their best effort of the game came from their first meaningful attack, a trio of corners that ended with Lopes heading over in good space at the front post.
West Ham's first real effort of the game didn't come until the half-hour mark, Antonio bundling through defenders in the box before Fornals picked up the loose ball, flicked between two to Lanzini on the edge, but the Argentine's shot was weak and always curling wide.
It seemed to kick the side into life. Soon Fornals and Cresswell combined to get Benrahma free, and the Algerian took it on before hitting a shot straight at the goalkeeper from a tight angle.
That little confidence boost reminded the winger that he can cause havoc against lower-level opponents, and he soon used his fast feet to create the opener.
After Antonio had the ball out wide, he turned down the chance to cross with only Downes in the box, turning back and restarting the move. It came back to Cresswell, who was sharp to pass down the line to Benrahma.
Antonio had made his move into the box as Benrahma ran down the line, before cutting back onto his right foot - leaving the defender on his backside - and crossing in a cross to the front post.
It landed right on Antonio's head, and the striker turned his body and head well to guide the ball into the far corner, low down and in an absolutely unstoppable spot for the goalkeeper.
The goal got The Hammers going again, having let the hosts get a real grip of the game and take a possession lead at 30 minutes.
They controlled the rest of the half, and eventually got their second just before the first 45 ended.
It was made far too easy for Antonio, but he made the absolute most of it.
After Rice drove into the AEK half, he passed to Antonio on the edge of the box. The striker had the space to turn around under no pressure, and even then he was not closed down as he faced goal, five yards outside the box.
With a defender standing off him, Antonio used the man to curl the ball around, and his effort sailed into the top corner with the goalkeeper standing rooted. If there was any doubt about his goal against Brighton last season being outside the box, this one definitely was.
It gave his side a comfortable 2-0 lead at the break, which really allowed them to ease through the second half and keep a grip on the tie.
It should have been three within the opening couple of minutes, with Antonio played through. The chance came from Lanzini winning the ball very sharply in midfield and using it quickly to go forward to Benrahma.
Larnaca had flown forward to attack, clearly aware that a two-goal deficit going into the second leg could well be a bridge too far, and that left space. Benrahma only had to carry it a very little before squaring to Antonio, who was free between two defenders.
The pass was good, Antonio made the right run across his chasing man, and then got into the box on his left foot.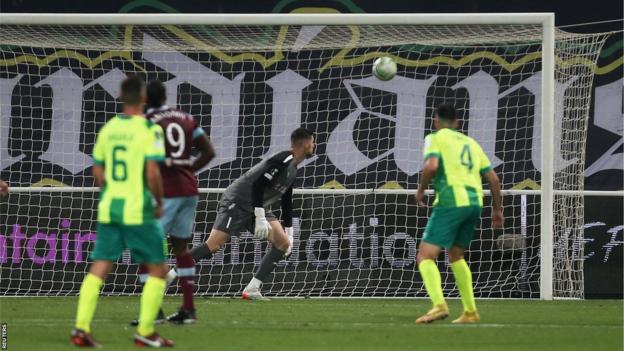 His finish beat the goalkeeper, but came back off the inside of the post, rolled across goal and out to safety. He won't come much closer to a perfect hat trick.
The Hammers kept a strong hold on the game until about the hour mark, when both sides made three changes. For West Ham, Scamacca, Soucek and Bowen were introduced for Antonio, Rice and Benrahma.
Bowen nearly scored instantly, running at his man in the box before sharply moving it onto his left foot, but his powerful shot went just past the far post.
But, from there, the Hammers faded as a force. Soon Downes was booked, ruling him out of the next leg, and wasting what would have been another opportunity for him to get a rare start.
Larnaca worked hard, it was very huff and puff without blowing the house down, tireless effort but little actually created. Again, like little periods of the first half, they had the openings to create chances, but couldn't find the quality in the final ball.
Soon Paquet?? was on for 15 minutes, and then Cornet got just over 10 on his comeback. It was this pair that combined to create one final and massive chance for West Ham to really kill the tie off.
Cornet did excellently on the edge of the box after Aguerd had blocked a decent chance just in front of goal.
He turned his man and then looked up to play a delightful pass around the defence got Paquet?? through. He took the ball on and made his way into the box, driving left and then hitting a low shot back across goal, but his shot was saved by the goalkeeper's legs.
Larnaca countered, and looked to have made space for a shot, but it was suddenly blocked by the diving bodies of both Zouma and Kehrer.
And that was that for the first leg, West Ham taking real control of things. They'll be very happy with how the tie sits, although they should be a little concerned with how the hosts threatened, taking 14 corners to West Ham's none.
But that doesn't really matter, and felt somewhat by design as West Ham looked to let the game be played without too much open space, at the pace they wanted, to let their quality tell in defining moments. And it did, so whilst it may not have been a beautiful watch, it worked.
That makes it nine from nine in the Europa Conference League this season. AEK have been given a break by their FA to prepare for the next leg, whilst the international break follows. It should be a comfortable one to control, but whether it will be is a different matter entirely.
Manager's Rating
David Moyes 7/10
Whilst it will have annoyed some, the calm and contained method helped his side take complete control of the tie.
Want to submit your match reports to KUMB.com? More details here ...


Click to view all West Ham United vs AEK Larnaca match reports


Click to view all match reports by Chris Wilkerson


Like to share your thoughts on this article? Please visit the KUMB Forum to leave a comment.
---
Player Ratings
Alphonse Areola
Not really tested, at all, but there were two moments claiming corners where he again looked less than impressive, with Aguerd nearly heading into his own goal once more as Areola flapped at him.
Thilo Kehrer
Relatively calm game, comfortable on the ball, unlucky to be booked late on.
Aaron Cresswell
Much the same as the above, not particularly threatened and calm on the ball.
Kurt Zouma
Full of the type of defending Zouma excels at as Larnaca found his head often.
Nayef Aguerd
Another who was very much in control of his game and made important interventions when required.
Declan Rice
Carried very well and was passing sharply to Lanzini, seemed happier with that presence a little ahead of him to play into. Lost a bit of control when he went off.
Flynn Downes
A good base in the midfield, and whilst it is frustrating to take that booking, he might have felt it was worth taking as the AEK midfield had a path to West Ham's defence.
Manuel Lanzini
It felt, at times, a little much to have a midfield three of Lanzini, Downes and Rice, but Lanzini did offer a good passing option throughout the game across the pitch, worked hard in the middle and kept the ball moving.
Said Benrahma
In a quiet game, he had two good moments that should have ended with two assists, instead of one. Probably should have taken a grip of the game more, and he has in the past shown he can really have fun against this type of opponent.
Pablo Fornals
Good in bursts and moved intelligently into space, but a few sloppy touches and passes just stopped it from being a good performance.
Michail Antonio
Two very well taken goals, one big miss and an otherwise inconsistent performance. The goals were absolutely brilliantly taken, the kind of thing that would be suggested he couldn't do and the other two striker options could.
Tomas Soucek
(Replaced Rice 60) A few good challenges, but couldn't help get the control that was had with Rice on the pitch.
Jarrod Bowen
(Replaced Benrahma 60) Struggled to really get into things after a quick start.
Gianluca Scamacca
(Replaced Antonio 60) A quiet and uninspired performance. Looked slow and immobile for the large part.
Lucas Paqueta
(Replaced Lanzini 77) Poor passing and then missed a big chance.
Maxwel Cornet
(Replaced Fornals 82) What you want from a substitute appearance, energy, hard work and created a big chance. His first game since October, a massively welcomed return.
Joseph Anang
Did not play.
Ben Johnson
Did not play.
Match Facts
West Ham United:
Alphonse Areola, Thilo Kehrer, Aaron Cresswell, Kurt Zouma, Nayef Aguerd, Declan Rice, Flynn Downes, Manuel Lanzini, Said Benrahma, Pablo Fornals, Michail Antonio.
Goals:
Michail Antonio 35 Michail Antonio 45 .
Booked:
Flynn Downes 67 Thilo Kehrer 87 .
Sent off:
None.
AEK Larnaca:
Piric, Casas (Faraj 58), Milicevic, Tomovic, Englezou, Mamas (Altman 58), Ledes, Sanjurjo, Rosales (Christoforou 87), Jakolis (Trickovski 77), Lopes (Nikolic 58).
Subs not used:
Toumpas, Stylianidis, Gonzalez, Naoum, H. Andreou.
Goals:
.
Booked:
.
Sent off:
None.
Referee:
Espen Eskas.
Attendance:
0.
Man of the Match:
Michail Antonio.