by Staff Writer
Tuesday, 14th May 2019
Freelance writer Martin Calladine has been examining West Ham United's new partnership with blockchain platform Socios.
And the author of 'The Ugly Game', a book based on Calladine's popular blog in which he regularly investigates the finances of football is particularly scathing of the club's new arrangement.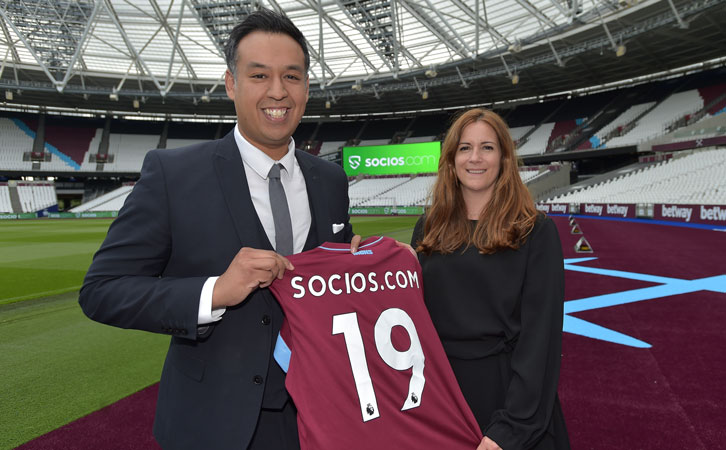 West Ham's Digital & Commercial Director Karim Virani with Socios.com Chief Marketing & Communications Officer Emma Diskin [pic:whufc.com]
Last month West Ham announced they had teamed up with Socios, the "fan engagement platform", in order to introduce 'fan tokens', effectively digital currency that may be purchased by supporters and used to have a say in minor club matters such as selecting pre-season friendly opponents or voting on kit designs.
"The launch of the West Ham Fan Token will evolve the club's global fan engagement strategy and expand their global audience, in particular, bringing millions of our fans even closer to the Club," read an article on West Ham's website.
"Fans will have a greater influence the more Fan Tokens they hold. The value of the fan token will also go up or down based on market demand and the team performance."
But according to Calladine, who has thoroughly examined Socios and their business model, the new arrangement is unlikely to "raise significant sums for clubs or attract many fans" and could leave fans in possession of a product that is "essentially worthless".
"First up, it's not an investment," wrote Calladine.
"The token does not possess any necessary characteristic required to be considered a transferable security, money market instrument, unit in collective investment schemes, a digital currency, commodity, security or any other form of investment.
"And whatever it is that you're buying, it's not a stake either in West Ham nor Socios - whilst the risks section [of the Socios T&C] also makes for less than reassuring reading.
"The majority of fans' money goes straight to the club. In other words, this is a new, digitised way of clubs charging fans for things they could've given them for free all along. All in all, I think it sounds like it's being way oversold - and that's before we've even heard how much it costs or what you'll actually be voting on.
"Fans may purchase as many tokens as they like. Each token gives more voting power, although an unspecified limited will be in force for each vote. It seems to me a curious type of fan democracy where a rich person's vote can carry ten times the weight of others'.
"I'm a novice with cryptocurrencies, but my understanding is that they've been pretty volatile over the years, soaring and crashing. In theory, then, your token might end up being worth many times the price you paid for it, or it might end up being essentially worthless."
The new arrangement is the first involving Socios and a Premier League team, although West Ham claim they are following in the footsteps of Juventus and PSG.
However Calladine believes it is largely a means by which to extract additional funds from supporters, who have previously been given all of the benefits offered by Socios for free. And a flawed system, at that.
"The criticism that clubs are aiming to charge fans for what they could give away free now is 100 per cent correct," he insisted. "This is just voting. The technology has existed for years to do this.
"And, yes, people who aren't fans of your club would appear to be able to buy in and vote on issues affecting your club - issues such as man of the match, kit and crest design, location of summer friendlies - with wealthier people having a louder voice.
"To date, nothing has changed my initial impression that clubs won't agree to allow voting on juicy things and that minor votes should be put to fans for free."
* Read more on this story via the KUMB Forum. Martin Calladine is the author of 'The Ugly Game' and the similarly-titled blog.
* Something to say about this story? Please visit the KUMB Forum to leave a comment.
More News