by Staff Writer
Monday, 13th September 2021
A little later than usual, this week it's the turn of those saucy Saints to cast their verdict on David Moyes' team of East End superstars. Were they impressed - or disappointed? Find out below in the latest edition of the OV...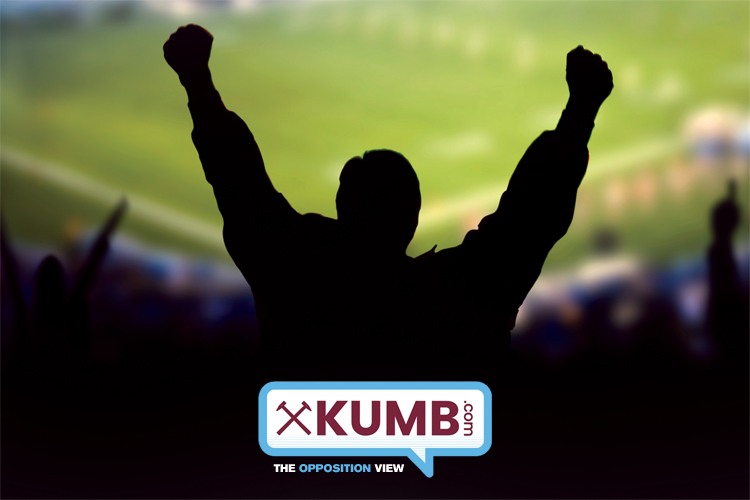 "Quite a lot of empty seats. Unusual for a West Ham game at home at 3pm on a Saturday. The first half barely warrants a mention. We held them well, I don't recall a West Ham shot in the first half but there may have been one that I missed. The second half was better without being a spectacle. West Ham started looking stronger without hurting us. Our defence and McCarthy (who I have often criticised) did everything that you could have asked of them. They kept Antonio in their pockets and on the couple of occasions that a West Ham goal looked likely McCarthy produced two excellent saves/stops. The introduction of Broja changed the game and gave West Ham more to think about. He was unlucky not to score save for a crossbar and off the line save by Rice. If we gained points for hitting a crossbar, post or keeper we would be near the top of the league. West Ham were very average today or we made them average. That is the frustrating thing. Yes they have been flying high and started the season well but I felt we should and could have beaten them."
- A1079
"Thought we largely played well and were unlucky not to get the win at the end. We obviously learnt from previous games against West Ham and kept the midfield tight which didn't make for a wildly interesting first half but did the job in the respect that it stopped them bullying us as normal. Salisu and Stephens were excellent in keeping Antonio quiet. Happy with a draw against a good team. We contained them really well and you'd probably have to say Ralph did a bit of a job on Moyes there as they have far superior players to us but never looked like winning. I was annoyed about the referee stopping the game to send Antonio off. Just wait until play stops and do it then. We were on the break and had would have had a good chance to get a decent shot in."
- The Cat
"David Coote. Remember the name. He is not without controversy and even during this game he made some weird decisions. It was a good game between two evenly matched teams in my view. If West Ham had won they could have gone to the top of the table."
- Whitey Grandad
"Cracking atmosphere and a pretty good game (and excellent for a 0-0). The new formation (4-1-4-1 by my reckoning) was a surprise and it certainly took West Ham 30 minutes to work it out. We sacrificed some potency up front for some solidity all over the pitch. That is the best organised I've seen us for a while and we didn't look wide open, apart from a couple of breakaways, which is definitely an improvement. Clearly the turning point was Broja coming on. We went from hanging on to being the more dangerous side in the blink of an eye. It's the first time I've seen him and he looks the real deal. It changed the momentum completely. We were on the front foot and should probably have won it. All in all I was pretty happy walking away from the stadium, with just that slight feeling that we could have won. The one thing that did stand out for me was how small we are as a team. We are tiny compared to the Giant Hammers."
- The Left Back
"A good result, could've probably been three points but we showed a different side to us today. Stephens was top drawer, Antonio has tormented him in previous games and Stephens completely shackled him from the start and ultimately got him sent off by making him lose his head for the first yellow card."
- saintwbu
"Prior to Broja coming on, 0-0 would feel like a good result but now it feels like an opportunity missed. We were the better side once he came on and were unlucky not to find the net. Redmond should be nowhere near this level, he is awful yet somehow plays the entire game. Unbelievable. Piss poor refereeing not to see how play would play out for the Antonio red card. Looked like we were in."
- Saints foreva
"Surprised there has not been more discussion of the bizarre drop ball. Ogbonna went down, ref stops play for a head injury but the player then receives treatment for cramp/leg injury. Followed by the strangest drop ball situation I've ever seen. Did the ref realise he'd made a mistake and just make up a completely new way of restarting the game to try and make it up to us? I was expecting West Ham to pass it all the way back to our keeper, not some strange uncontested drop ball where their players had to stay six yards away until we played the ball..."
- Scummer
"Ref generally had a bit of a shocker in the last 15 mins. Seemed to wait until we had played ourselves in before stopping for the head injury (which turned out to be a load of bollocks anyway), booked Salisu for a perfectly good tackle, didn't even look to see what advantage there was before stopping the game to second yellow Antonio. "
- ErwinK1961
"Great second half of the second half. West Ham fairly poor considering the money they've spent. We deserved to win."
- BotleySaint
"That was a decent result really, I thought we cancelled each other out in the first half. Antonio couldn't get a sniff and he's not easy to shut out of a game, we clearly frustrated the hell out of him as well as he wasn't getting his own way. What it did show from WHU's point of view is that if you shut out Antonio correctly then they've not really got any other threats or alternatives. Into the second half I felt we got stronger. I think our subs impacted the game, not just Broja but Diallo as well. I guess overall it's positive, but still very frustrating."
- S-Clarke
"The score may have been 0-0 but we all witnessed a thoroughly entertaining game of football today. End-to-end, ding-dong stuff. A tiny bit frustrating we didn't get the win but delighted with the clean sheet and the play from our newcomers; Perraud, Tino and Broja all looked good and Armstrong had a thankless task and needed more support upfront. Well done to both teams for putting on a cracking display."
- Kingsland Codger
"Tella should have been on earlier - last few minutes of the 90 West Ham were blowing out of their arses especially at the back, Him and Broja would have not been fun to defend against."
- John Boy Saint
"Scoring opportunities were few and far between for both sides. A clean sheet and good performances from McCarthy and Salisu (who improves with every game), and gave as good as he got in the battle with Antonio. We have a worse points record against W Ham than even v. Everton and Man. Utd, so perhaps a draw should be reviewed positively and looking at the Premier League table perhaps one point against West Ham and Man Utd gives some cause for satisfaction."
- david in sweden
"If we had gone two up top they'd have overrun us in midfield. Ralph has gone attack minded like that in the past late in games and it's cost us. West Ham were a very good side last season and have spent again in the summer, matching them up was sensible and using the bench well almost won the game."
- VeloSaint
"This is one of the weakest squads quality wise I can remember us having in the PL and Ralph set us up accordingly - protect the fragile CBs and be quite defensive. It was an awful game until Broja came on and livened it up a bit. He looks very useful. It will be a long season."
- Verbal Kint
"I offered the opinion a month or so ago that Broja might be 'knocking the selection door down' sooner than later, and after todays cameo it's hard to argue with that. There were several positives for Saints in a game which was dour, almost turgid, before Broja's arrival. I also think we would have got more out of Che Adams playing instead of Elynoussi which might have helped with some hold up play and linking up with an isolated Armstrong."
- austsaint
"We were much the better side. Excellent defensively and Borja frightened them to death when he came in. Looks a real handful. How we didn't win is beyond me. Mind you, two really good attacking situations and the ref stops the game. He was poor."
- Wade Garrett
"West Ham are set up really well, it's hard to break them down. Overall not too bad. Broja is going to be fun while we have him."
- niceandfriendly
"If being set up mainly to contain the opposition, keep a clean sheet and hit them on the break for a 1-0 then some might have enjoyed that and fair to argue that the ends justify the means. That's not what I want to see. Let's just hope we have not given up on being a slick passing, fast running, attacking team that creates loads of chances and scores a few goals."
- Charlie Wayman
"A clean sheet. A point against a team that has seemingly beaten us with ease in every match in recent years. Three points better off than from the corresponding fixtures last season. Definite reasons to be positive."
- Sheaf Saint
"I think we were playing for the clean sheet today, and we could easily have won it. Thought we made West Ham look very ordinary."
- Danbert
"West Ham beat Leicester 4 1 and are unbeaten. They finished 6th last year. Not sure that they are so bad we expect to beat them. Newcastle and Leicester got thrashed by them! It would be nice yes to beat them but they haven't lost all year yet, so I don't think a draw is too bad. As it turned it out, we played well and nearly won. I would expect to beat Norwich, Newcastle, Burnley, Brentford and Watford but West Ham are a good side."
- Saintsforeverj
"Considering how Antonio has completely bullied our centre backs in the last few games, I was really impressed with how we played. The rest of my family are West Ham fans and my day would have been f*cking murder if we'd lost, so I'm grateful for that..."
- jimmer42
"I've just heard that Ralph is taking Redmond to a local farm where he will be given a shovel and he will be chained to an iron peg and instructed how to hit the barn.
I'm concerned that he will turn a round and strike the peg."
- hasper57saint
"Did anyone notice Sullivan and Gold's Bentley and Rolls Royce parked out the front of the stadium yesterday? Both had personalised number plates and Sullivan's motor was particularly crass being bright red. Despite the presence of two bruiser-type chauffeurs, quite a few fans took pleasure in walking past and booting or hitting the bodywork. Pretty pathetic, but (as most appeared to be West Ham fans) showed the depth of contempt they have for their owners (either that or they were just envious fvcks)."
- Chesham_Saint
"They displayed a big banner in the crowd at the end too. They finished 6th last year and they have spent a lot of money. Not sure what their issue is now, that they have spent money and are successful on the pitch. Obviously their behaviour was bad, but Gold's car is a proper show off. I saw it parked in the Chapel car park and it took up about 5 spaces, it's so big and was definitely the most expensive car in the car park. Perhaps their fans just don't like their show off owners."
- Saintsforeverj
"Cracking game, enjoyed that. West Ham are a classic Moyes team now. Huge, well organised and very dangerous. No disgrace in a point. Defence was excellent, feels good to say that for once. Three hard fought for points, season is under way now."
- macca155
"They won nine and drew four of their away games last season and are unbeaten in all games this season. Antonio usually kebabs our CBs. Saturday was a fine defensive performance, so no complaints from me."
- Berber
"Ogbonna should have been booked for simulation and the fact he stopped the game at the end when we were breaking away to give Antonio his second yellow...my god."
- Saint_clark
"Ogbonna is a cheat."
- Chapel End
"Drawing 0-0 at home against West Ham doesn't excite me, sorry. We should be beating the likes of West Ham at home if we are to stay up. They had a good season last year but I'd be looking at three points at home against them. I think it's two points dropped against them at home. It's West Ham. They were no better than us on Saturday. Have we dropped that far down we should be happy with a point at home against them!?"
- saintwizzler
"This West Ham team had scored 10 goals in three games and we restricted them to a handful of chances and got our first clean sheet in eight months. If a team is struggling the first thing to do is to stop conceding. Yesterday showed that we can do that."
- ecuk268
"West Ham were there for the taking! And we bottled it."
- Mr X
"I keep hearing how Antonio is the strongest forward about and will bully defenders - well he came to the wrong place today! We roughed him up, muscled him off the ball, played him out of the game and eventually off the pitch. Nice job. Organised, strong, so much better than last season."
- rallyboy
"Antonio useless. Couldn't get past our Championship defence. Hot-headed idiot. My FF captain."
- redder freak
"The London Stadium or whatever the f*ck it's called now is worse than St Mary's. Anyone who has been there will tell you what a sh*t, no atmosphere bowl it is. There's finishing 6th and there's having the soul of your club trampled on. Sadly we all know those days are gone, so it's all about big soulless grounds now."
- Gennaro_Contaldo
* Comments originally published at www.saintsweb.co.uk and www.fansnetwork.co.uk
* Something to say about this story? Please visit the KUMB Forum to leave a comment.
More News