by Staff Writer
Monday, 8th November 2021
The latest edition of the OV is everything that you wished for, as our friends from the north produce every excuse under the sun for their defeat at the LOS as West Ham ended Liverpool's 25-match unbeaten run.
There's something quite poetic and utterly delicious about Liverpool fans insisting, without a trace of irony, that match officials are corrupt when yet another Mo Salah dive led to their opening goal and
Diogo Jota's deliberate elbow on Angelo Ogbonna
went unpunished (and unexamined by the media).
Yet they're not all bad - some even graciously admit they were beaten by the better team on the day. Enjoy...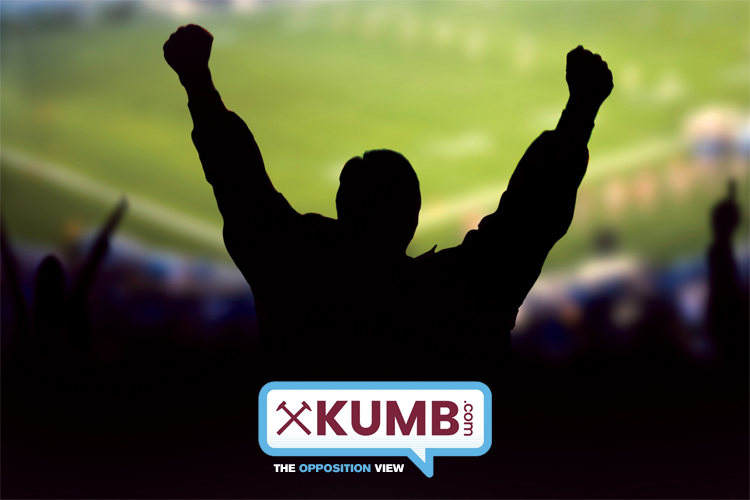 "You could tell after 15 minutes it was going to be a long game. They have been a good team this season and deserved the win. We need to have a little sit down and sort some things out over the break. We normally do. We knew they were a threat at corners, and I feel we didn't counter it well. One of the senior lads should have seen what they were doing surrounding Allison, and sorted it out. That was a never foul, it winds me up whenever a 'keeper gets a slight touch they all go down like shithouses when they are normally built like a wall. So no complaints from me. The tackle on Henderson, if that was against us, I'd expect our player to walk and accept it. It was reckless. Regroup, and go again. Disappointing as that game was, it's still early in the season. Klopp normally gets it right in the end."
- OOS
"Today is one of those games where you need to accept we were beaten by the better team. Some key borderline decisions didn't go our way, coupled with a few key players having nightmares at opposite ends of the pitch. It's our first defeat in about 25 games and seven months. We have a few issues currently, however we are through in the CL, four points off the top in the league with 81 points still to play for and in the QF of the League Cup. We have one of the best managers in the world and a squad that is absolutely stacked with quality and are two weeks removed from walloping United 5-0 and five days removed from doing the double over the Spanish champions. Let's regroup and go again after the international break."
- Jookie
"We basically beat ourselves today, West Ham are nothing special - but let the media w*ankfest begin. We all know who had poor games, we all know Creswell should have see red. Here's to another 25 unbeaten, Let's move on."
- Tony19:6
"We knew what we were going to get from West Aaam. When the side was announced I was quite apprehensive insomuch as I can see that we would score goals, but not convinced we could keep them at bay with the side we had. They knew we are susceptible to corners and set pieces and they exploited it pretty ruthlessly. They're a big side and known for this (although they do have some decent players, that cannot be taken away from them). Our players are more than capable of doing jobs for us when a plan B is needed and there's no reason to lose all three points against sides like West Aaaam when you have the tools at your disposal to combat them. That said, we should have rescued a point and the decision to allow the goal when Allison was clearly impeded was questionable - but if we're honest with ourselves, if that had been us we'd have been fuming. The second goal? Take a yellow for the team. Shithousery is required sometimes. Third goal? See comments about having someone in the air that would nut a brick wall. As for the season being over after ONE defeat? We just played against a much improved West Aaam side after dismantling one of the top sides in Europe in Atletico. It's one loss and we're not even a third of the way through yet."
- Kennys from heaven
"I don't believe West Ham won that game, I believe Liverpool lost it. Three very very poor goalkeeping errors hindered by absolutely diabolical defending. We are also guilty of some very poor finishing . We seemed to play the whole game through the middle, only very rarely was the pitch made wide. We usually spray the ball from wing to wing and move it about more quickly. In all, a really below standard performance by all. A really bad day at the office and with Arsenal up next we will need to perform a lot better than we did against West Ham."
- biggsy71
"West Ham and Gollum will take all the plaudits, but for us it was just a poor performance. It happens sometimes, I'm so pissed off but it looked like it was everyone collectively, along with a piss poor ref. So on to the next 25 game run!"
- GERNS
"The result was due to poor refereeing, missed chances and West Ham taking their chances. But we're not winning the league with our midfield as it stands, so it can be forgiven a little."
- Bastion Of Invincibility
"Some pretty tired looking players out there. Why play that high line without the right defenders or not tracking runners, or fouling them? And since everyone and their dog knew what West Ham were going to do at corners, could we not have prepared a bit better? At any rate, I say we hire whoever is teaching them take corners. Even if he comes just for the summer, like that surfer guy who makes the players hold their breath in the pool. Maybe they could combine the two, and practice defending corners underwater, or something. West Ham deserved the win. They knew our weaknesses. Targeted them. Played us like a violin. Some good teams in this league. 'Big clubs' gonna drop more points, is my guess."
- FLRed67
"Generally if a keeper is challenged or impeded it's a foul, isn't it? No idea why we didn't get it. Generally if a player leaves the deck and goes in high it's a red card isn't it? I've no idea why the fucking lino didn't even flag for that foul on Hendo. Generally if a team are compact you try to play behind and round the back. Fuck knows why we hardly tried. Generally we're boss at footy aren't we? Christ knows why we couldn't string four passes together in the first half. I don't think we were good value at all. Trent must be fuming."
- John C
"We were shit, but even though we were shit we lost out by one goal in an away game to another top four team. If we had been marginally less shit at both ends of the pitch we would probably have come away with a 3-2 win. Disappointing but by no means catastrophic."
- andy07
"Blown away by all the folk who are blaming the referee for the defeat. The first goal is never a foul in a million years. Alisson just looses it in the air and flops out of desperation. It's also not a red card for Creswell. He goes for the ball and his foot lands on the ball awkwardly, causing his foot to jump up. We lost because we threw too many bodies forward and frankly, we've not had enough legs in midfield all season. Bowen waltzes through our midfield. It's not the first time in this campaign. Take the loss on the chin, chaps."
- MartinSkrtelsBasement
"I'm as fucked off as anyone trust me, and not really that arsed at who outplayed who, but the whole 'red-tinted glasses' shit does my head in sometimes. We got stuck tonight and couldn't beat what was in front of us. There's no harm in saying on the night we didn't have what it took. We got beat when we won the league too, more than once, no harm in that either, but pretending that we outplayed them or they didn't have a really good game is just daft."
- Andy82lfc
"We have a very good first team but a not particularly great second. We are still relying on the same names to do the business. It's not good enough. If they are off form, we have no real option to change it. I don't think we are out of the title race but when it comes to the crunch, our squad isn't comparable to Man City's or Chelsea and that is where we will probably come up short unless Klopp pulls off an absolute miracle. The squad needs investment for Klopp to really work his magic."
- Fruity
"Our goalkeeper cost us three points, it's as simple as that. He will do that a few times over a season and we have accept that now."
- Lukadamainman
"Annoying how so many were off their game yet we almost got a draw. Still, that's life. What isn't cool is the way the possible season-ender on Henderson is being ignored by the media and especially by VAR yesterday. It seems to be open season on assaulting our players and not getting even booked. If VAR doesn't warrant that tackle a straight red card then we need someone at the club to speak out and stick up for the lads. An opposition player sees what others are getting away with and says 'fuck this, I'm smashing Salah's knee to stop him' next match if we as a club say that it's not good enough."
- Mister men
"The sky is falling. We got done. Alisson very weak on all the goals, but his defenders should also have done better in each circumstance. The first goal was very very poor from him, the attacker's arm was problematic but he should have been stronger. After that he seemed to be obsessed with the opposition rather than doing his job. THAT challenge was a red card. No yellow, not even a foul given. Disgraceful, and for VAR to look at it over and over again and do nothing stinks to high heaven of incompetence or corruption."
- KillieRed
"Ali is clearly fouled for the first goal, Cresswell should have walked, Antonio is offside in the build up to their second goal and impedes Virgil's covering run and there was an offside for the corner for the third goal. Add in Pawson pulling Ox back for our free kick when we were on a counter attack. Apart from that we should have twatted third placed West Ham away from home."
- Al 666
"It was a sh*tty defeat, but with some better refereeing that is a hugely different game. I don't have a problem with their first goal not being a foul, but only if that applies in all games and not just when it seems to happen to Alisson. The Cresswell challenge was as clear a red card as you will ever see under the current rules. If PGMOL had any sense of accountability they would publicly come out and say that the VAR got that decision wrong. I won't hold my breath. Pawson was also terrible in general, with the lack of advantage played when we were breaking after a foul on Jota being the worst example. If Alisson has a normal day then we win that game, and if Mane puts away either of his clear cut chances we walk away with at worst a draw. Just a frustrating day all round."
- Dr Stu-Pid
"Seemed liked Pawson was being a massive arse today, be it not giving a free kick for the first goal and not even giving a free kick for Cresswell's challenge. He was playing advantage when there was none, not playing advantage when there was, penalising Bowen for hand ball when he didn't (I'll give that one to West Ham) and doing it while having a massive smug grin on his face. I don't think he would have sent Cresswell off even if he had checked it. The most bizarre moment of the match was West Ham fans ironically cheering when he gave them a free kick early in the second half."
- Hazell
"Not our greatest performance by any long chalks but I'm not surprised considering Pawson was such a homer. Swayed by the crowd on just about every important decision. The 'foul' for the high boot by Mo at the end of the game summed him up."
- Judge Red
"Cresswell didn't get sent off due to favouritism and maybe a hint of conscious or unconscious bias. If he were an African or some other nationality, he most probably would've walked."
- Machae
"How anyone could say that it's not a foul on Ali on the first goal is beyond me. First Antonio is blocking him and then there's CLEARLY an arm impeding Ali from getting at the ball. Also, Antonio WAS offside on leading up to the corner for the third. But obviously no need to check that... Towards the end the Ref couldn't even be bothered to hide his bias when giving a free kick for Salah's imaginary high boot and then another one for nothing to WH straight after. Corrupt. Not to say that this was a good performance though. West Ham are a good, well organized side, but on the balance of it I do feel we deserved something. What I'm really struggling to accept is our glaring lack of cynicism in these situations. When Bowen is carving through us for their second, just bring him down. Take the yellow card. Stop him."
- StigenKeegan
"The Alisson one is 50/50, I think we've got used to goalies being overprotected so I can understand the outrage. Cresswell flew into that tackle with unnecessary ferocity, meaning injuring Henderson with his follow through was the inevitable outcome. Whether it was red mist or Moyes had pumped him up so much in the dressing room beforehand (more likely), he 100% knew what he was doing there. Anyway, we're still only four points behind the leaders, top of our CL group and in the quater finals of the Haribo cup so it's not all doom and gloom."
- Tony19:6
"Cresswell had to walk for that challenge. It's criminal that he didn't. Henderson was too honest almost as well. If that's Fernandes, Creswell walks, 100%."
- RobertoBaggio94
"We have been forced in to playing virtually the same starting 11 week in week out. Today we had nothing on the bench that was going to impact the game. We lacked energy but that isn't surprising asking Hendo, Fab and Ox to all play back to back against Atletico and then West Ham shows how short we are. They didn't create anything at all by being more expansive. They are just Burnley with better players. Unfortunately tonight it was the West Ham team plus Craig Pawson and Stuart Attwell. When you have ex centre halves like Ashley Williams (Everton) and Micah Richards (City) saying Cresswell's challenge was a clear red card, then it doesn't get any clearer that we were fucked over."
- Al 666
"I'm not sure how even professionals are able to reign it in after the game when they've been clocked like that. I'd probably be up for assault in the locker room if I'd been tackled like that during the game - that fucker Cresswell knew precisely what he was about there."
- Rush 82
"Imagine if Cresswell had made that challenge on a Chelsea player. They would've swarmed around the ref. Also us not bringing down their player for their second goal. We're too honest for our own good. Seriously though, what's with all the bubbles? Are they like four years old or something?"
- Gegenpressing
"The first goal was a foul. How the officials permitted Ogbonna to jump into Alisson and not make contact with the ball (so all he did was knock the keeper) thus making Alisson knock the ball into his own net was ridiculous! Arguably he should have done better, but he was clearly impeded by the knock he received. However, it then affected the rest of his game. You could see for their third goal, he pushed Antonio three times before the corner was taken. His mind was on the obstructing player (who actually did nothing) and so when the corner was taken, by the time he got to the back post it was too late. No protection or help there either. He was also poor for the second goal."
- DanMann
"It was just one of those games. The lads did their utmost but unfortunately the run of things, cowardly refereeing included didn't go for us today. On a different day, we win that game 3-1 or 4-1 and West Ham end the game with 10 players. It's easy to look at the officiating and say we were robbed, but I hope the team is much more critical than that. I suspect that we do need to introduce a bit of 'cleverness' (read: Shithousery, Snide and Subtlety of the dark arts) to take advantage of the fact that the rulebook seems to be more 'guidelines' than actual rules based on how cowardly some of the EPL referees are anyway. Credit to West Ham because they gambled on the right tactics for the game and got the three points which is what counts in the end. They are on a high and I think they could easily get fourth place this season in the absence of the usual others, who appear to be struggling. Oh and Craig Pawson can fuck off."
- mrantarctica
"Still fuming about this. West Ham really aren't that good but they were able to get the ball out and launch counters fairly regularly. Luckily, we were mostly able to deal with them as Antonio (for all his physical gifts) is a laughably bad footballer. It really concerned me how they were able to constantly work the ball out to him. Our pressing was abysmal and the midfield was just dreadful. No wonder Virgil was fuming."
- Bergersleftpeg
"It's unacceptable to allow an inferior team managed by David Moyes to beat us and score three goals."
- Jean-Luc Picard
"I'm not buying all this talk about Moyes master-planning a victory. Let's be honest, the blueprint was Brighton. What Moyes is, is older and wiser. He's watched Brighton second half and planned his side around that. And with better players, it's worked. Brighton picked us off, West Ham did the same. Even a poor Milan got joy, as well as others."
- RobertoBaggio94
"Got to buy Declan Rice even at £100m. He's not even 23 yet, immense this season. Painful to watch our midfield today making poor decisions, lethargic and incapable of chasing back. Outclassed today but I suppose it's the first defeat in 25 so don't want to be too harsh but it has been coming with the Man City, Brentford and Chelsea performances."
- paulow63
"Not an excuse but Craig Pawson's display was amongst one of the worst I've ever seen. Embarrassing c**t. Declan Rice is a good player but I'd never ever buy a player based on one display on how they fared against us. F**k me, we don't want another Charlie Adam or Adnan Bogdan on our hands."
- Frankly, Mr Shankly
"Mugged by Moyes. It's a very sad day."
- johnjj147
"Anyone who thinks West Ham are a good side, seriously."
- Tadders
"We've controlled the entire game but they defended well. If they can do that all season they'll go close to top four. I suspect they won't though - they needed two corners and a day off from Alisson today and they strike me as manager cheaters v lower clubs. They couldn't beat 7th in Belgian league on Thursday but here they are four days later They were all hands on deck for 95 minutes and had to be. Two goals from corners, shite defending and some are trying to make them out to be Man City. If you watched that game and genuinely believe they outplayed us you are possibly pissed or need a new pastime."
- rushyman
"It's not the end of the world. West Ham won't finish in the top four and we will win the league so I'm not too worried about it. Some of you need to get some perspective in your lives because you sound like sad little people."
- FL Red
"We shouldn't need a red card decision, however warranted, to beat West Ham. This was a bad performance."
- thejbs
"Is it insane to say that a team who beat us outplayed us? Insane to say they controlled the game as they defended when they wanted, attacked when then wanted then defended again all fluidly and with success? The better team won on the day; they may be shite compared to us usually, they got help from the shit officials but don't try and tell me we outplayed them an got that result."
- Andy82lfc
"I was shocked how easy West Ham were able to carve through us. It could have been 6-2."
- LondonRed83
"Absolutely dire against a typically defensive, long ball Moyes team."
- FATKOPITE10
"On the day, not good enough - and to make things worse, we have to listen to Jamie (Spit The Dog) Carragher ranting on. He is manic and embarrassing. I wish Sky would get rid of him."
- Shipwright66
* Comments originally published at redandwhitekop.com, liverpoolfc.com and lfcreds.com.
* Something to say about this story? Please visit the KUMB Forum to leave a comment.
More News
Tuesday, 18th January 2022
Tuesday, 18th January 2022
Monday, 17th January 2022
Monday, 17th January 2022
Monday, 17th January 2022
Monday, 17th January 2022