by Staff Writer
Wednesday, 10th November 2021
Daniel Kretinsky and partner Pavel Horsky have been confirmed as new board members of WH Holding Ltd after completing the acquisition of 27% of the group's shares.
Kretinsky, who has interests in number of global companies including several in the UK was present at the London Olympic Stadium last weekend to watch West Ham beat Liverpool 3-2.
And upon his arrival at the club, the 46-year-old - who becomes the second largest shareholder behind David Sullivan - revealed that he is seeking to play a role in what he feels is an "exciting" future for West Ham United FC.
Welcome to West Ham: Daniel Kretinsky
"I am delighted this detailed process has now been successfully concluded," he said in a statement.
"I am passionate about football. I greatly appreciate and respect the exceptional history and tradition of West Ham United as well as its loyal and passionate supporter base and also the highly inspiring role it plays in many social programmes and initiatives.
"The development and growth of the club in recent years has been clear for everyone to see and I am delighted to be part of what I believe is a very exciting future ahead.
"Having been to the London Stadium recently to watch David Moyes' team, I know it is an incredible time to become part of the West Ham United family. I feel privileged to now have the opportunity to help everyone here build on the proud traditions of this great club."
Kretinsky's stake in the club is believed to have him in the region of £150million while it is believed he will seek to extend his shareholding over the course of the next two years.
That could ultimately result in the end of the controversial 'GSB' era at the club, although one third of that group - vice chair Karren Brady - welcomes the arrival of Kretinsky and Horsky today.
"On behalf of the Board I am very pleased to welcome Daniel Kretinsky, Pavel Horsky and 1890s holdings a.s to West Ham United," she said.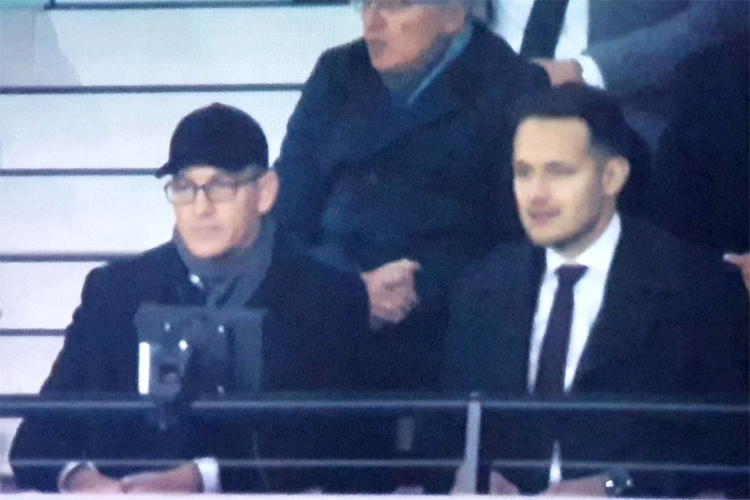 Kretinsky was present at West Ham's Premier League win against Liverpool last weekend
"We are always looking to continue to progress and Daniel's involvement brings investment which strengthens the club's position, and in turn will assist in the development of the club's key areas of focus.
"David Sullivan and David Gold have always been very open about finding the right investors to join them on the journey as custodians of West Ham United, and Daniel's strong business acumen and football experience will be of huge benefit.
"We very much look forward to working with him and Pavel."
1890s holdings is indirectly controlled by Kretinsky, who owns a majority 50% plus one share while compatriot Patrik Tkac controls 44% minus one share through holding company J&T Capital Partners.
The remaining 6% of the company is owned by a group of investors who have worked alongside Kretinsky in the energy sector.
Who are Daniel Kretinsky and Pavel Horsky?
Kretinsky
is the owner of Energeticky A Prumyslovy Holding (EPH), the biggest energy group in Central Europe. The group employs more than 25,000 people and distributes and supplies electricity while providing gas storage and transmission.
He owns stakes in French media outlet Le Monde (49%), German retail giant Metro AG, a 5% stake in the Royal Mail and a 5% stake in famous US department store Macy's. He owns the Czech News Center, which publishes the daily Sport and the daily Bleskis and is also chairman of Sparta Prague (since 2003) in which he owns a 40% stake.
Pavel Horsky
Horsky
, who holds a master's degree in mathematics and physics is the Chief Financial Officer of the EPH group, a position he has held since 2009.
His main responsibilities include financing, treasury, tax, risk management and co-ordination and management of group companies. He is a board member of parent company Energeticky a prumyslovy holding, a.s. plus EP Infrastructure, a.s. and EP Power Europe, a.s. Prior to joining EPH, Horsky held the position of market risks advisory at RBS.
Who owns West Ham?
David Sullivan:
38.8%
1890s holdings:
27.0%
David Gold:
25.1%
WHU LLC (Tripp Smith):
8.0%
Other investors:
1.1%
* Something to say about this story? Please visit the KUMB Forum to leave a comment.
More News
Saturday, 22nd January 2022
Saturday, 22nd January 2022
Saturday, 22nd January 2022
Saturday, 22nd January 2022
Saturday, 22nd January 2022
Saturday, 22nd January 2022