by Staff Writer
Friday, 12th November 2021
Academy Manager Ricky Martin has wishes the outgoing Dmitri Halajko well after the manager's departure from West Ham was announced.
Martin, speaking to the club's website wished the 41-year-old, whose departure was announced on Friday, the best of luck for the future.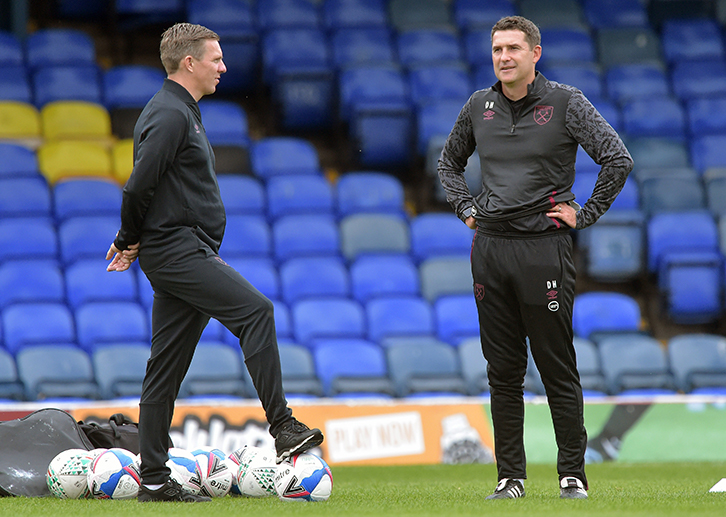 Martin with the departing Halajko [pic: West Ham]
"He has been a fantastic ally for me in my role as Academy Manager – he was my first appointment, and someone I've worked very closely with for the last two-and-a-half years," he said.
"Not only has he been a great servant, coach and ambassador for West Ham, he leaves the Academy in a fantastic position, with the Under 23s squad playing some exciting, attacking football. We wish him well in his new adventures with the Premier League."
Halajko, who is set to take up a new role within the Premier League revealed that he felt it was time to move on from West Ham's Under 23s, where he has spent the last two years.
"There's something really unique at West Ham with the closeness with the first team, in terms of their staff knowing all our players' names, strengths and weaknesses. They watch every game at home and Kevin Nolan will come into the dressing room before, during and after games.
"They know the players personally and the manager will watch the games, and we share a training ground so there are always conversations.
"That daily connection has only helped the lads in terms of their development, because they're around it at the top end – they see it and they feel it and they hear it, and they know there's a pathway.
"From a personal point, my time at West Ham has been really enjoyable," he said. "I've been fortunate enough to work with some great staff and some great people and we've had some good outcomes in that time.
I think it's time to move my career onto a different direction and it's a really good opportunity for me to go to the Premier League. It's a big role that I'm really looking forward to, but at a time when, in another way, I'm gutted to be leaving, because things are going so well.
"I'm leaving West Ham in a really good place and I'm leaving it with really good people, and I'll be watching, cheering them on at every moment, hoping they continue that progress."
* Something to say about this story? Please visit the KUMB Forum to leave a comment.
More News
Saturday, 22nd January 2022
Saturday, 22nd January 2022
Saturday, 22nd January 2022
Saturday, 22nd January 2022
Saturday, 22nd January 2022
Saturday, 22nd January 2022