by Staff Writer
Friday, 26th November 2021
West Ham United's latest debutant was absolutely delighted at making his first team debut - if not slightly disappointed that he didn't mark it with his first goal at senior level.
17-year-old Sonny Perkins was only told 72 hours before the game that he had a chance of being involved in West Ham's Europa League trip to Rapid Vienna.
Yet having been thrust into the action with 76 minutes on the clock as a replacement for Niko Vlasic, the teenager came so close to scoring with virtually his first touch of the ball with a fantastic header that was brilliantly saved by Rapid 'keeper Paul Gartler.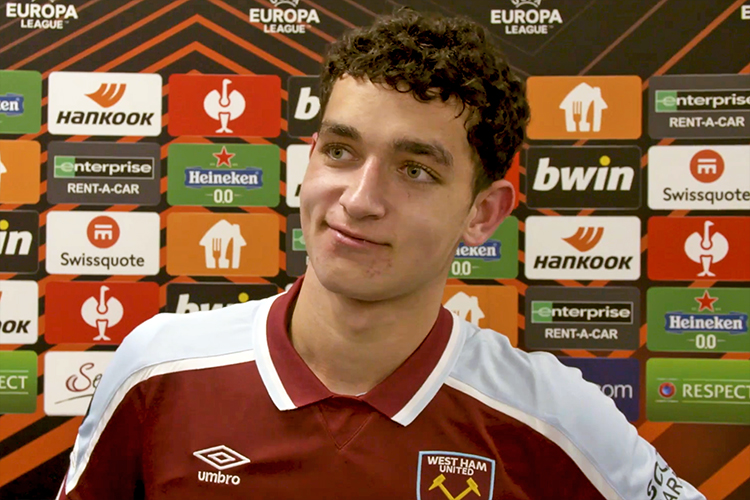 "When I heard my name being called I was a bit nervous, but I was prepared to come on the whole game," he told West Ham's website. "You've always got to think 'what if?' - and if you get the opportunity, you've got to be ready.
"When I heard my name, I just knew I had to be ready and come on, work hard for the team and see out the win. I think I did that.
"[As for the header] I saw Vlad get the ball out wide and obviously I know he's got the ability to cross it like that, so I peeled off into space. As it's come, I thought 'just connect with it'.
"Maybe if I didn't connect with it so cleanly it would have gone in, but to be fair the goalkeeper pulled off a great save and I was unlucky. It would have been a great moment!"
And as for the call-up itself, Perkins explained how he and three fellow Academy stars were pulled into the squad earlier this week.
"On Monday, a few of us knew that we might be involved in first-team training. On Tuesday I went back, trained the whole session and I think I trained well. On Wednesday four of us [Perkins, Aji Alese, Jamal Baptiste, Dan Chesters] travelled out here.
"It was surreal really, because I've only been involved a couple of days and to fly out with the team… They've been great with me as well.
"The guys who have come through the Academy look out for me and whoever comes across, so they made me feel welcome. I'm grateful to them for that. They made me feel comfortable to get on the ball and do what I can do.
"I've still got a long way to go to where I want to be, but hopefully this can be the start of many [appearances]. That's what I want. It felt great out there, and to play with all of these great players and train with them, that can only help me get better.
"Hopefully there's way more to come. It's been great."
And Perkins revealed how he has only been playing in that advanced role for a few months - following a recommendation by his Academy coaches.
"I've always been a midfielder and it was only at the start of this season that Mark Phillips and Kevin Keen decided to play me up front for the Under 18s. They saw I've got the attributes to do it and I like getting further forward up the pitch anyway, so I think it's suited me quite well.
"I adapted to it but wherever I play, I think I can do a job and I adapt as quickly as I can. I've got to be ready to play in any position - and it's going well so far."
* Something to say about this story? Please visit the KUMB Forum to leave a comment.
More News
Tuesday, 18th January 2022
Tuesday, 18th January 2022
Monday, 17th January 2022
Monday, 17th January 2022
Monday, 17th January 2022
Monday, 17th January 2022