by Staff Writer
Friday, 26th November 2021
West Ham United fans can now join a fully-regulated, independent supporters' trust of the type outlined in MP and former sports minister Tracey Crouch's fan-led review.
The review demanded each football club have an independent trust that owns a 'golden share' in their club – and Irons fans are now being invited to sign up for West Ham United Supporters' Trust (WHUST).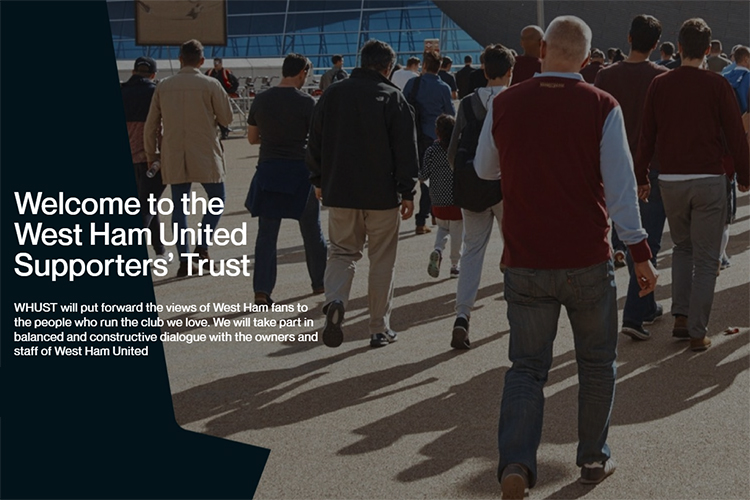 If Crouch's recommendations are enacted, trusts will have a veto over important heritage decisions that affect supporters. The veto would cover grounds, club badges and colours as well as a veto over the club joining any breakaway competition or super league.
Under the proposed rules, every club will be required to have a shadow board of supporter representatives and the trust will be the gatekeeper of that board. The board will be entirely independent of the club and every club will be required to have independent non-executive directors with responsibility to report to supporters.
There can only be one trust per club, and WHUST has been set up specifically within the required legal framework.
Sue Watson, WHUST chair, said: "For too long football fans have been kicked into the long grass and ignored. The fan-led review is blowing full-time on that behaviour. Genuine Hammers fans can now join a fully-regulated trust that will represent them and use that golden share wisely."
Regulated by the Financial Conduct Authority, WHUST was founded by the former West Ham United Independent Supporters' Association (WHUISA) with the help of the Football Supporters' Association. A panel of volunteer West Ham season ticket holders and Claret members set up the trust and will be board members until elections can be held within a year.
Watson, who chaired WHUISA and is chair of West Ham's current Independent Supporters' Committee, has been appointed interim chair. The interim board will be looking to broaden and diversify to fully reflect the broad fan base.
West Ham fans can join for just £5 a year. The first £1 buys a 'share' in the trust and gives voting rights. The rest of the money will go towards running costs and community work. The trust is also seeking donations to fund its work.
You may join the trust online at
www.whust.org
.
* Something to say about this story? Please visit the KUMB Forum to leave a comment.
More News
Monday, 24th January 2022
Monday, 24th January 2022
Saturday, 22nd January 2022
Saturday, 22nd January 2022
Saturday, 22nd January 2022
Saturday, 22nd January 2022