by Staff Writer
Thursday, 2nd December 2021
Naturally delighted at snatching a point from nothing, Albion fans were nonetheless - on the whole - singing in tune with their opposite number when it came to the controversial decision by VAR to rule out what would've been West Ham United's second goal of the evening - and one that surely would've ensured all three points for David Moyes' boys. Read all about it in the latest edition of the OV...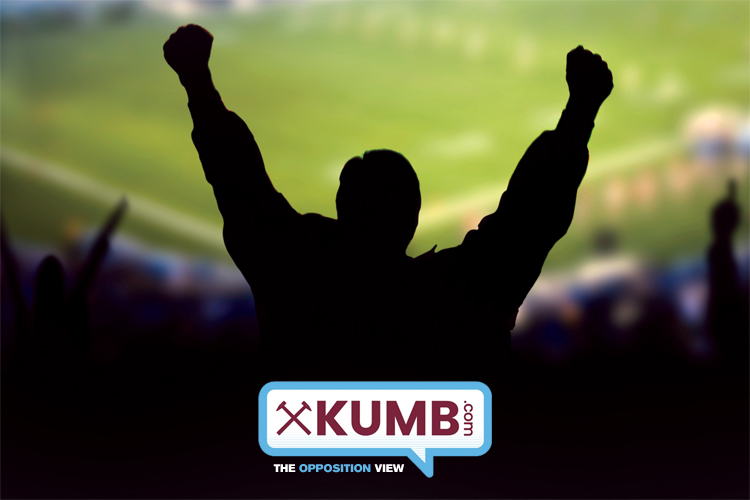 "I just cannot fathom what anybody who watches football thought that VAR call added to the game last night. Obviously it was good for us, but it just ruins the whole spectacle. Nobody would have had a problem with that goal if it was given (without watching 15 replays in super slow motion)."
- Commander
"I thought Dawson flattening Lallana was a foul, unless Lallana makes a move to obstruct I don't see how the rules of the game allow you to just flatten someone. I didn't think there was a foul on Sanchez, he made a bit of a pigs ear of it. Regardless of whether Antonio touches the ball or not, does his presence in an offside position impact the play? I think that is why VAR person was watching various replays. While I have some sympathy with the goal being disallowed, in truth it could have been for me on two separate aspects."
- Bold Seagull
"I was amazed that it wasn't ruled out at the first part - the foul on Lallana - as it seemed so blatant, and surely passed the "clear and obvious" test."
- Bozza
"VAR shouldn't be able to watch it 15 times in slow motion. The VAR ref should watch every goal in full speed no more than once or twice, while the players are celebrating and if there is an obvious error then tell the ref to disallow it. It would take 30 seconds, and be not much different to how it used to be with a late flag going up, but they'd get 98% of the decisions right. I think most people would be happy with 98% if it meant the game flowed as it used to. The problem is though, 'most people' refers to people who actually bother to go to watch live games. The TV audience around the world may well think differently, and we all know who is more important to the Premier League."
- Commander
"I guess, given the letter of the law it was the correct decision, but was that a clear and obvious error? No of course not. I would have felt very hard done by if the other way round. VAR has been much better this season but that was the sort of decision last night that made me hate it. The time it took, the players surrounding the ref, the fact no one in the ground knew what was going on and that is has ruled out a goal very dubiously. Last night it went for us, next time I'm sure it'll be against us."
- Arthur
"There was such marginal contact with Antonio who, if anything, looked like he was trying to get out of the way. It would have gone in regardless of his 'touch'. Letter of the law, maybe, spirit of the law? No way. Luck on our side, there (ignoring the foul on Lallana)."
- Si Gull
"It adds nothing to the game. I don't think this sacrosanct, 'you're either off or your not' helps the game at all. The rule should be that in the event of a melee like that, the ref gets another look in real time. If he can't see an obvious error has been made, stick with whatever was decided."
- Nobby Cybergoat
"It's interesting how two Albion defenders leave the pitch, thus putting Antonio in an offside position."
- I remember the good times
"There is a very easy test to apply in these cases: If it had been the other way round, would we quietly accept that it takes time and the correct decision was made, or be in apoplexy that it took ages and was a completely b****x decision? I think I can guess…"
- warmleyseagull
"I thought it was a goal, that they'd get the benefit of the doubt. I was surprised and very happy when it was chalked off. It's nice to have the odd one in our favour."
- Mackenzie
"What do you make of that? If ever a game showed our deficiencies this was it. A powder puff attack, a lack of height and muscle, plenty of possession with no result. Also , I have to say a dodgy keeper who is inconsistent. But we came away with an away point! We sneaked that one. To be fair West Ham should have won. We were damn lucky with having their second goal disallowed on a technicality. The human eye would not have seen whatever the VAR saw. (I still dislike VAR even though we benefited yesterday.) For 80 minutes I was unhappy, I feel better now!"
- Perfidious Albion
"Really enjoyed that whole experience - don't get to away games all that much - but that's a weirdly soulless and quiet stadium. Except for the song when the teams came out their fans don't really seem to sing ever. A bit of an "ooooooh" when they attacked occasionally but not much at all. The Amex is rocking by comparison. Good atmosphere outside the ground tonight but then dead inside it. Then splitting up the away fans on multiple levels with that big empty bit between them seems like a crafty move to suck the life out of the away support. Found myself between two groups of young men who spent as much time demonstrating their well practiced wrist action in the direction of the home support as they did watching the game which was funny on one level, just for their enthusiastic attempt to get a reaction, but as a stadium and vocal support the Hammers get a very low 2/10 from me."
- Happy Exile
"Only 10 men on the field, against fourth and away (even if it is West Ham). I know goals have been thin on the ground but this is a very decent point."
- nicko31
"Knocked out of our stride somewhat in the first half due the early injuries, better composed in second and showed HUGE character and fight to nick a point. The critical moments went our way with Antonio's shot rattling the bar that looked a goal all the way plus of course, the foul/offside VAR saga. A magic moment from Maupay means West Ham's open top bus parade to celebrate finally beating us can be cancelled. Again."
- Pinkie Brown
"A lovely sight at the end there with Potter and the team with our fans. Well done to all in the away end. Grabbing a draw with 10 men against one of the best teams in the league may instill the kind of belief that came from the Wolves 3-3 recovery."
- Stato
"It was interesting that for the disallowed goal, Robert Green said Sanchez led with the wrong hand - he should have cleared the way with his right and punched with his left."
- herecomesaregular
"David Moyes was refreshingly honest tonight. But I wouldn't want to watch his team every week, effective or not. At one point their average formation was 1-9. One at the back and the rest in a block."
- Super Steve Earle
"Very disappointed with the final score as I had West Ham to win 2-0 in the score predictor."
- Jeremiah
"That's an absolutely MASSIVE point. Congratulations Potter and Maupay."
- DarrenFreemansPerm
"You look at the table and you can make a case for dozens of sides to get to fourth. West Ham are a decent side but we went toe-to-toe with them last night. West Ham look decent too, but like most of 'the other 14', they are vulnerable when their striker is out of touch. Antonio has played really well this season, but he's gone off the boil and West Ham are heavily reliant on him. That leaves Wolves, Leicester, Spurs, Man Utd and ourselves as the teams breathing down their necks. I know it seems laughable to suggest that our team that hasn't won in ten is still in this race, but we look like we're one of seven teams with a genuine chance of sneaking fourth and with a good shout of the runners up prize of Europa league football. If, IF we could just be a bit more clinical!"
- Simster
"Football, bloody hell. Is there every a more stark example of villain to hero? A thoroughly deserved point. I'm not sure we deserved more given their goal that was chalked off (I'd have been fuming if that was us) and hitting the bar along with a few good Big Bob saves. Tremendous character given the opponents and down to ten men. The Maupay goal, hopefully gives him the confidence boost he needs. One point gained. Sanchez, despite looking flappy at corners made some important saves towards the end and that should help his confidence."
- Reddleman
"Great singing pre-match in the bar area and loads around me during the match with a strong Albion songbook. As the adapted athletics stadium layout seems to have been designed by someone with a pathological hatred of the idea of football fans enjoying themselves, it was hard to tell how much the songs were taken up by others. Certainly in fine voice where I was positioned though."
- Happy Exile
"We're shit at defending corners because we're shit at taking them. How can they train against them when no-one can put in consistently decent corners in the box during training?"
- RandyWanger
"That was painful viewing but a great result. Amazing finish from Maupay, great assist from Lamptey (and what a player he is). Brilliant reaction from the away fans and Potter after the game. It's such a shame we waste so much of our possession and squander so many chances, we have the makings of something truly special but we always seem to make it so hard for ourselves. Up to 7th."
- Gabbafella
"Whilst it was sort of funny to see Lamptey marking Zouma last night, in a Scrappy Doo, 'let me at em' sort of way... Zouma did get his head on it and it did make me think, 'how much thought are we actually putting into this?' We conceded one. Another marginally ruled out and now we're marking their biggest player with our smallest. We need to totally review the way we defend corners."
- Nobby Cybergoat
"It's hard to believe but we are watching Albion having their best season EVER, so far."
- Icy Gull
"We were well worth that point. We competed, dominated at times, and were never overwhelmed. West Ham are a good team, but so are we. Maupay kept going, and got his reward. Let's kick on from here."
- Eric the meek
"Feels like a win, that. Great point. Well done to Sanchez for redeeming himself with those saves and I'm bloody delighted for Maups. Potter loving it at the end as well, great to see."
- Anon
"Chelsea, Manchester City and Liverpool are the only teams with fewer defeats than us in the Premier League."
- Return of the Rev
"Home or away, it is always the empty vessels that make the most noise. A couple of mouthy sods near me holding Potter personally accountable for conceding the early goal and apparently we have a team of C-bombs who don't know how to pass the ball forward. All clubs have them. There are sadly too many people in life who already know everything there is to know, so all they have left in life is to share their wisdom with anyone within earshot. None of which should distract from a great night out an emotional roller coaster of a game with a tremendous finale. Make no mistake we are NOT entitled to go to West Ham and get a result. Defensively they are very sound, they break fast and carry a real threat in the air. We played through losing three players to injury and 10 minutes with 10 men, needed a string of amazing saves from Big Bob and a wonder strike from Maupay to earn a point. G Potts and the boys should soak this up. This was a hard-won point."
- CheeseRolls
Comments originally published at www.northstandchat.com.
* Something to say about this story? Please visit the KUMB Forum to leave a comment.
More News
Monday, 17th January 2022
Monday, 17th January 2022
Monday, 17th January 2022
Monday, 17th January 2022
Monday, 17th January 2022
Sunday, 16th January 2022