by Staff Writer
Friday, 5th August 2022
West Ham United have completed the signing of Burnley winger Maxwel Cornet.
The exciting 25-year-old left-sided player becomes the Hammers' fifth signing of the summer - following Alphonse Areola, Nayef Aguerd, Flynn Downes and Gianluca Scamacca - having moved from the Championship club for a fee of £17.5million.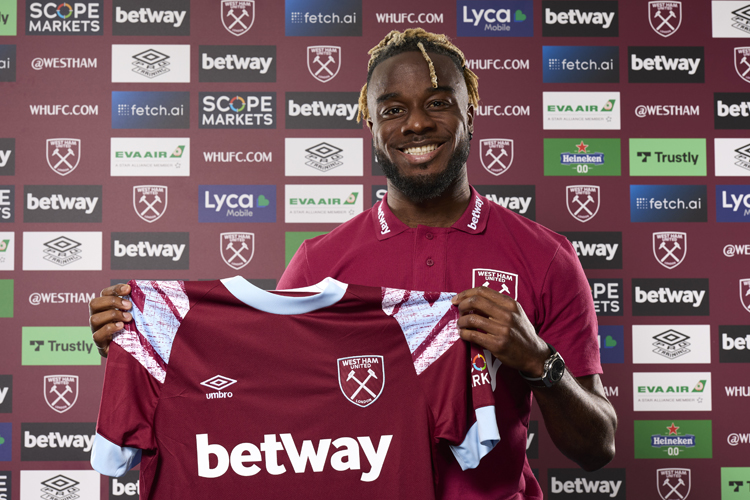 "It's a new step for me to join this big club and I'm really happy to be here, to be part of the project," he said. "I'm just excited to start.
"Everyone knows the level here in the Premier League is very high and I want to play here for that, so I'm really happy to be here for the next stage in my career.
"It will be amazing to play in front of 62,500 fans. I played here for Burnley last season and I can't wait to experience it as a West Ham player."
Hammers boss David Moyes added: "We are delighted to welcome Maxwel to West Ham United. He is a versatile player with good experience, both in the Premier League and in European football, and will add strength and quality to our squad.
"He made a big impact with his performances for Burnley last season and he has impressed me with his desire to improve and challenge himself further here at West Ham.
"We look forward to bringing Maxwel into the group and wish him all the best in his career with us."
Cornet, who has signed a five-year contract completed his move too late to be involved in this weekend's season-opener against Manchester City, but will be available for the trip to Nottingham Forest next weekend.
Maxwel Cornet: 10 facts you probably didn't know
1. Cornet was born in the Ivory Coast but has lived in France since the age of three
2. He joined the Metz Academy at the age of seven - children are not normally permitted to join until they are 10
3. He was much taller than his peers and physically dominant, triggering the suspicion that he was a "présu" (a player arriving from a country with an unreliable civil registry system, and being older than declared)
4. Cornet was initially trained as a striker and scored lots of goals in youth categories
5. He joined the Metz senior squad aged just 16 and played one season in the French National League and one in Ligue 2
6. He refused to sign a new contract with Metz and went without competitive matches for a whole season. He joined Lyon in 2014 but played very few games during his first year
7. Cornet was a regular first team member at Lyon from 2015 and made his breakthrough in the second half of the 2015/16 season as a left winger
8. He played subsequent seasons as a right winger before being an established member of the starting XI
9. He refused a transfer to Wolfsburg during the summer of 2020 summer and played mostly as a left wing back and left back under Garcia, who liked his capacity for quick transitions in a defensive-minded team
10. Cornet was sold to Burnley last summer as he had just one year of his Lyon contract remaining and had refused to sign an extension
* Something to say about this story? Please visit the KUMB Forum to leave a comment.
More News
Thursday, 11th August 2022
Thursday, 11th August 2022
Thursday, 11th August 2022
Thursday, 11th August 2022
Wednesday, 10th August 2022
Wednesday, 10th August 2022