by Staff Writer
Wednesday, 10th August 2022
Supporters wishing to avoid paying extortionate prices for refreshments at the London Olympic Stadium may have overlooked one vital alternative option.
Season ticket holders attending last weekend's season-opener against Manchester City were astonished to be charged nearly £7 per pint for alcoholic drinks, including beer and cider, while a 22oz cup of Coca Cola - roughly equivalent to the size of two regular cans - was priced at a fiver.
And even though West Ham United - who are not responsible for the concourse prices which are set by stadium caterers Delaware North - have instigated an investigation in the wake of negative publicity, fans can avoid purchasing drinks inside the ground completely by using publicly available water fountains instead.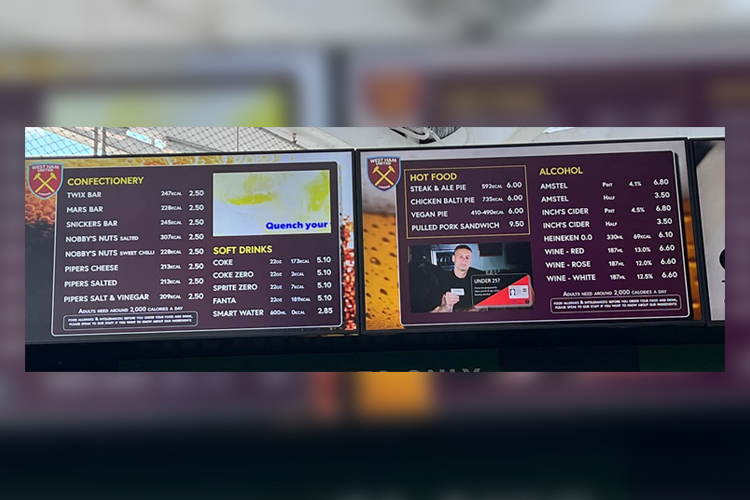 Daylight robbery: refreshment prices for Sunday's game
As explained on
the Hammers Help website
, a number of water fountains - which can be used free of charge - are installed in and around the LOS. They may be found in the vicinity of blocks 103, 112, 116, 120, 125, 127, 133, 137, 143, 150, 156, 201 and 215.
And while there were long queues around some of the stalls last Sunday, several were barely being used at all.
Of course resorting to drinking water may not not the ideal solution if you have a preference for enjoying a long, cool pint in order to wet your whistle at half time. However with the general cost of living affecting everyone, the opportunity to save paying extreme prices may appeal to some.
* KUMB editor Graeme Howlett, speaking to The Daily Mirror
shared his concern at the rising costs of refreshments
inside the London Olympic Stadium, where the cost of a pint of lager has increased by nearly 25% this season.
"A number of supporters have expressed disappointment at the extremely high price of food and drink inside the stadium," he said. "The fanbase is disappointed that, at a time when all are feeling the pinch, the club's partners appear to be rinsing loyal season ticket holders for every penny."
* Something to say about this story? Please visit the KUMB Forum to leave a comment.
More News
Monday, 26th September 2022
Monday, 26th September 2022
Monday, 26th September 2022
Monday, 26th September 2022
Monday, 26th September 2022
Thursday, 22nd September 2022