by Staff Writer
Monday, 29th August 2022
Finally West Ham come up against a team actually worse that Moyes' men have been in the Premier League so far this season, which signals the return of the OV! This week it's Villa fans seething and demanding the replacement of their current manager following the 1-0 defeat at Villa Park...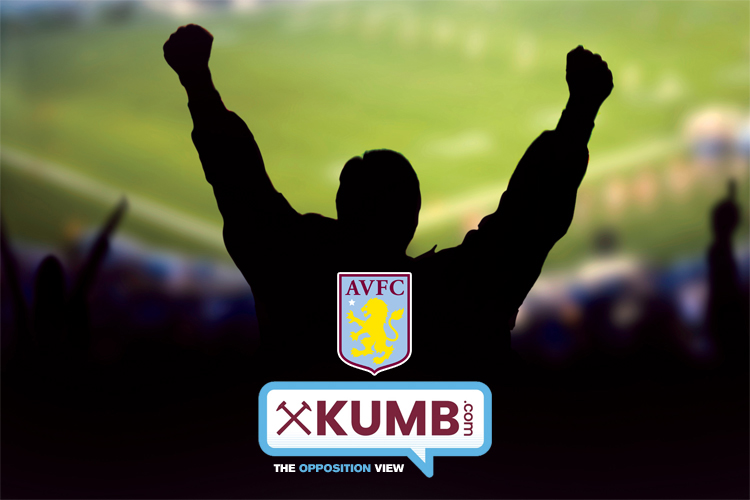 "That was a special kind of bad. Utterly dull, insipid, bland performance and we were ideal hosts for the Hammers to get their season up and running. We never looked liked scoring all day. The West Ham goal as a bit of a fluke but we gave them impetus by not dominating the game. The talk of qualifying for Europe seem laughably deluded and I expected media savvy Gerrard to start toning down our season expectations, provided he doesn't get sacked. Utterly dreadful. Thanks Villa for ruining another weekend."
- The Fun Factory
"The first half was so so. West Ham didnt look like scoring but Villa's play was so slow, it was boring to watch. Everybody knew West Ham were not gonna be as bad second half, it was a lucky deflected goal but we absolutely did not deserve to win that game regardless. No idea how Gerrard wants to play; taking Luiz off instead of McGinn was criminal. McGinn will be one of the downfalls of Gerrard - captaincy and not dropping him when he is so clearly out of form and could do with a spell on the bench. Sadly I think the owners will wait till Arsenal and Man City are out the way before sacking him. Gonna be a rough week this week."
- RichW
"Two crap teams today, we will both be in the bottom six if things stay the same. Heard some boos at the end, couple more home defeats and it will be hostile."
- tinker
"SG completely, completely, totally, outsmarted by David Moyes. Our front three is incapable of creating penetration past an alert back line so Moyes just let us play with it all first half. Then he changed to a forward that would run behind and force our back line to play a bit deeper. That created a bit more space in the middle. Then the game was lost by SG. The sub for Coutinho was fine, 'like for like', maybe more energy. But taking off Luiz was incredibly naive. Moyes had put on fresh legs in the middle. We gave them the space and the strength they needed. Gerrard need to go."
- srsmithusa
"Two poor teams today. We had the best of the first half and they became more dominant as the second half continued. A 0-0 draw would have been a fair result, but when you're struggling your luck tends to run out, even against West Ham. We needed at worst a point from this."
- John
"Weird game. First half we dominated and looked in control without creating anything. As soon as the second half kicked off the intensity seemed to drop and drop until they scored. Subs were made but there was still no urgency or quality. West Ham were shit and absolutely robbed a win."
- Genie
"Oof. In the first half we played quite well in some ways. West Ham weren't getting out or putting us under any pressure, and we had the half pretty much to ourselves. We were at least much the better side. Moyes adjusted in the second half and made West Ham a bit more competitive so I was pretty much resigned to a nil-nil being the most likely outcome - one I thought both managers might take. Taking off Luiz for Ramsey lost us the game. Kamara was completely isolated, West Ham took the control we had away, looked more dangerous and inevitably scored. We're a mess, even when it works, when it's perfect, when everyone is doing their job, we don't look like scoring. We played okay, we deserved a draw I thought, but fair play to West Ham, they're big, strong, physical, well organised, they have a pattern and a plan that plays to their strengths and they're resilient, they defended really well as a team, kept plugging away and took their chance when it came - they're everything we're not. We need a new manager in place or we're in trouble."
- OutByEaster?
"West Ham knew exactly what to do. Sit back first half, conserve their energy after playing Thursday and keep it nil-nil. Then step up second half and dominate. Chances will come when we try to push. Could see it coming a mile off. I just don't see what our plan is to beat anyone. Really wanted this to work, but Gerrard's time is up I'm afraid."
- KB_Villan
"Moyes made a change at half time to affect the game and West Ham come out a better team. Gerrard just does like-for-like changes in a system that isn't working. He is out of his depth. He really really needs to go."
- USA_Villa
"If that first half is the best we can do against a dreadful West Ham he should be sacked just for that. Pathethic. Konsa was good though. That is positive."
- NoelVilla
"It wasn't even a bad performance, or an unwinnable game. Under normal circumstance it would have been easy to say that was 'unlucky' due to the nature of the goal. However this was legit one of those where the manager actually prevented us from winning the game with some absolutely ridiculous decision making. If it wasn't for the fluke goal, even a draw on the balance of the game would have been a shit result."
- JAMAICAN-VILLAN
"If Gerrard can't get any points against a rubbish West Ham, how in the world is he getting points against anybody else? He is so bad that any average poster on VillaTalk would do a better job."
- viivvaa66
"We're basically a Ferrari without a steering wheel."
- Beastmix
"My feelings? I am so angry, so sad. I just got back in, I feel that I never want to go again while SG is manager, not a bloody clue. His tactics of keep the ball in our own half have destroyed any positiveness for me. My lad swore in front of me twice. Obviously I know he swears but with respect he does not swear in front of me as I never swore in front of my parents."
- Robtaylor200
"We are so easy to defend against. I've given Gerrard so much leeway but the system is shit and ain't gonna change. That's a West Ham team that was bricking it and probably happy with a draw, yet they looked so comfortable. My blind faith has gone. Get rid now."
- Vive_La_Villa
"People said Gerrard was only here as a stepping stone for the Liverpool job. Well I don't think we need to worry about them calling for him any time soon..."
- Robtaylor200
"No-one wanted Moyes or Howe. Villa are victims of their own arrogance. We are most certainly not too good for these managers."
- Spoony
"This is a hugely important step into the clown getting sacked. Also put a tenner on West Ham. I'm feeling great."
- Farlz
"I'm.gonna have to watch MOTD now to see how shit we were. It's your fault Gerrard, you bellend."
- Talldarkandransome
"I actually think Gerrard might be as thick as pig shit."
- picicata
"People were saying at half time that West Ham would be asking questions of Moyes as to why things were so bad ast we were in control of the game. I said West Ham knew exactly what they were doing, there was a game plan being executed and they would catch us on the break second half and win. Lo and behold. If I can see it, and it's plain as day, how could Steven not? Dirt manager. We're going down if we stick with him."
- est1874
"An out of form, goal shy West Ham who were there for the taking show up to your neck of the woods and you lose without really giving the 'keeper a save to make. This is the sort of game that ends reigns and it absolutely should here too."
- R.Bear
"West Ham haven't scored a goal yet all season. You just knew that we'd hand it to them. I know it was a deflection, but as others have said, you make your own luck. We shouldn't have allowed ourselves to get into this position where we're chasing a draw in the dying minutes against a side that hadn't even scored in the league yet, let alone won."
- JoshVilla
"I just knew that we would be the team to give West Ham their first win of the season."
- Rigs
"West Ham came for a point and decided to go for all three after they saw how shit we are. Unbelievable."
- wict01
"West Ham also look poor this term."
- thunderball
"Disgusting, we lost to a team that didnt even want to win."
- Zatman
"Awful, as expected and against a side devoid of anything. West Ham looked like they all had the flu!"
- villanmac
"They had five monsters at the back and even the full backs are robust. They came for a draw and got a win. Probably had about as many chances as us , practically zero but still scored."
- Villan57
"Embarrassing. Helping the worst team in the league to dig its way out. Fuck this!"
- Marka Ragnos
"The most predictable result in the whole of the weekend's football. West Ham only had to move up one gear and that then exposed Gerrard and his misguided tactics and incorrect team selection for all to see and it was only a question of time. There's one team worse than us in the Premier League and that's Bournemouth and they soundly beat us, so if that doesn't get the alarm bells ringing in the boardroom then nothing will and it will be too late. Personally, I just hope that is the final nail in the coffin of project Gerrard & Co."
- Thomas Holte
"I only hung around right to the end just to hear how loud the boos would be and I think he/they would've got the message loud and clear. In Spain they'd be waving the white hankies by now and at Villa we're known for bed sheets and cabbages, so I wonder how long it'll be until one of them appears?"
- VillaTomB38
"West Ham forced us wide and often into the flank without the overload, I don't know if it's clever tactics from them or just our players are a bit stupid. Credit to Moyes for changing the formation and the outcome of the game. They were shite first half, we've played two poor sides at Villa Park but only have three points. It's a shit show and something had to give. Gerrard, the buck starts and stops with you on this one pal."
- danvilla2
"Shocking. So much wrong. Utterly, and totally, wrong. Owners, who decided to bring the rookie in? Sack whoever it was. Then sack the rookie. If not, down we go. West Ham changed formation for the second half and although their goal had luck, you get that when you go forward and shoot. What were we doing? Fed up. Not just at the loss, the style of the loss, v a poor team - AT HOME... AGAIN."
- The Fear
"Today I was rushed into hospital with my fourth unstoppable nosebleed of the last seven days... five hours in A&E... missed the whole game. Thank the Lord!"
- Mingzandings
"West Ham's change was obvious and yet again Stevie G thinks he only has to cross his fingers and hope, rather than actually fucking do anything about it."
- Platypus
"We could have played til midnight and still wouldn't have created a chance, let alone score! Get it wide, sling it in right onto Kurt Zouma's head... and repeat."
- Langoe66
"Looked like two teams devoid of confidence trying for a 0-0 to me today. Neither looked capable of scoring until that ball looped over our 'keeper. Both keepers could have slung hammocks across the goals today and gone to sleep."
- Villan57
"Three wins in 15 and nine months deep, it's proper turgid stuff. Right now I feel like the club have had my pants right down, charging me an extra £160 for this crap.To top it off, I've moved over to L7 this season and today I discovered I'm standing behind a pervert who's more interested in messaging young girls on Instagram whilst his wife is stood/sat next to him. 'Send me a sexy picture' ergh, I hope he reads this the dirty old man."
- VillaTomB38
"I've found something positive. I walked 2.9 miles and 7,076 paces from my car to the ground and back. Got the yardage in."
- ironside
* Comments originally posted on villatalk.com and forums.vitalfootball.
* Something to say about this story? Please visit the KUMB Forum to leave a comment.
More News
Friday, 2nd December 2022
Thursday, 1st December 2022
Thursday, 1st December 2022
Thursday, 1st December 2022
Tuesday, 29th November 2022
Tuesday, 29th November 2022