by Staff Writer
Monday, 3rd October 2022
The curse of West Ham strikes against as a second manager earns his P45 following a game against David Moyes' boys this season. At least the 'Wolvercrabs' fans finally have something to smile about this season...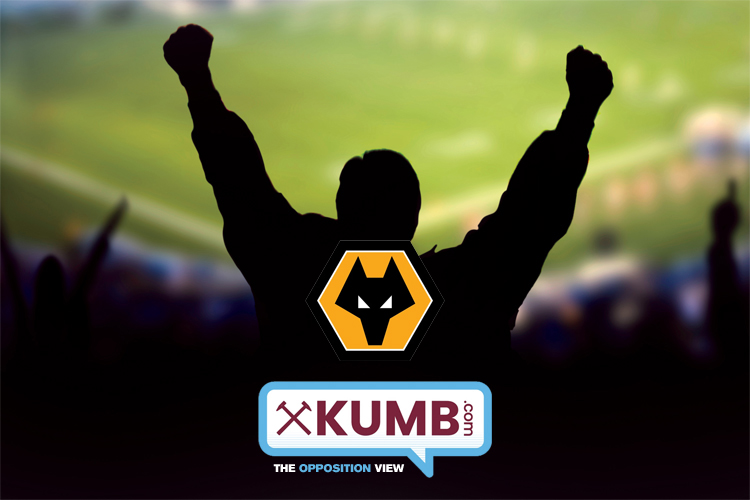 "Neves was tremendous yesterday - this guy does whatever it takes and gives everything every game no matter what stupid position he has to play. Jonny, I'm not sure where he played, but again was good and gave everything. Apart from (and it kills me to say it) Moutinho who is really struggling in every aspect every player tried hard, we just look utterly rudderless, no one really knows how we are supposed to be playing, what the strategy is, who is playing where. The only bright spots for me was Costa and the Traores brought some purpose and intent. Although Adama still hasn't got his shooting boots, he could easily have had two. Sad - as West Ham are poor bar Bowen who is a really good player."
- Mark Rankines Lovechild
"I think the two sides were actually fairly even ie. poor. This inability to score when on top is getting ridiculous. Nunes and Ran had clear opportunities to score first half and both missed the target. They would have changed the game. Sorry Mouts, but I cannot see what you bring to the team anymore apart from safe simple passes. Thank you for coming to Wolves, but I think we need more dynamism in midfield."
- Wolfman jack
"I hope no neutrals watched that game. It was a bore-fest from both teams."
- Ewok vs Wolf
"I was at the game, having to sit with home fans, which I hate but beggars can't be choosers, I guess. We consistently made chances but lacked the finishing touch. Looking at the playback of the disallowed goal showed a very marginal offside call, after an excellent piece of interplay. Mostly the defence actually did well in the absence of Collins, but undone by two superb finishes. West Ham remain a decent team, who will always create chances, as they have done throughout this season, but it just seemed inevitable that they would find their shooting boots against us. We do now the look and feel of unlucky losers. Overall, we look a good footballing side, but a side with a powderpuff attack, and a tendency to give the opposition a few chances. Inevitable that Lage went however after such an extended run of poor results."
- wolvesjoe
"Lage lost the support of the away fans. West Ham were poor and any decent team would have beaten them convincingly. We never looked like scoring until Costa came on and there was a slight improvement. It was a lame performance lacking any threat. It was just so ****... A word to the new manager: please play our best player and captain in his rightful place."
- S G Wolves
"Wolves deserved a draw. 16 attempt by West Ham, 15 by Wolves, one attempt more than Wolves. First goal a deflection which was going right into Sa's belly. West Ham had their first corner at the end. I really enjoyed the game, end to end stuff."
- derbyrameater
"Watch Mouts before the Italian striker (like Cutrone never could) that leads to West Ham's opening goal. Mouts could easily have been in prime position to have blocked that shot.
He just didn´t made the effort."
- Flea
"I've just got home and I'm still fuming. Sat on a coach since 11am. Four-and-a-half hours to get there and the same back after some horrendous traffic. £70 of precious money in tickets and travel during a financial crisis to watch that pile of **** and then they have the NERVE to walk off without clapping us. Neves came over, but that **** Bruno couldn't get down the tunnel quick enough. That's it for me, no more wasted time or money while that clueless ***** is there. He's obviously lost the players, and today he lost most of the fans."
- Bostin
"Just seen xG - it has it at 1.0 to them and 0.5 to us. The only way you can say we deserved even a draw from that is if you ignore their numerous misses and double up on ours. Only one team was ever going to score a goal in that game. All this neat possession is deceptive and it seems that we create so little , match after match. We are in such a famine for entertaining, attacking football, a stale sandwich begins to look like a gourmet meal."
- Contrarian
"Boring. 60% possession, 15 shots, and for what, a couple of take shots from Poddy and a Costa header just wide. Awful game. Players look lost, disinterested, bored and baffled. Not good enough. Not even close."
- JadeWolf
"We are a side completely lost of ideas, of intent and of fight, of which was further proved this evening. For the first time in a very long time, I felt sad watching a Wanderers game and that ought never be the case for anyone. When the away end chanted 'You Don't Know What You're Doing' post the final two subs, very much sums it all up. West Ham deserved the win and the first goal was nicely struck. Only positives were Diego's debut, Pod hitting several at goal, Chem's energy and Ruben doing the best he can as a makeshift centre-back. Hope all those who travelled got back in good order - and it's only away Chelsea next week!"
- Kashmire Hawker
"'You don't know what your doing' was sung after Lage took off Nelson and Nunes. And also some ironic chants about how crap we are, which is never a good sign. Atmosphere in away end was terrible from start but it's just a terrible stadium in general so hard to generate anyway."
- YoungWolf
"The most damning thing for me? West Ham didn't play well at all, and likely won't have an easier win all season. You can accept a side being better than you, you accept a side get lucky sometimes when you've played really well. A side plays poorly, but still wins comfortably due to us being consistently rubbish is unacceptable."
- Trips
"My dog spent 15 minutes of the first half barking at a mushroom growing in the corner of the garden. I wish I'd joined him as the mushroom was less predictable than our play first half."
- Sniffer
"It's a complete cluster **** and not all Lage's fault. Shi must take some blame as he appointed Lage. Our summer business, taking both sales and purchases was poor. We failed to strengthen our strikers by gambling on a player with a fitness level that an episode of casualty would laugh at and let players leave without adequate replacements. Players were brought in late, with no time to get up to speed before being thrown into the fray. This was hardly Lage's fault. Our chickens are coming home to roost and we have a long, hard winter in front of us. I've seen nothing in the attitude of lots of our players that they have the psyche and mentality for a relegation fight. Can a new manager get these players firing? Hopefully, but I don't believe that the balance of our squad is right and the players are not as good as lots seem to think, so he will have his work cut out."
- SA Wolf
"I was so chilled out at the start of the weekend - didn't watch any football for two weeks and didn't even worry about Wolves. One game back and I've woken up the morning after absolutely fuming still. This side really are bad for stress levels and my mental health."
- Ned
"We've had a largely favourable set of fixtures - Bournemouth, Fulham and West Ham - and have still struggled, but more importantly we're getting worse by the game, not better."
- Wilf Wolf
"I thought we were unlucky to lose and would probably have got something if Costa's header had gone in. We can criticise having Neves at the back but at least Bruno had the cojones to try it. Surprised at how well Costa played and Adama could be great for him. Neto and Guedes need to be more like Jarrod Bowen. Bruno was a dead man walking as soon as the final whistle went, but still surprised we didn't wait until Lopetegui became available."
- Dennisons Wrong Foot
"The only positives were Adama and Diego Costa. Only two proper footballing performances from guys wearing old gold and black yesterday. We must be the single most boring team to watch in the country. Three goals in eight and not a single second half goal to our name on top of the awful stats from end of last season. It is pitiful. Just pitiful."
- Flea
"Since Nuno was appointed we have that Achilles heel. We lost at Sunderland when they were down and we were champions, and spent years trying to beat Brighton before they were any good. We've been doubled by Palace, thrashed by Burnley, beaten by Cardiff, Watford, Norwich, Burnley, WBA and Huddersfield in seasons when they got relegated. It's a lot more than coincidence. We play **** teams into form far too often."
- Bryce
"The table does not lie. We are a **** team at present in Prem surroundings and the squad has a long way to go before becoming truly competitive again. I fear the worst. I have seen better teams than us getting relegated. There is no urgency, no desperation when we play. It´s like we accept going a goal down, then a second. The whole mentality seems wrong. I is like watching a young and inexperienced Stefan Edberg (tennis) getting behind. The neck goes down a little bit and the spirit with it. I feel desperation creeping on..."
- Flea
"We didn't outplay West Ham. They are not much cop either, but they deliberately soak up possession with an eye for a quick break (which they did for the first goal). The idea that we dominated or controlled that game is a comforting deception. Outside of a five-minute spell where Costa put himself about, we barely troubled them defensively."
- Jefe
"We are utterly predictable. Should change our name to Wolvercrabs as all our movement is sideways. We made a **** team look decent again today as Lage set us up not to lose - and as soon as they scored, it was done."
- Bryce
"What I want to know is how someone managed to mistake a Portuguese taxi driver for a football manager. Because Lage definitely isn't a football manager. Would get out-thought by Under 12s managers."
- DasWolf
"I manage an Under 12s team. I think my team have more identity in our play, more shape, more punch and speed in our attack. We can also cross the ball from a corner!"
- Super Ted
"Positives. Diego Costa looks decent and will provide a focal point. I had a decent pizza and beer for dinner. Some of the memes in the match thread made me laugh. Cons. I've seen more penetration in a convent. I hate to say it, but we looked like relegation contenders tonight."
- Wolowolf6
"No tactics. None. We knock it around OK by default as they're good footballers. But there's no plan. Go 1-0 down, forget it. Same as ever. Drop the wanker off at Heathrow, he lies, he commands no respect and his results are disastrous."
- Deutsch Wolf
"The verdict can now be summed up in one simple phrase…..'out of darkness cometh light'."
- JohnB
"West Ham are a **** long ball team full of 'big lads who put a shift in' led by their dinosaur manager - and they still beat us. I thought Neves and Kilman were excellent, and Adama and Costa did well when they came on - but Guedes and Podence were ****e, as was Jonny and Joao. I don't like sacking managers all the time, I think there's generally benefit of stability, but I don't know what the **** Bruno was playing at with some of those selections and playing players out of position."
- Premier Quality
"I feel more depleted than angry. And I don't enjoy watching this team at all, yet I cannot stop. We have a very talented squad. I thought Costa did well. And Adama certainly brings more to the table than Neto and Guedes. And I like our new Traore in midfield. West Ham didn't look very good at all, yet they won that in a controlled way."
- OsloWolf
"No pattern, shape, passion or desire to try and score or get something out of that match. In all honesty, West Ham were pretty shit but even with all that talent we are shitter."
- Charlie Wolf
"Let's not give West Ham any credit here. They were genuinely awful, but did deserve the win. A deflection helped with their first but Bowen finished his chance well (though you could argue Sa shouldn't be getting beaten at his near post, nor Bowen shouldn't be given the space) but other than that they barely created anything, couldn't keep the ball, wet themselves on the rare occasions we were direct, and looked like they could be opened up by a butter knife. Unfortunately we were worse."
- Rauls Headband
"Positives. Costa looks like a striker! Goodbye Lage, your stay in Wolverhampton is over. Negatives. The result. The performance. A mention for the London Stadium… what a terrible place to play football, and I'm watching it on TV. Reminded me of Anfield in a weird way, plenty of noise singing their song before kick off, and near silence during the game."
- Sussex Wolf
"West Ham were so poor, I bet they're counting their lucky stars it was us they played today. Even someone as **** as Villa wouldn't have lost to them today."
- JadeWolf
"West Ham looked out of sorts against a 33-year-old who hasn't played a game in nearly a year once he came on. West Ham were very poor they didn't even really outplay us but had a few players who can score a goal, which helps."
- 92WWFC
"We made the passes West Ham wanted us to make, and then they pinched our pockets anytime we were anywhere dangerous."
- WolfInSheep'sClothing
"Probably the worst stadium I've ever watched a game of football in. Half empty, zero atmosphere. Just really crap! West Ham had two decent attempts at goal all game and scored them both. They were dire, but we were worse. It all seems a bit of a mess at the moment, there should be plenty more of the hierarchy following Lage out of the door this weekend."
- we love jez moxey
"West Ham have not won at home for six months until they played our shambles of a team. Moutinho has lost it and it's sad to watch - he's simply too old. Sa seems nothing like he was last season. I can't believe we paid £27m for Guedes - what a waste of money. That's it - I am off to bed and will be in a bad mood all weekend and probably longer."
- astraltrader
"Conceding 85% possession over a 15-minute spell without having to make a single save is the dream for a team like West Ham. It's literally their game plan."
- thommo1984
"Looking at both teams/squads, I honestly believe we have better players than West Ham in almost all positions. So why are we not able to beat not only them but also the likes of Fulham and Bournemouth (bloody Bournemouth, FFS!)"
- lobodelsur
"We could have played all night and would never have scored. The annoying thing is that we comfortably outplayed West Ham who I thought were poor and in trouble too. Podence is never a striker. Some real Portuguese dross in the squad; time for Lage to get on his bike and take Moutinho with him."
- kennyB
"l watched the game in a pub full of Hammers fans in Essex - that was a real barrel of laughs, not!"
- WickedWolfie
* Comments originally published at molineuxmix.co.uk and wolvesforum.co.uk.
* Something to say about this story? Please visit the KUMB Forum to leave a comment.
More News
Friday, 2nd December 2022
Thursday, 1st December 2022
Thursday, 1st December 2022
Thursday, 1st December 2022
Tuesday, 29th November 2022
Tuesday, 29th November 2022