by Staff Writer
Thursday, 6th October 2022
Flynn Downes was understandably delighted at having played a major role in West Ham United's 1-0 win against Anderlecht - a victory that stretched the club's lead at the top of Conference League Group B.
And he was full of praise for team mate Alphonse Areola after the French goalkeeper pulled off a stunning save to ensure the Hammers returned to London with all three points.
With just six minutes of normal time remaining Areola somehow stopped Fabio Silva's point-blank header from crossing the line - and West Ham went on to claim the victory thanks to Gianluca Scamacca's goal scored five minutes earlier.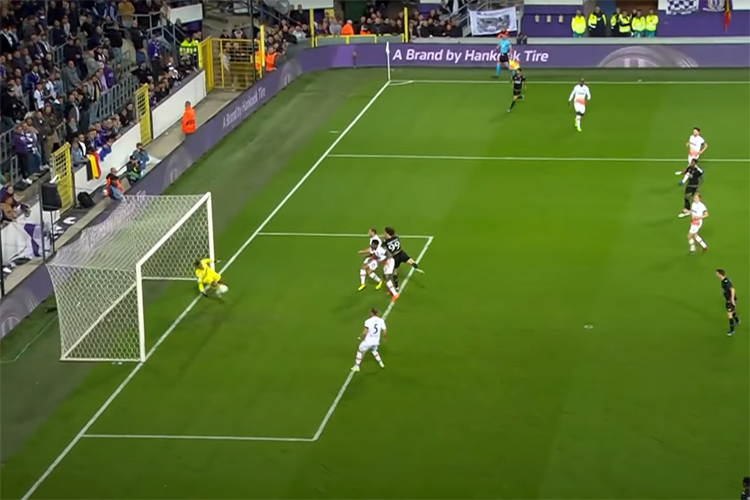 "It was unbelievable from him" said Downes, reflecting on Areola's wonder save. "Every player put in a shift and I think the boys who came on changed the game for us. We got the goal and for Alphonse to keep us in it at the end was unbelievable, so all credit to him."
While Downes was delighted simply to play a part in the win, he did his credentials no harm at all with a battling performance at the heart of West Ham's midfield that made manager David Moyes confess that the former Swansea man may have played his way into first team contention.
And he may even have marked his debut in Europe with a goal had he been able to show a little more composure!
"It was some game, a tough 90 minutes," he reflected. "The boys were unbelievable and we did what we set out to do. We nicked a goal at the end, defended well and it's three points so happy days!
"I had a nosebleed up there - I was surprised to find myself so far forward, especially on my left swinger as well! I wish it had been on my right, but hey, I'll go back to training and work on that. Hopefully I can nick a goal soon."
And as for his first few weeks as a Hammer, the 23-year-old believes he has begun to settle in at the club - even if he felt a little daunted by the pedigree of his team mates at first.
"I love it," he admitted, "It obviously hasn't been the start that I wanted as I haven't played too much but it is what it is and the competition is tough. I've just been keeping my head down, working hard and waiting for opportunities like that.
"To be fair, playing alongside Dec is unbelievable. Manu as well and all the boys in the middle. It's a joy. They're all such good players, so I learn a lot from them, and it's a privilege, really."
Preparation now turns to the weekend's Premier League clash with Fulham - before the Hammers host Anderlecht in Stratford a week from today. And he believes West Ham will have to be at their best again to secure the win that should be enough to guarantee qualification for the knock out phase of the Conference League.
"It'll be a tough game," he added. "I think they are the hardest test in the group for us so it'll be a tough one, but at home we'll look to dominate, get the win and hopefully get a few more goals."
* Something to say about this story? Please visit the KUMB Forum to leave a comment.
More News
Friday, 2nd December 2022
Thursday, 1st December 2022
Thursday, 1st December 2022
Thursday, 1st December 2022
Tuesday, 29th November 2022
Tuesday, 29th November 2022