by Staff Writer
Monday, 23rd January 2023
Frank Lampard was jubilant and danced around the pitch following Everton's 1-0 win against West Ham before the World Cup break? Yesterday he left Stratford virtually in tears - which is exactly the same effect his team's football has had on the Everton fans. There haven't been many teams worse than West Ham so far this season, but they were. Enjoy the latest (and increasingly rare) OV...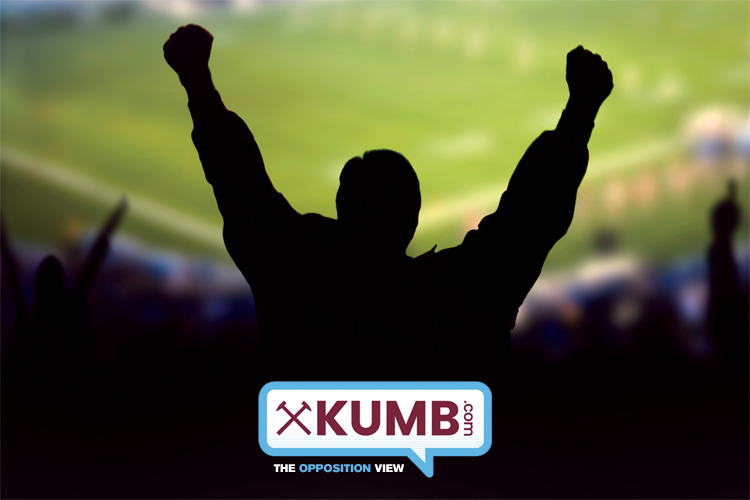 "The worst first half in a long time. Negative, boring, slow. West Ham were there to be taken and we were awful. Mina in the first minute set the tone. He is so uncomfortable on the ball. Gana and Onana were so slow and Mykolenko was shocking. Slowed everything. Ah Seamus - what a shower of shit. Second half much better. Frank should be sacked for that first half. West Ham are awful and in just as much shit as us. Their fans hate Moyes and their board. Was so quiet there."
- kev1
"Awful first half. Both teams. The space in middle was shocking. Nether side closing down. Only difference was they moved quicker with ball in final third. Two more mistakes and Two more goals conceded. Second half started better. First minute Gueye should have it one first time. Left on 80 minutes. Managed to get back to Kings Cross for the 5:30 home. Highlight of the day."
- McLovin
"Watched the first half then gave up.Went and did some painting instead."
- 2xpetes
"Iwobi was awful today. Gave the ball away (again) for the second goal and did sod all to get back to help and it wasn't just for the goal. He's given up."
- PITA
"West Ham scored their second goal there were six Everton players and two West Ham players in our box, how did we manage to concede? Why does Frank never use more than two substitutes, hasn't he heard that five subs are allowed?"
- Sarnia Kevin
"That was a truly miserable experience. Last time we lost there I thought we were unlucky to lose and put in a decent performance, but it's hard to take any positives from today. As poor as they are, this was the proverbial routine victory for West Ham. I don't see how we get anything by carrying on with these players, tactics and coaching staff. Some of our play was ok, but as usual we did nothing in the final third and gave Fabianski an easy afternoon. Credit, as always, to fellow travelling Blues for turning out for yet another awful display."
- Daz1878
"I was at the game. That was one of the most pusillanimous, gutless, spineless displays I've ever seen. This team is finished. We are almost certain to go down. What is most worrying is that this West Ham team is dreadful and will almost certainly go down with us, yet we hardly laid a glove on them."
- Sharpattack
"From the first whistle we looked so passive. The first goal is a shocker. It has to be the worst defensive line going. Moments later at Antonio's free header, our three centre backs leave Mykolenko 2 v 1 at the far post. Next thing you know, Tarkowski sells himself, Onana stops tracking the run of Bowen (must be a French league thing), Mina can't cover and we are two down. We started the second half brightly and the changes almost worked. There was hope for a brief second! You cannot watch that and say another manager wouldn't do any better. The bits I could see were a complete and utter shambles all over the pitch. At this point I feel like any other manager would get more out of this squad. Let's face it, if Lampard had a playing career as a League 2 plodder, he wouldn't be in a coaching job. Him and his mates need to be sacked as soon as possible. He has had far too long already."
- Bailey
"It's a complete lack of intensity that lost us that match. Every single one of them needs to be showing more on the pitch. The amount of passes back into our half is an absolute disgrace. Fuck confidence, fuck coaching, fuck tactics, fuck the board - today's on the players. They can't hide behind Frank, the board, Moshiri, or anything else; every one of them needs a good kick up the arse."
- Wall Writer
"I think we are in such a mess now that the board can't not sack Lampard. And I think that is a shame as it won't solve a thing. I would rather we keep Lampard even if it means relegation as I think he would bring us straight back and that at least some of our current 'less bad' players would stay. If we sack Lampard I think we still go down, we probably sack another manager at the end of the season and we lose what few decent players we have. We are into damage limitation and planning for the future now and I think that means planning for the Championship next season with Lampard as manager. I don't like it, but we have to be realistic."
- RPG
"Another pathetic effort against a shite team. Looks like the club is fucked and the football league will be our home for a good few years."
- maccarob
"Lampard needs putting out of his misery. He looks broken. I'll be amazed if he has another management job. He'll be in the BT Sports or Sky studios next season."
- Gilroy
"We need a Dyche type just to keep us up and have a season or two of STABILITY. Get us mid table. That's it. Then we can move for a progressive coach in Thomas Frank or Potter, or this Celtic chap. Now is not the time to bring in a complete rebuilder."
- TheFace
"Frank has to go. We need a manager who can offer even just the slimmest glimmer of hope. I don't see where another win comes from under him. "
- Sibdane
"We can't afford to waste any more games with Lampard in charge. They need to replace him this week and hope we can scrape something at home against Arsenal (stranger things have happened). Every single game is so important from here on out, we have to at least try and get something from the next two games. That won't happen with Lampard in charge."
- ajp1982
"Look at the state of this situation, once again the board are doing their very best to fuck things up and make the club look like total amateurs. Frank needs to go but fuck me, the cunts above him need shooting first, an absolute laughing stock."
- Paulgreece
"A very poor West Ham side beat us today by simply turning up the pressure for ten minutes, that's all it took. But can we turn out players into highly aggressive players? Course you can't, no manager can change the fundamentals of a player. Carlo Ancelotti is one of the most respected managers ever. He had to walk as he simply knew there was nothing he could do with this team. Who is better than him, that can come in and change the way these players play?"
- Shukes
"They utterly suckered punched us for the second goal. Just let us have the ball, waited until we lost it, and did us over."
- Daveysgingerlovechild
"Lots of the West Ham fans around me could not believe how bad we were. 'This isn't Everton'. 'We'd always expect a tough game against this lot, but they're dreadful'. 'If we believe more we will hit these for five or six'. Hard to argue with any of that really. Declan Rice might as well have had slippers on today as he strolled about dictating the whole game, Mina was arguably the only player moving slower than him. Two absolutely awful teams on show today and Everton were easily second best. West Ham's game plan was to let us have the ball. Embarrassing. All those travelling fans are heroes, each and every one of them. Love Evertonians, hate Everton."
- Clarky cat
"We cant beat West Ham, we cant beat Bournemouth, we cant beat Southhampton, so who do they expect Frank to beat? If there are no changes clearly this team is relegated."
- PeregrineT
"There is one positive to come out of the game...Ings didn't get his customary goal against us."
- MinkyJoe
"Can I vote for Rice as MotM?"
- heatmeiser
"I'm more angry at all the board turning up today, as if emphesising it was unsafe to go to Goodison. Sharpy has obviously taken their side in this against the fans, similar thing happened at West Ham a few years ago - the director's box was empty, apart from Trevor Brooking, the man showed his class. Sharp may have been under orders, but he did not have to follow them, it matters not if they sack Frank, they wiil still be there."
- Tonsta
"I'm off to eat my body weight in curry, get smashed, maybe drink a pint of bleach. See you tomorrow. Or not."
- Romey 1878
Comments originally published at theevertonforum.co.uk, toffeetalk.com and grandoldteam.com.
* Something to say about this story? Please visit the KUMB Forum to leave a comment.
More News
Saturday, 4th February 2023
Saturday, 4th February 2023
Saturday, 4th February 2023
Saturday, 4th February 2023
Friday, 3rd February 2023
Friday, 3rd February 2023