by Staff Writer
Friday, 24th March 2023
Last week marked the first anniversary of the passing of former KUMB moderator and well-known Hammers fan Martin 'Chas' Chandler.
Chas, who was also known to everyone on KUMB as 'Romford' was a moderator of the site for 15 years prior to his untimely passing as the result of a brain tumour last March.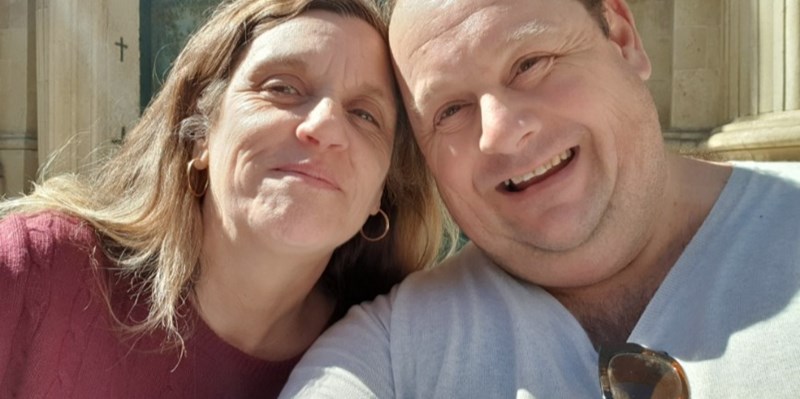 Paula pictured with 'Chas', prior to his passing a year ago this month
In order to mark the occasion, Chas's wife Paula Chandler will be participating in the 2023 London Twilight Walk this Saturday [25 March] in order to help raise funds for The Brain Tumour Charity.
Taking up the story, Paula said: "I'm doing this walk for my Martin, who we lost too soon. We'll march on London during Brain Tumour Awareness Month for everyone affected by brain tumours to help accelerate a cure.
"Brain tumours are the biggest cancer killer of children and adults under the age of 40. We believe that fighting brain tumours on all fronts of research, awareness and support is the only way to save lives, reduce long-term disabilities and to help everyone affected by a brain tumour.
"We need your help, because a cure can't wait."
A devoted Hammers fan, Chas was the organiser of many a trip abroad
The Brain Tumour Charity is the world's leading brain tumour charity and the largest dedicated funder of research into brain tumours globally. Committed to saving and improving lives, the organisation aim to help every single person affected by a brain tumour.
You may show your support for Paula's participation in the London Twilight Walk by
making a donation to the cause via her justgiving page
.
* Something to say about this story? Please visit the KUMB Forum to leave a comment.
More News