by Staff Writer
Friday, 2nd June 2023
West Ham United's continued participation in seven-a-side competition The Soccer Tournament is under threat after the team walked off during their second game, causing an abandonment.
West Ham - beaten 4-2 in their opening game of the tournament by Far East United - were 2-0 down against amateur side Dallas United in their second match when Anton Ferdinand, who is one of several ex-pros representing the Hammers accused an opponent of making a racist remark.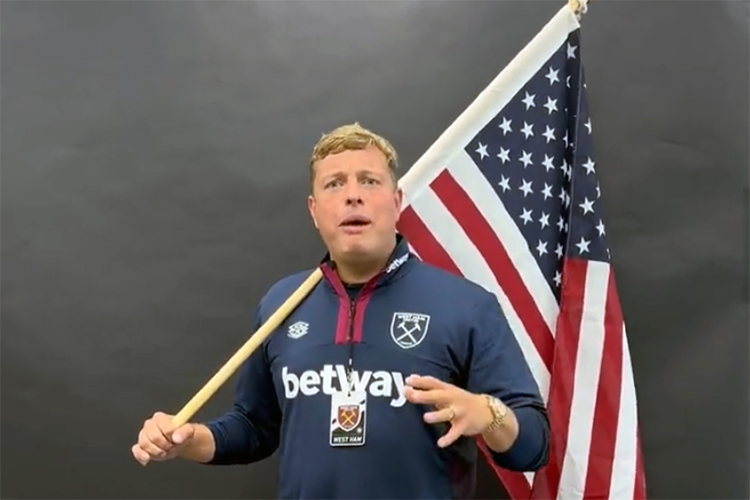 Tour team manager Tom Skinner
Consequently the team, managed by former Apprentice contestant and mattress salesman Tom Skinner refused to complete the game - leading organisers TST to announce that Dallas would no longer be participating in the tournament.
"After conducting an investigation into the final moments of the match between West Ham United and Dallas United, we have concluded that Dallas United violated TST's code of conduct," read a statement.
"We have been in dialogue with leadership from both clubs and we are all aligned that the best path forward is Dallas United withdrawing from competition. All parties involved are unified in wanting to make a statement against racial insensitivity.
"We seek to run an event that is not only fiercely high stakes for all competitors, but also one in which all competitors feel safe and protected. As a result, tomorrow's game between Dallas United and Far East United has been cancelled."
However Dallas hit back shortly after, claiming that they opted to withdraw following Ferdinand's accusation.
"In light of the shadow cast by an opposing player's accusation during tonight's match, the Dallas United players unanimously decided to withdraw from the remainder of the competition," read their statement.
"Our coaches and staff fully support the team's decision. We thank @TST7v7 for the opportunity to compete in the tournament."
West Ham's squad has looked woefully underprepared and devoid of sufficient quality for the tournament in the two game in which they have participated thus far.
Comfortably beaten in their opening fixture against a team of far younger, fitter players used to playing on smaller pitches (the pitch used is roughly equivalent in size to an Under Nines 60x40 surface, featuring smaller than standard goals) the Hammers were equally outplayed by Dallas until the game was abandoned.
Ex-players such as Ferdinand, Marlon Harewood, Jimmy Walker, Kyel Reid and Matthew Jarvis have been no match for players up to 20 years their junior and their frustration had already shown prior to the racism incident, with West Ham's players committing a number of strong challenges.
Should West Ham decide to continue in the tournament, their final group match is against Culture by Mo Ali FC at 3.30pm this afternoon (Friday).
The Hammers' full squad is as follows: Ex-pros - Carlton Cole, Marlon Harewood, Anton Ferdinand, Hayden Mullins, Jack Collison, Ricardo Vaz Tê, Luis Boa Morte, Jimmy Walker, Matt Jarvis, Elliot Ward, David Martin, Kyel Reid, Tyrone Mears, Frank Nouble, Zavon Hines; Academy - Archie Woods, Keenan Forson (Academy); Actor - Hero Fiennes Tiffin.
* Something to say about this story? Please visit the KUMB Forum to leave a comment.
More News
Friday, 22nd September 2023
Friday, 22nd September 2023
Friday, 22nd September 2023
Friday, 22nd September 2023
Friday, 22nd September 2023
Thursday, 21st September 2023