by Staff Writer
Monday, 20th November 2023
West Ham United's chances of finishing in the top six of the Premier League this season have been calculated at less than one in ten.
According to a new Predicted Final Premier League Position graphic by Opta, David Moyes' side have a 9.1% chance of breaking into the top six once again.
However that figure drops considerably when viewing the Hammers' chances of finishing in the top four, which are currently rated at just 1.4%.
The most likely position for West Ham to finish in this season, based upon results thus far is 10th, which carries a 16.6% chance. The next likely final position for 2022/23, according to Opta is 9th (15%) followed by 11th (14.6%).
* Meanwhile Tottenham's chances of winning this season's Premier League are just 0.3% - with reigning champions Manchester City's chances of emulating last season's success rated as high as 84.3%.
Liverpool (9.3%) are considered second favourites, with Arsenal third favourites say Opta (5.7%).
The three cl;ubs promoted last season - Luton Town, Sheffield United and Burnley, who West Ham face this weekend - remain the three favourites to be relegated.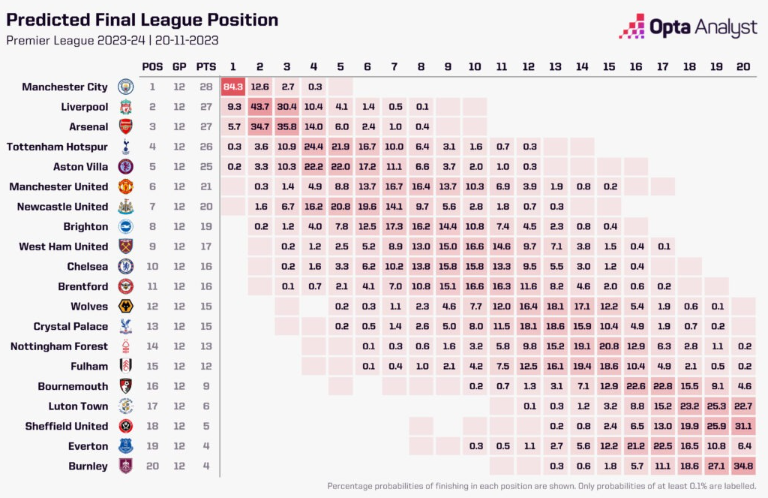 * Something to say about this story? Please visit the KUMB Forum to leave a comment.
More News
Friday, 8th December 2023
Friday, 8th December 2023
Wednesday, 6th December 2023
Wednesday, 6th December 2023
Monday, 4th December 2023
Monday, 4th December 2023